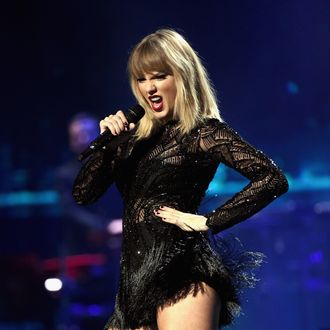 Taylor Swift in concert at Club Nomadic.
Photo: Kevin Winter/Getty Images
If you thought Taylor would never, ever, ever get back together with streaming services, you were just proven wrong. According to an announcement from her official Instagram fan account that was also verified by her rep, Taylor's entire musical works will be available for you to listen to on Friday on Spotify, Pandora, Amazon, Tidal, and other streaming platforms.
The move marks an abrupt end to Swift's bad blood with music streaming and specifically with Spotify, which she has repeatedly slammed for not fairly compensating artists. The timing of the news is also pretty curious, as it comes one day after frenemy Katy Perry once again addressed the infamous feud between Taylor and her in an interview with NME:
I mean, I'm not Buddha — things irritate me. I wish that I could turn the other cheek every single time, but I'm also not a pushover, you know? Especially when someone tries to assassinate my character with little girls [her fans]. That's so messed up!
Something tells us it's not a coincidence that Katy Perry's new album Witness will suddenly have to compete with Taylor's entire back catalog on Spotify tomorrow.