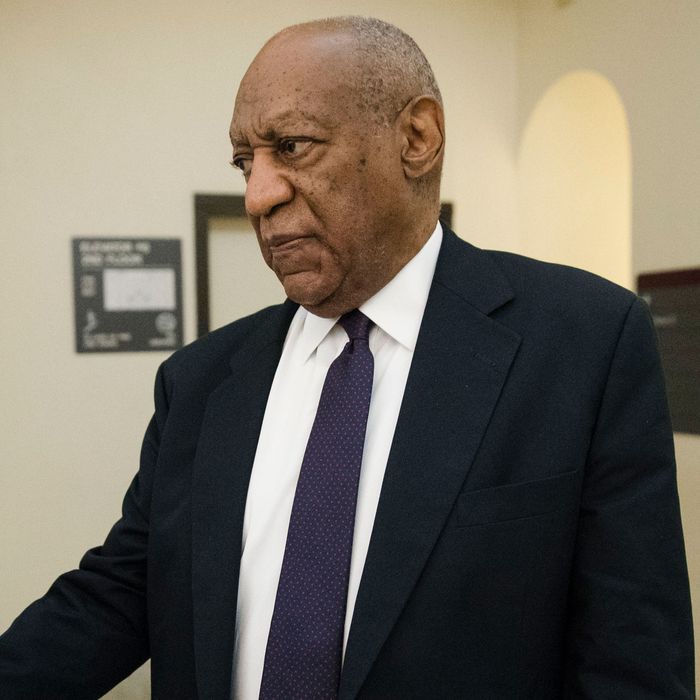 Social media erupted Saturday morning when news broke that Bill Cosby's sexual-assault trial had ended in a hung jury. When the judge announced a mistrial a little after 10 a.m., questions loomed about what could have possibly happened to cause the jury to become so hopelessly deadlocked in this high-profile case, and whether the Montgomery County District Attorney's Office would take on the 79-year-old comedian a second time.
By lunch, D.A. Kevin R. Steele had vowed that his office would retry Cosby. He said Andrea Constand, the woman at the center of the case (she's accusing Cosby of drugging and sexually assaulting her in his Philadelphia home in 2004), is also onboard and willing to testify again.
As if to demonstrate just how firmly the battle lines have been drawn in this case, Cosby's camp gave no sign that they would give into speculation over his past relationships with women. The comedian's spokesperson, Andrew Wyatt, not only criticized the women accusing Cosby of assault (many of the comedian's accusers attended the trial and could be seen crying outside the courthouse today after the announcement was made) but also took a jab at the attorneys looking to prosecute. With Cosby standing quietly by his side, he told them in no uncertain terms that they should "go back to law school."
Gloria Allred, the attorney representing 33 of the more than 60 women who have publicly accused Cosby of assaulting them over 40 years, also spoke to the media on Saturday. Allred, who's attended the trial since day one, said, "It's too early to celebrate." She's digging in her heels as she prepares to bring a civil case against Cosby in California as early as this month. Her client in that case has accused Cosby of raping her at the Playboy Mansion when she was just 15 years old.
This weekend, however, the biggest question is what exactly led to the mistrial? Was the case simply not as strong as prosecutors hoped? Did the jury have trouble navigating the three felony indecent-sexual-assault charges?
From the start, the evidence in this controversial case hinged on believability, and specifically on whether Constand was credible during her seven hours on the stand.
Melissa Gomez, a nationally known trial consultant, said it's likely the jury was polarized on each end of the spectrum, and that both the defense and prosecution can learn a great deal about what happened based on the questions the jury asked during the six-day deliberation.
The repeated reexamination of key testimony from both Constand and Cosby supports the theory that jurors were likely torn between who to believe and what happened on the night in question. During the more than 50 hours of deliberations, the jury not only asked for a rereading of statements Cosby made about his admitted use of Quaaludes with women, they also wanted to see Constand's phone records.
"It can come down to the smallest thing," said Gomez. The jury may be looking at Constand and wondering how she remembers what happened the night she claims she was drugged and assaulted, or even why she voluntarily took pills. Any reasonable doubt, said Gomez, can create a deadlocked jury.
The fact that Cosby did not take the stand in his own defense may have also played a role in the deliberations. As such, the defense may not call him for the second trial if they think he's a loose canon or unreliable. "It happens a lot with high-powered people," said Gomez.
Ultimately, she said, "The jury wants information that supports their position." It's not unusual for them to have questions about evidence so they can use it to bolster their opinions, like the phone call between Constand's mother and the comedian, which seemed to be a major focus during deliberations in the past few days.
There are many other variables to consider for the next trial — like what people already know about the case and whether Constand will elaborate on any new details, even whether new witnesses are called. The celebrity quotient will certainly continue to complicate this already complex case. "Cosby's fame could have worked for or against him," said Gomez, depending on if jurors felt deceived or enamored.
D.A. Steele said that Cosby's celebrity does not preclude him from prosecution a second time. It's expected that both sides will be looking for jurors who are unbiased and, no matter what they know of the case or Cosby, that they'll be able to judge based on the evidence presented in the courtroom.
"The fact that the jurors dug in their heels is significant," said Gomez. "They learned that this is a polarizing case, and both [sides] have a winning strategy."