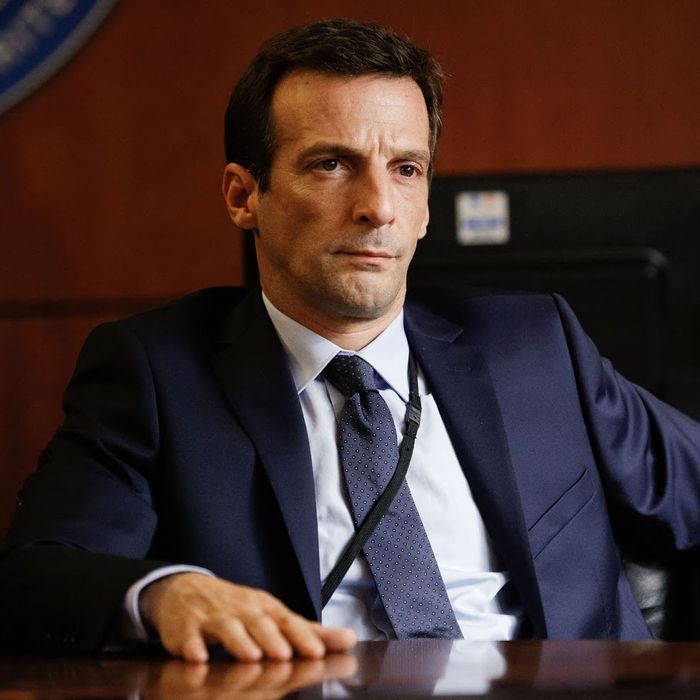 Mathieu Kassovitz (who you may recall as Nino from
Amélie
) stars in
The Bureau.
Photo: Jessica Forde/CANAL+
When it comes to high-stakes TV spy thrillers, sure, Homeland and The Americans have delivered their share of riveting moments.
But by far the series practicing the best spycraft these days is France's The Bureau. An intricately plotted show rooted in real-world geopolitical events, it follows agents operating within the DGSE intelligence service, the Gallic version of the CIA. Mathieu Kassovitz (Amélie, Munich) stars as Guillaume "Malotru" Debailly, an undercover agent recalled to Paris after six years in Syria, who can't quite give up his alias. Suffering from le syndrome du clandestin — post-mission disorder — Guillaume tries to adjust to a quotidian work life supervising agents, and reconnecting with his teenage daughter, Prune. His life becomes more complicated when he discovers Nadia El Mansour, the married professor with whom he was having an affair in Damascus, is in Paris.
Here are four other reasons to check out the show the French Syndicate of Cinema Critics named France's best TV series tout de suite. Ahead of the June 22 debut of season three on subscription service Sundance Now, seasons one and two are available there for free, as well as on Sundance TV on-demand, the website, and the app through June 30.
There's lots of intrigue!
Watching master manipulator Guillaume audaciously outwit his fellow spooks at "la bôite," a.k.a. company headquarters, provides the first frisson. By day, he's conning his mild-mannered boss, Henri Duflot, a man known for his loud ties and jocular demeanor — until an Algerian undercover agent disappears, and Guillaume's tasked with finding him. (Watching him slowly yet ingeniously deduce where the agent is, you see how he came by his code name, Malotru, which means "lout," and was obviously bestowed ironically.) By night, he's giving the slip to his security detail, and rendezvousing with his Syrian girlfriend, Nadia El Mansour. Soon his labyrinthine lies will catch up with him — and he'll make an irrevocable decision.
There's a love story with French twists.
Are you a sucker for romance with a soupçon of deceit? Then Guillaume and Nadia are the couple for you. After falling hard for each other in Damascus — and Guillaume leaving with barely an adieu — the spy reclaims his faux identity to see the married professor after accidentally discovering she's in town. When their hotel trysts arouse the suspicion of her Syrian minders, it's clear he's not the only one hiding something: Nadia's part of secret Russian-orchestrated negotiations to have Bashar al-Assad step down. Will she choose love or country? Will he finally come clean to the DGSE about the woman who could unintentionally be his biggest asset? The choices they make are why you'll want to binge-watch the first season, with the consequences of their affair reverberating through seasons two and three.
The female agents are the bombe.
For a master class in spycraft and badasserie, look no further than the cool, calm, and mostly collected women of The Bureau. Dr. Balmès is the somewhat inscrutable shrink brought in to assess Guillaume's mind-set (and help the rest of the crew deal with the MIA agent). Though she knows she's not welcome ("I'm like a leper at a cocktail party. I show up and everybody scatters"), she slowly wins agents over — and quickly sees through Guillaume. But she, too, has a secret. Marie-Jeanne Duthilleul, Guillaume's Syrian handler, is as shrewd as the shrink. Her new assignment, with Guillaume, is to train and toughen up rookie Marina Loiseau, a gamine seismologist. Under Marie-Jeanne's tutelage, the 20-something scientist, code-named Phénomène, develops the sangfroid necessary to sidle up to an Iranian target and secure a job in Tehran — using every dirty trick to eliminate her competition.
It has a sense of humor.
Even during The Bureau's high-stakes moments, count on the French spooks for some satisfying snark. Take the following: After being given the slip by Guillaume, "Grandpa" and "Grandma," the pair of burly, bearded look-alike field agents protecting him, tell Henri the next time, they'll know "who he's fucking; how many orgasms; if the girl has her period; if she takes it up the ass, or gets fingered." Finding Sisteron stress-eating in the kitchen, Marie-Jeanne asks, "Have you decided to become very fat?" And when Marina gets the Tehran job, Marie-Jeanne tells her that what she's done is impressive and rare. "Like your compliments," Marina replies. Prepare for beaucoup bon mots.