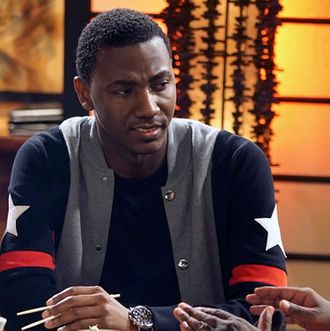 The Carmichael Show will be no more once the show's current season wraps later this summer. NBC and producer 20th Century Fox TV confirmed the end of the series Friday afternoon after series star and creator Jerrod Carmichael issued a statement to Deadline that he was moving on, suggesting (though not explicitly saying) the decision to wrap up the show was his. Other industry sources, however, say The Carmichael Show's end was a bit more complex.
Per these insiders, NBC, having ordered 32 episodes over three seasons, believed the series was never going to break out as a ratings success and decided it wouldn't order more. This was predictable: Despite getting strong lead-ins from unscripted NBC series such as Little Big Shots, The Carmichael Show failed to draw a crowd this summer, with this week's 9 p.m. episode generating a weak 0.7 rating among adults under 50. Also, because NBC leases the show from 20th Century Fox TV, it can't fully realize profits from streaming or international sales, making The Carmichael Show less attractive than an NBC-owned half hour such as The Good Place.
Whatever NBC's ultimate plans were, sources say Carmichael was ready to find a new platform for his comedy, perhaps sensing the lack of a future at the Peacock. Either way, it seems The Carmichael Show was destined to end this summer. Carmichael's statement didn't indicate what his next career move would be, but don't be shocked to read about him doing a deal for a new show at a cable network such as FX or a streamer such as Amazon or Netflix.