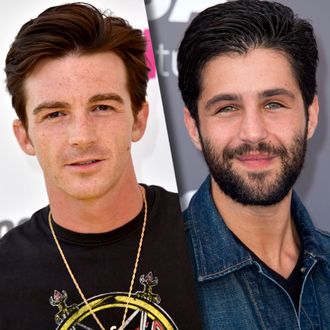 NOT FRIENDS.
Photo: Getty Images
Unlike Frog and Toad, Drake and Josh are not friends. The former Nickelodeon stars have been feuding this week after Drake Bell realized he wasn't invited to Josh Peck's wedding. In a pair of since-deleted tweets, Bell wrote, "When you're not invited to the wedding the message is clear …," "True colors have come out today. Message is loud and clear. Ties officially cut. I'll miss you brotha," and, "Loyalty is key. ALWAYS remember where you came from."
For reference, here's a photo of Josh Peck's wedding. Yes, he did invite his former Grandfathered co-star John Stamos.
Since Bell's tweets came out, the news stories surrounding Drake and Josh have only gotten pettier, as there are no people worse at de-escalation than bros in feuds. In a podcast interview, Peck said that people on the street always ask him where Drake is, and since the two aren't close, he has no idea how to answer. "I go, 'I wish I had a better answer but probably at home. Whole Foods?'" He said. Us Weekly, seemingly interference for Josh, writes that Peck was "really hurt" by Bell's tweets and added today in a groundbreaking exclusive that Drake did not text Josh back to congratulate him on his engagement. Can you imagine? How easy would it have been for Drake to just text "amazing job brotha!" or send a congrats bitmoji?
Meanwhile, Drake has spent his time on Twitter promoting his Flaunt spread, in which he looks like a buff, middle-aged understudy for the Chainsmokers.
I love everything about this feud and hope it never ends.