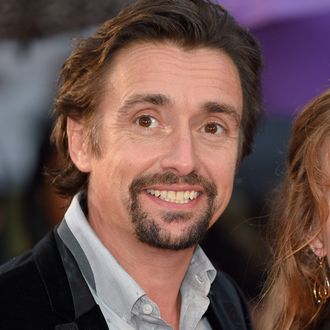 Photo: Karwai Tang/WireImage/Getty Images
Richard Hammond, who is unfortunately no stranger to serious motorsport incidents, has experienced yet another severe car crash while filming Amazon's The Grand Tour in Switzerland. According to Swiss newspaper 20 Minuten, which was translated by The Telegraph, Hammond and his co-stars Jeremy Clarkson and James May were filming a segment on a closed road in St. Gallen for the famed Bergrennen Hemberg race, when Hammond lost control of his vehicle and crashed in the mountainous area. After the accident occurred, he was able to climb out of the Rimac electric supercar without help before it was engulfed in flames. "It was the biggest crash I've ever seen and the most frightening but incredibly, and thankfully, Richard seems to be mostly OK," the usually sardonic Clarkson tweeted out on Saturday afternoon.

The Grand Tour's social-media accounts later posted an official statement that said despite Hammond being "conscious and talking," he was still airlifted to a nearby hospital to receive medical attention, where he only suffered a fractured knee and no serious injuries. The cause of the crash is currently unknown and is being investigated.

Earlier this year, Hammond also suffered from serious injuries when he fell off his motorbike in a remote part of Mozambique while filming The Grand Tour. But most notably, back in 2006 he spent several weeks in a hospital — in and out of a coma — after crashing a high-speed Top Gear dragster that was traveling at over 260 miles per hour. In both instances, he was able to make a full recovery.

Update, June 11: New details are coming to light about Hammond's accident, with an eyewitness describing the scene as near-catastrophic. The Grand Tour's showrunner, Andy Wilman, recounted how Clarkson and May ran to the vehicle moments after the crash. "When they saw the wreckage on fire they thought Richard was dead. It was really bad," Wilman told the Sunday Mirror. "If Richard had been a few seconds slower getting out, he would have been incinerated. They were staggered he had got out of it alive, because there was just nothing left." Hammond has since posted a video titled "I'm Not Dead" from his hospital bed on his DriveTribe website, where he seemed to be in good spirits.