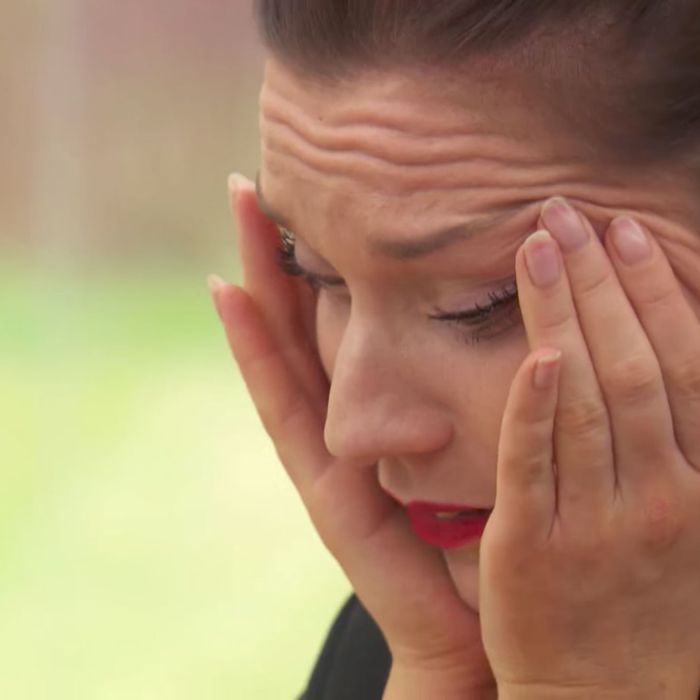 Photo: The Great British Baking Show/BBC/PBS
Bread, glorious bread — perhaps Oprah's very favorite thing — is the subject of this week's Great British Bake Off. The ten remaining bakers will be subject to special scrutiny, given that bread is Paul Hollywood's primary specialty. His secondary specialty is having piercing blue eyes.
"I tend to do basic bread more than a faffed-about bread, so I'm more of a bloomers and baps girl," says Kate, in a sentence so impenetrable to me it would not feel out of place in the scene where Austin Powers and his dad speak "English English" in Goldmember.
The signature challenge? A chocolate bread. Bakers knead their dough with abandon to help produce gluten — this episode is quite the opposite of gluten-free — and improve the bread's eventual shape and structure. Candice's delicious-sounding chocolate, salted-caramel, and pecan-brittle brioche loaf is formed from dozens of dough balls. (Same.) The dough for Rav's chocolate, cardamom, and hazelnut loaf is looking a little small, but he's banking on getting a good rise.
Meanwhile, this year's Bread Week may represent the most times the word "babka" has been spoken in a single episode of television since that one Seinfeld. Benjamina is baking a chocolate, tahini, and almond babka, but Paul argues that her creation technically qualifies as a couronne (French for "crown"), not a babka. "Don't be grumpy about it," Mary Berry chides him. Forget it, Paul. It's Babkatown.
For her "Cobbled Loaf," named in honor of her late grandmother-in-law Nanny Cobbled, a perfect name for a children's-book character if I have ever heard one, overachiever Kate is the only baker making two doughs. One is cardamom and orange, the other is chocolate and vanilla, and the cobblestone-esque bread is composed of individual dough balls stuffed with chunks of dark and white chocolate throughout. "No one likes a small, underfilled ball," Kate observes.
Andrew bakes a chocolate barmbrack bread, a variation on a traditional Irish Halloween loaf. (Excuse me, why don't we have a traditional Halloween loaf?) Andrew courts controversy by adding all his ingredients before proving — that is, leaving the dough alone so it has time to rise. He's the only baker to prove his loaf once, not twice.
Tom calls his chocolate, orange, and chili swirl loaf "Aztec-inspired." Paul appreciates his daring approach to flavors, "but when you fail, you catastrophically fail." Well, good luck! Self-described "rogue baker" Selasi (recipes schmecipes!) is working on a chocolate orange and cinnamon bread, glazed with orange syrup to cut bitter dark chocolate. Jane spreads the interior of her chocolate and cranberry couronne with a thick mixture of dark chocolate and melted butter that I would like to spread all over my face and body, because there is no way that something so beautiful doesn't have some kind of wellness and/or skin-care benefit.
The filled dough must be shaped before it proves a second time, which gives the yeast another welcome opportunity to grow. Bakers roll, cut, and twist their creations in a high-stakes Play-Doh session. Bursting with cranberries and pecans, Jane's couronne looks … interesting. Sue asks her if she's seen Alien. "There's a hint of sort of John Hurt's exploded stomach to that, isn't there?"
Most of all, bakers have to strike the right balance between proving time and baking time. Do you let your dough rise for as long as it takes, or do you risk serving Paul something raw? (Please, for the love of babka, do not serve Paul something raw.) The wait is agonizing, so much so that Selasi lies down on the floor. When their bakes are theoretically done, the competitors pat their loaves solicitously and probe them with thermometers. "Please be cooked, I beg you," Benjamina implores hers.
Candice is in a state of panic when her bread won't slide out of its tin. A small army of fellow bakers assemble around her for moral support, reminding us that the central lesson of Great British Bake Off is that people, like desserts, are basically good. She flips it over. It partly collapses on the way out. "Oh no!" Candice cries, "I've squashed it!"
Andrew's bread looks great, decorated with beautiful, even lines of frosting. Proving just once paid off! Benjamina's bread didn't cook evenly on top, Paul notes, giving it the consistency of "wallpaper paste." Most bakers have at least slightly underbaked their thick loaves, but Tom was wise to choose a more "shallow" bake. It came out wonderfully. Rav, too, gets kudos. Jane's formerly horrifying couronne looks amazing, like an all-seasons edible wreath I would gladly hang on my front door.
But Michael's "Mexican-inspired" chocolate and chili swirl plait, with chia seeds and cayenne pepper, is waaay too heavy on the chili. And Poor Candice's bread isn't just experiencing structural issues. It's raw. "With all the love in the world, I'm not going to eat it," Paul tells her.
This week's technical challenge requires the bakers to produce 12 Dampfnudel (… what), a "notoriously difficult" recipe courtesy of Paul, with a plum sauce and a vanilla custard on the side. Dampf, you see, is German for "steam." These pale, fluffy dumplings are brown and caramelized on their bottoms. Paul says the test here is knowing when the dough has been steamed through (don't lift the lid early or they'll droop!), but to me this seems more like a test of psychic ability.
People are utterly baffled, and as usual, the bare-bones recipe is little help: "Make a Dampfnudel dough," reads the first instruction. Worse, the condensation from the steam makes it nearly impossible to see how they're coming along. Tom calls this challenge a "voyage of discovery." Says Rav of his damp noodles Dampfnudel, "I hate them. I absolutely hate them."
When time is up, many of the Dampfnudel are raw. Some have cooked unevenly. Others are black on their bases or have drooped unpleasantly. Val wins the technical (hers "still a million miles away" from his, Paul says, but whatever, pal), with Andrew and Candice in second and third. Rav is in last place, with Jane, Kate, and Michael also in the bottom.
The showstopper challenge is a savory, plaited centerpiece made with three flours. This will be tough. Different flours take different amounts of time to rise, and the strands of their plaits (that is, braids) must be neat and uniform. Jane's elaborately braided "Corn Maiden" is inspired by a corn doll made by her children, but to me it looks like one of those creepy twig figures from The Blair Witch Project. Michael is baking a Cypriot dove-and-olive-branch plaited loaf with hummus, inspired by memories of baking with his grandmother and his family's roots in Cyprus. He plans to serve it with a glass of Zivania, a not-messing-around high-proof traditional spirit.
Candice works her Italian light-and-dark-rye twist (filled with mozzarella and olives) for ten seconds, leaves it for ten minutes, kneads it for ten seconds, leaves it for ten minutes. I am exhausted just watching her. In addition to its woven base, Andrew's ambitious braided harvest-basket bread will have a pesto-filled rim and a handle flavored with orange and cardamom.
Tom is appealing to the Norse gods for his two-part centerpiece: the serpent Jörmungandr (filled with cranberries and walnuts) and Mjölnir, Thor's hammer, as rendered in rye and spelt flavored with ale and seaweed (!). "It's very male isn't, it?" Mel says of Tom's noticeably phallic dough sword. He won't take the bait: "My mom's going to watch this."
Val's Biblical bake, "And They All Went Into the Ark to Get Out of the Rain," might be the day's very biggest centerpiece. It features not only the ark itself, but a fleet of spelt bread animals. The hosts point out that, oddly, those animals don't appear to be in the classical pairs. There are two giraffes, yes, but only one elephant ("They've argued," Val explains) and a single dove ("One's flown away"). Alas, Val herself flew too close to the sun. When presented to the judges, the still-raw finished product looks a little crazy. Paul thinks he sees a chicken. Mel speaks of a tortoise and slugs.
Tom's bold, appealingly shiny seaweed-flavored bread is a big hit, Odin be praised. Sue puts Andrew's well-received basket on his head as a helmet. Benjamina's braided bread heart gets a "gorgeous, gorgeous, gorgeous" from Paul. Selasi loses points for the three disjointed loaves that comprise his Bedouin escape tear-and-share bread, connected only tenuously by a story of his trip to Egypt. Kate's Corn Maiden gets high marks for its intricate plaiting. Candice's double loaf is a neat Dr. Jekyll on the bottom and a regrettable Mr. Hyde on top. And even a boozy bribe can't help Michael's entry, served on the Cyprus flag. Paul calls it a "mess."
Tom, to his shock, is crowned star baker. Though Candice is sure she'll be going home, the judges choose Michael, who's sad he lost on a bake that was so meaningful to him.
"I think she might become my baking mascot," Kate chirps of her corn doll. I think it might become a recurring feature of my nightmares.