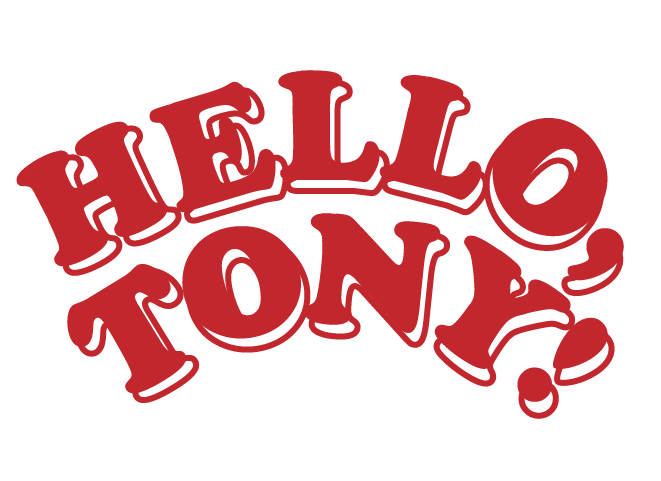 Many musicals take a wandering path to Broadway, but Natasha, Pierre & the Great Comet of 1812 took a more wandering path than most — the show started at Ars Nova, an 87-seat Hell's Kitchen cabaret theater, before making a detour to a makeshift tent in the Meatpacking District. To complicate matters further, the show, which adapts a rollicking love-story subplot from Tolstoy's War and Peace, features a monumental set that includes ramps and stairwells that twist and writhe through the audience, allowing dancers and performers to move in, around, and through the crowd.
Vulture spoke to four members of the show's design team, each of whom are nominated for Tonys this year, including director Rachel Chavkin and set designer (and recent MacArthur-"genius"-grant recipient) Mimi Lien, about how exactly you transplant a makeshift, Off–Off Broadway musical to a massive, 1,138-seat Broadway house.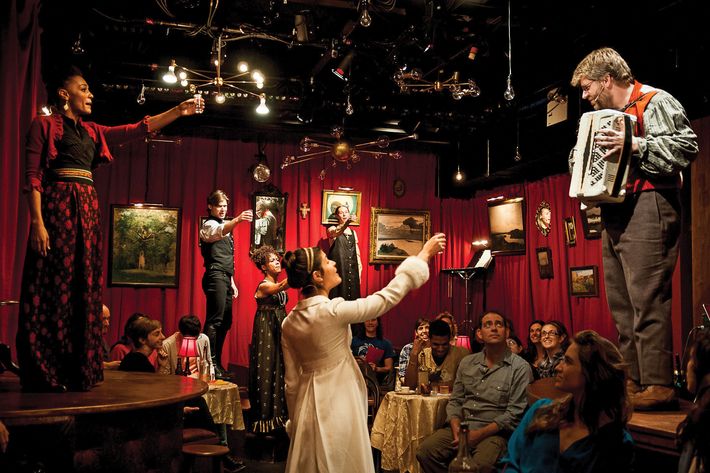 Rachel Chavkin (director): This was the third show [composer] Dave [Malloy] and I had done together. When talking about dream projects, he said, "Have you ever read War and Peace? There's this sliver …" Then he got an Ars Nova commission to become composer in residence for 2011.
Mimi Lien (set designer): Dave is my husband's best friend. I came onboard when we were doing the workshop at Ars Nova. The actors were using the whole room and walking down the length of the space, but I suddenly had a thought: If all the actors were, like, three feet higher, that would be great. You could see over everyone's heads. Then I thought, It'd be nice if it was just this curving promenade through the audience. It would feel like the actors were floating!
Chavkin: After that workshop, Mimi drew me something that was like a snake, and I went, "Of course—it's curving!" It's a melodrama, and it's about love, and it's voluptuous, so obviously, it's snaky.
Paloma Young (costume designer): I got an email that was like, "Are you interested in coming to interview for this job?" I had just been nominated for a Tony for Peter and the Starcatcher, and I was both sick and exhausted, but I was also like, This is the kind of show that I have been trying to get since I moved to New York. Peter was the second show I ever designed in New York, and I felt like I had to win a Tony in order to get the interview at Off–Off Broadway experimental downtown theater!
Bradley King (lighting designer): Rachel and I had done Vanya in the basement at Columbia, and I thought, Oh, this might be fun. Her email said something about opera. I looked at a model [of the set] and I went, "Oh my God, how the hell is this going to be lit?" The room was so small, and the set was so large!
Chavkin: You ended up lighting it entirely with light bulbs and chandeliers.
King: Yeah, sort of by accident. In a fit of desperation one morning, I went to one of the 25 lamp stores I'd been going to every morning and bought the biggest, brightest globe bulb I could find, which is 400 watts. I put four of them in the comet [the central chandelier that dominates the set]. In that tiny [Ars Nova] room, it's completely overwhelming.
Chavkin: There were maybe one or two theatrical lights.
King: Yeah, nothing full-size. Mostly stuff I found in the basement that was miniature and could hide up amongst the pipes.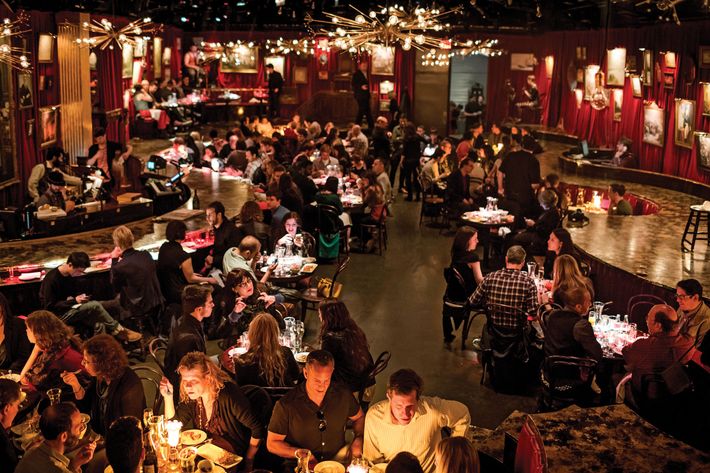 In May, 2013, The Great Comet moved to a specially constructed 199-seat tent, nicknamed "Kazino," in the Meatpacking District.
Lien: We built a theater from a vacant lot in about three weeks.
Chavkin: Importantly, one of the reasons — potentially the only reason — the show looks the way it does is that, both at Ars Nova and at every step of the way, we were never told "no" by our producers. In fact, we were told, "You have to go further." [Kazino] is when we added Sam Pinkleton, our choreographer. We also added an ensemble of six dancer-performers. There was suddenly space to do a ball and have much more dancing for the club!
King: Plus, we needed a liquor license.
Chavkin: So we had to prove we weren't building a nightclub.
Lien: We were looking at nontraditional spaces because we needed to build a kitchen for the dinner that was going to be served.
Chavkin: The borscht!
King: The borscht!
Young: We were presented the menu for the dinner and I immediately laser-focused on "borscht." Because borscht is made with beets, which are an ancient source of a strong fuchsia dye you cannot wash out.
Chavkin: It's been a learning curve.
Young: By the end of that run, there was borscht on every costume.
In December, 2015, The Great Comet moved to a much more traditional theater — American Repertory Theater's 540-seat Loeb Drama Center in Boston — in advance of a planned Broadway run.
Lien: The basic premise of the set design has always been about delivering the performers to the audience. So the big question at A.R.T. was: What's going to happen when the audience is sitting in theater seats?
Chavkin: That was the purpose of that run — to figure out the philosophy of, essentially, creating a "bowl" between the theater proper and the stage.
Lien: That was the first time we had tackled the idea of putting this show into a proscenium-theater space, so that was a huge jump.
Chavkin: The fear of losing that original intimacy and vibrancy in the room has always been the No. 1 fear, both of audiences who've seen the show in previous incarnations and of the team.
King: One of the biggest lighting challenges is always: How do you isolate someone? We did it at Ars Nova with a light bulb. Because you were so close to the actors, and it was a small enough point of light, you didn't light up the whole room. When we moved to A.R.T., suddenly I had follow spots, which bring a sharpness to these intimate moments.
Chavkin: One thing we did was, we upped the size of the ensemble quite a bit. We went from 16 onstage at the tent to 24 at the A.R.T. There are 30 onstage now, just for perspective. So it was quite a big jump. Ars Nova was 87 seats, the tent was 199 seats, A.R.T. was 500-plus seats. So that upped the ratio in terms of performer-to-audience.
Young: I always have this worry that costumes will be too distracting. Like, they'll be too loud or too sparkly or too all of these things. But there was something about watching the build and the excitement and the loudness of the choreography that I felt helped those intimate moments. Because it's like you get exhausted and then, when that pulls away, you really feel this vacuum in the room of this very intimate moment.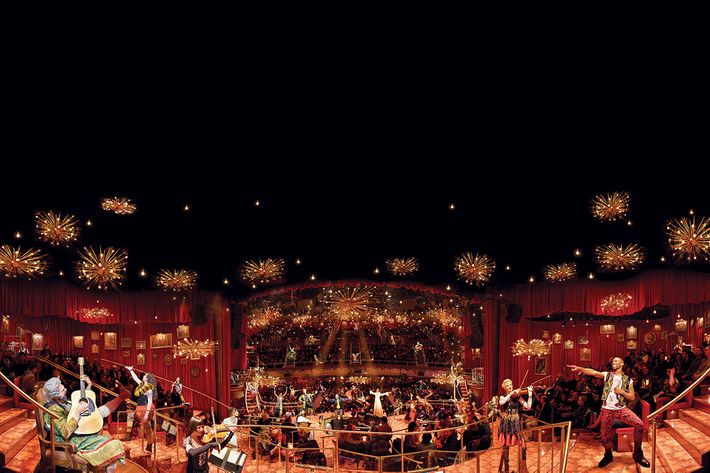 On November 14, 2016, The Great Comet opened at Broadway's Imperial Theatre.
Young: Sometimes there's a perception that each step is going to get more opulent, but actually it's about compromise. At the tent, I made these dresses with these long trains. At A.R.T., the trains got shorter. Then we came here and there was even more running and dancing, so the trains got shorter again.
Lien: At the Imperial, we made these grand staircases that connect the stage to the mezzanine so performers could get up there. It's about extending the reach of the show into the audience.
King: We built a new comet for Kazino, another new one for A.R.T. — which is hanging in the mezzanine now as one of the chandeliers — and our grandest one for the Imperial. So, we were asking, "How many light bulbs can we physically fit around the sphere?" It's actually the same kind of light bulb from the very beginning, that 400-watt glow, which is designed to be used in underwater pools.
Lien: In terms of sight lines, there are a few crucial moments in the show that everybody needs to see. But then there's a kind of delight in crafting all these little moments that are specific to the place in the theater where that particular audience member sits.
King: Every choice I've made in this room I can trace back to Ars Nova. If you eliminate Ars Nova, I don't even know where I'd begin.
Chavkin: Dave has written a beautiful enough show that it will one day have a glorious life on a [traditional] proscenium [stage] in a well-behaved way. But I can say with confidence that we never would have made this if it had started in a Broadway house, or even with that as our intention. Yet every time it's gotten bigger, to me, it's felt like it's become more of the thing it's always been trying to be.
*This article appears in the May 29, 2017, issue of New York Magazine.