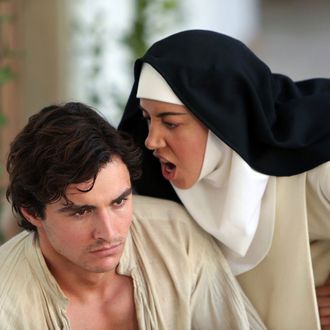 Dave Franco and Aubrey Plaza in
The Little Hours
.
Photo: Gunpowder & Sky
Jeff Baena's The Little Hours is a loose adaptation of two stories from Boccaccio's The Decameron about sexual hijinks in a medieval Tuscan monastery and castle. The locations and score (by the brilliant Dan Romer with help from Hildegard von Bingen) have a splendid period accuracy — which flies right out the window when a nun named Fernada (Aubrey Plaza, who also co-produced) begins screaming at a gardener in 21st-century Americanese: "What the fuck are you looking at? Fucking delusional … Mind your own fucking business!" The movie is not camp. It's deliciously deadpan sex farce played by some of the deftest clowns in the English-speaking world. The more matter-of-fact it is, the more screamingly funny.
Dave Franco plays Massetto, the alternately bedeviled and lucky servant who flees the castle where he has been used as a sex toy by the wife of Lord Bruno (Nick Offerman), a man given to breakfast tirades about the Guelphs and to trying out the latest tortures from Sicily. A chance encounter with the convivial Father Tommasso (John C. Reilly) leads to a job as the gardener for the monastery, where he catches the eye — and fires the loins — of Fernanda, Genevra (Kate Micucci), and the mournful, doe-eyed Alessandra (Alison Brie), who's waiting to be sprung by her wealthy father (Paul Reiser). Trouble is, Father Tommasso has advised him to pretend to be a deaf mute so as not to draw undue attention. As if.
It's bliss watching the bare-chested Franco struggle to hold his tongue while being hungrily straddled by Plaza and Brie (his real-life spouse), nervousness yielding to lust yielding to nervousness again. Brie is a perfect dreamy ingenue, Micucci a marvel of anxious befuddlement, and Plaza a snappish brat raised by a foray into witchery to the level of myth. An actress I didn't know named Lauren Weedman has only a couple of scenes as the Duke's wife and does more with a husky put-down than anyone since Bea Arthur — she's a gem. Reilly is peerless. Watch this gentle stumblebum listen to confessions of sodomy and savor the high art of the minimalist straight man. You never catch Fred Armisen as a terribly earnest bishop trying to be funny, but almost every time he opens his mouth you'll be seized by giggles.
I suppose there are folks who'll find The Little Hours offensively irreverent — and there are those naked witches dancing around a bonfire — but there's no evident malice in it. The characters are such innocents that you might find yourself thinking fondly of the God who forgives all iniquity.