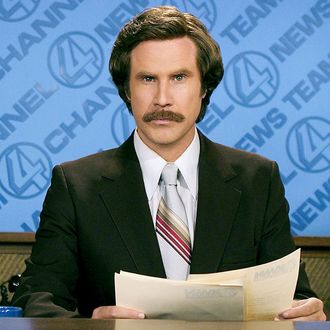 I'm Ron Burgundy?
Photo: Allstar/Dream Works
Love it or hate it, Will Ferrell and Adam McKay's 2004 film Anchorman continues to be one of the most quotable comedies in recent memory, whether being Ron Burgundy's teleprompter expletives to the city of San Diego or Brick Tamland's musings about his affection for lamps. To think, then, that the original Anchorman script wasn't centered around the various misadventures that occur at a fictional California TV station, but rather a horrific plane crash, is quite a tantrum-in-a-phone-booth surprise. "The first version of Anchorman is basically the movie Alive, where the year is 1976, and we are flying to Philadelphia, and all the newsmen from around the country are flying in to have some big convention," Ferrell explained in a new interview with The Ringer. "Ron convinces the pilot that he knows how to fly the charter jet, and he immediately crash-lands it in the mountains. And it's just the story of them surviving and trying to get off the mountainside." Yup, that definitely seems like the Ron we know.
Not to be confined by typical survival-narrative norms, Ferrell and McKay's script then took a bizarre turn … which involved violent apes. "They clipped a cargo plane, and the cargo plane crashed as well, close to them, and it was carrying only boxes of orangutans and Chinese throwing stars. So throughout the movie we're being stalked by orangutans who are killing, one by one, the team off with throwing stars," Ferrell continued. "And Veronica Corningstone keeps saying things like, 'Guys, I know if we just head down we'll hit civilization.' And we keep telling her, 'Wrong.' She doesn't know what we're talking about. So that was the first version of the movie." Hey, there's always a trilogy on the table, if need be.