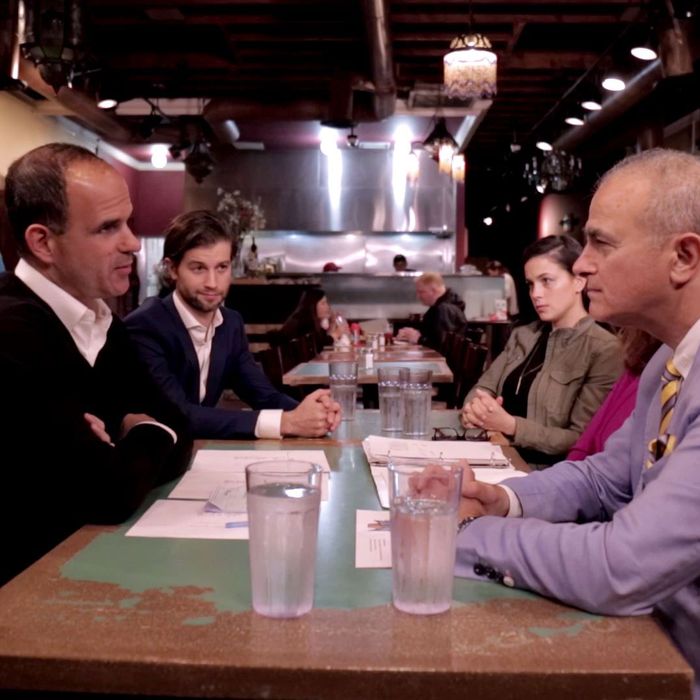 The Profit.
Photo: Chun, Kathleen
CNBC is not where you'd expect to find a deeply compelling reality show. It's the kind of channel you expect to see on a waiting-room TV, if for some reason your dentist's cable package doesn't include the Food Network. Nevertheless, I am utterly addicted to The Profit. For uninitiated newcomers, the titular prophet (see what they did there?) is Marcus Lemonis, a mild-mannered entrepreneur who invests his own money in struggling small businesses for an ownership stake, then does his best to steer them back into the black.
Imagine Shark Tank crossed with Kitchen Nightmares, if the host were calm and reasonable and capable of explaining basic economic concepts in an engaging way, or maybe an earnest, genuinely helpful Bizarro World version of Nathan for You. Over the first four seasons, Lemonis's portfolio has expanded to include the likes of an ice-cream company, a florist shop, a premium longboard manufacturer, and a chain of Long Island hair salons. At its heart, though, The Profit isn't about business at all. Like most great reality shows, it's about family drama and the toxic dynamics that make us want to set the people we love most adrift on an ice floe — particularly if we share a workplace as well as a home with them. Let's get to it, shall we?
Unlike Marcus Lemonis, I am not a business expert, but I am pretty sure "Swim by Chuck Handy" is a terrible name for a company. Chuck Handy spent 20 years working in swimwear sales before launching his own line of "slenderizing" suits with matching coverups, inspired by his wife Mary Lou. They have two children, Charlie and Mary Ellen — you have to appreciate a family that really sticks to a naming theme — both of whom work for the family business. With a net loss of $36,000 in 2015 and $40,000 in 2016, the company and the Handys' life savings are in peril.
But all is not lost. Marcus declares plus-size swimwear to be a "giant opportunity," which, while I'm very happy for everyone involved, is probably not the most sensitive adjective choice.
1) The company is currently headquartered in Miami, where Chuck and Mary Lou originally grew up, despite the fact that everyone but Charlie now lives in New Jersey. Marcus astutely notes this bizarre setup — and more important, they should have an office in a fashion center like New York or Los Angeles.
2) Their trade-show booth — where colorful, slightly dated suits (I'm being gentle, Marcus calls the prints "hideous") hang amid ill-lit lawn furniture — looks like ghosts are having an imaginary pool party in an abandoned Lowe's.
3) Chuck is his own designer, despite being untrained, despite the fact that his daughter, Mary Ellen, is a former designer for Dress Barn, and despite the fact that his design process (if you can even call it that) involves drawing inspiration by roaming the aisles of department stores. This means that all Chuck's ideas are, at best, a season behind.
4) The suits wholesale for about half the price they should, and thanks to those way-too-low margins, the company can't afford the inventory it needs. Marcus estimates their warehouse should house 25,000 pieces, but they've got just 800 on hand.
5) There are a whole bunch of feelings happening in this family, who clearly love each other very much. Chuck is upset that he's letting his wife down. Mary Lou is upset that her husband is upset. Mary Ellen is upset that both her parents are upset.
6) And then there's Charlie. The company vice-president, a.k.a. Chuck's son, is of the opinion that he is in charge, a belief shared by no one. This seems to deeply rankle Charlie, whose qualifications beyond the fact that he, too, is technically named Chuck Handy are unclear. This is neither here nor there, but he also bears a resemblance to The Challenge's Johnny Bananas. I should not hold this against him, and yet, I do.
Marcus offers the Handy family $650,000 for 55 percent of the business. That will not only make the company debt-free, but it'll give them access to the capital they need for inventory and product development — not to mention a new office (not in Miami or their New Jersey home) with a showroom. The Handy family accepts. "And to be crystal clear, I'll be the boss," Marcus advises Charlie. "Not you. Because I have no problem firing your ass. None. And I may even give your sister permission to fire your ass." This, you see, is extremely inflammatory language for The Profit.
Marcus takes the family on a series of educational field trips. First, they're off to his L.A. showroom for a focus group and a consultation with the president of his fashion group. (Of course Marcus Lemonis has a fashion group — you mean you don't?) The potential customers polled approve of the fit, fabric, and coverage, but slam the designs and the brand's disconcertingly male name.
Then they visit the plus-size denim specialists at NYDJ, who recommend that the Handys make their ads more relatable with group photo shoots. Charlie, who is either rude, not fully listening, or both, responds by saying that they don't do group photo shoots.
After closing down the Miami warehouse, they relocate to New York City, where they'll have three weeks to relaunch the brand in time for the Curve industry trade show. In the meantime, Swim by Chuck Handy needs a new name, a new booth, and new garments.
Marcus brings in Printed Village, another one of his investments, which connects companies with artist-created prints and patterns. Their designers offer up some objectively cool and cute suit designs — in patterns like marble and Moroccan tile — that are well received by most of the family. But Chuck, whose tastes skew older, is largely critical of these suggestions. Marcus does not have time for this nonsense. "I don't really think of you as a designer," he tells Chuck, and unilaterally declares that they're going with Printed Village. Just listen to Marcus. Let go. Let a beautiful slumber of profitability overtake you.
And so it does. When Marcus introduces them to their beautiful, pristine new showroom space, Papa Handy is moved to tears. Then it's time to reveal their new name: Siloett (as in silhouette). Personally, I do not love this name, if only because it makes me think of decidedly non-beachy grain silos, but I know better than not to listen to Marcus. "It's a sexy word," he tells us. Okay, Marcus. I'm letting go.
Leading up to Curve, Marcus gives the family members clear assignments: Chuck is on sales, Charlie is on the trade booth, and Mary Ellen is on design. To use a technical business term, Mary Ellen kills it. She follows Marcus's advice to expand the product line by developing a full collection of "getaway must-haves," including a weekender bag, hats, and scarves, which she presents with aplomb. Charlie's presentation, meanwhile, apparently consists of a single sheet of paper. When pressed on his lack of preparation by Marcus, Charlie throws a mini-tantrum: "Dude, do you know how much shit I've been doing? I just don't have the time."
This man — who, to be clear, is solidly in his 30s — goes on to explain that he cannot abide sharing a home with his parents. "I live in this big circus," he says. "Dun-dun-dun, every morning! Everything's going on!" Marcus laughs at him, which seems like the only appropriate response. For the record, I would watch an hour-long show that dispenses with business advice and simply involves Marcus Lemonis coolly, satisfyingly reprimanding people who have been unnecessary burdens on their family members.
Though the air at the Jacob Javits Center may still hang thick with sorrow from Hillary Clinton's would-have-been victory party, Siloett's debut at Curve is a resounding success. I am happy to report that the prodigal son finally establishes a baseline level of confidence by assembling a stylish, professional trade-show booth. Good job, Charlie! Then again, our old pal has also inexplicably hired two assistants. Consider your praise downgraded: Okay job!
Back in his wheelhouse, Chuck is selling the hell out of Siloett at Curve, racking up $270,000 in orders in 48 hours — that's nearly half of what they did all last year. But Marcus says that this boat needs to have one captain — water-related brands require water-related metaphors, thank you very much — and it should be Mary Ellen. Chuck agrees that it's best for the company and for the family. "I feel that, sure, that's fine," Charlie says, who is visibly twitching. Meanwhile, a barely perceptible crack appears in the thick ice that has surrounded my soul since November 9.
After a well-deserved business group hug, Marcus Lemonis rides off into the business sunset on his business horse. Which business will he business next?