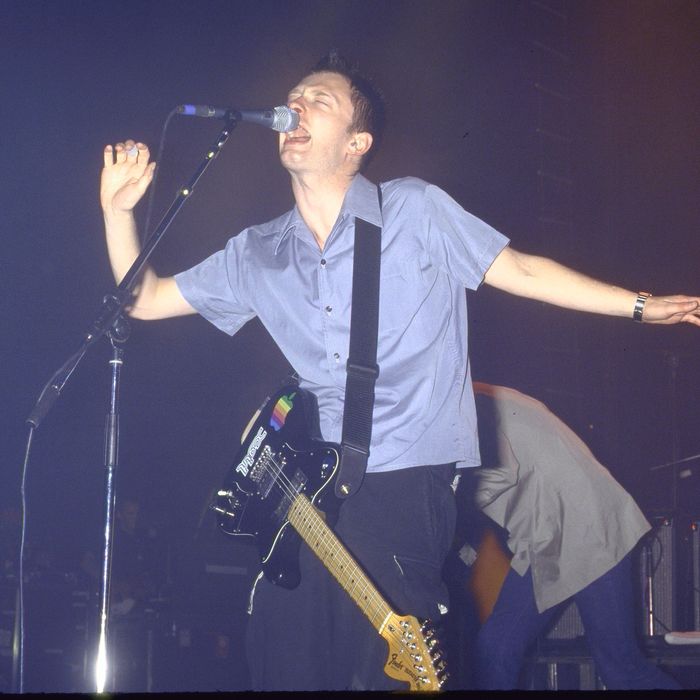 Thom Yorke.
Photo: Gene Shaw/Time & Life Pictures/Getty Image
In a parallel universe, a band called Radiohead is making music for shiny, happy people. It's hard to believe, but Radiohead as we know them almost were that band — at least, it's possible that they might have been right before they recorded their landmark 1997 album, OK Computer. The album, which holds the distinction of being within the Library of Congress's esteemed National Recording Registry, oozes with jagged, anxious tunes about the looming threat of technology-induced disconnection. It became a potent statement about the Age of Overstimulation before it had really set in; this was recorded at a time when the internet was still colloquially referred to as "the net." "I was getting into the sense of information overload," front man Thom Yorke recently told Rolling Stone. "Which is ironic, really, since it's so much worse now."
Yet OK Computer wasn't always meant to be about a devastating world, nor was it meant to reverberate with songs that described it as being "poisoned, full with debris and waste," as the band has said in the past of "No Surprises." When Radiohead first set out to write the album, they were coming off a massive Bends-era tour and burned out. But following the record's success, Radiohead finally had the sales and the minerals to self-produce, which gave them an extra boost to do something radically different with the recordings that would become OK Computer. "You know, the big thing for me is that we could really fall back on just doing another moribund, miserable, morbid and negative record, like lyrically, but I really don't want to, at all," Yorke revealed at the time.
The resulting OK Computer is not, um, exactly joyous, life-affirming and positive. So what happened to the ray of sunshine they set out to capture? It's not entirely clear, but OKNOTOK — an OK Computer reissue out now that's also replete with unreleased tracks and B-sides, along with Yorke's sketchbooks, demo tapes, and notebooks that Radiohead have released on the heels of the album's 20th anniversary — may offer some clues. As the band's recent Rolling Stone cover story notes: "The stacks of paper — which include handwritten lyrics on hotel stationery, instructions for the use of an inhaler ('Try very hard not to panic') and drawings of airplanes, helicopters, cars, escalators and other modes of transport — reveal the innermost thoughts of a 27-year-old who was beginning to crack after living on a tour bus for four years in a row. 'I was basically catatonic,' Yorke says. 'The claustrophobia — just having no sense of reality at all.'"
Despite their best efforts for it not to be one, OK Computer still became an alt-rock classic, and was the first album the band recorded that climbed to No. 1 on the U.K. charts. It's hard to overstate how radically OK Computer resounded at the time of its release. The grunge era's hangover still lingered, Britpop was in its final throes, and R&B dominated the charts. Twenty years later, fans are discovering new depths within these songs, especially now that OK Computer's non-album cuts and B-sides, and previously unreleased live fan favorites are available digitally for the first time.
The eight B-sides and three unreleased tracks on OKNOTOK not only serve to give the original album even more context, but they also present a sort of an alternate history of this band, illustrating what could have happened had Radiohead pivoted the direction of OK Computer and gone the road more traveled. But perhaps the most revealing thing about the reissue is the title itself. In addition to being a play on the original album's name, it could also be read as an admission. Okay: It's time to admit that we, as individuals, as a society, and as a world, are not okay.
"Lift"
Radiohead has made it clear that the unexpected success of The Bends, and Pablo Honey before it — which hoisted them onto a pedestal overnight as the new saviors of rock and roll — nearly broke them. So they took a step back around 1997, and were careful to not do anything to upset the already-fragile balance that could propel them even further into the spotlight. That included leaving particularly anthemic numbers, like they did with the forever fan favorite "Lift," off OK Computer. "If that song had been on that album, it would have taken us to a different place, and we'd have probably sold a lot more records … it would have killed us," guitarist Ed O'Brien said earlier this year. So they "subconsciously killed" the enlightening song which, until now, only lived on in memory and sometimes live. Ironically, the fact that Radiohead purposefully left "Lift" off OK Computer — in trying to maintain a semblance of control over their growing popularity—only contributed further to building their mythology. It's also one of their more uplifting numbers, one that doesn't deny being down and instead gestures upward.
"Man of War"
Another unreleased fan favorite on the reissue, "Man of War" (also known as "Big Boots"), gestures toward James Bond themes both instrumentally and lyrically. At one point, Yorke implores: "I wish you could see me / Dressed for the kill." It's a song the band has been tinkering with since The Bends, but they'd never been able to record it in a way they were happy with. Like "Meeting in the Aisle," "Man of War" provides a glimpse of what Radiohead might have been if they'd fully embraced the more polished, electronic-driven sound that was flourishing within the U.K. Just give the Zero 7 mix of "Climbing Up the Walls" a spin if you're interested in hearing a sleek rendition of that song that might live at an after-hours club.
"I Promise"
This raw acoustic dirge makes it clear Radiohead had a future as the rock band for the new millennium. They were able to move between elevating anthems like "Lift" to slower, sweeter songs like "I Promise" with panache. It's easy to forget, too, that the reigning megastar of alt rock, Alanis Morrissette, loved The Bends so much that she invited Radiohead to open for her on the American leg of her Jagged Little Pill tour in August 1996. By then Radiohead had started recording a few OK Computer cuts, and performed the likes of "Paranoid Android" to thousands of confused Morrissette fans. But the tour dates with Morrissette proved to be critical — a live testing ground for what would eventually be on OK Computer. It also gave them a clear sense of what they didn't want to do as a live band, as some songs they played frequently on this tour, "I Promise," in particular, wouldn't be performed again for over 20 years.
"Polyethylene (Parts 1 & 2)"
"Polyethylene (Parts 1 & 2)," a B-side that first appeared on the "Paranoid Android" single in 1997, takes its name from a ubiquitous polymer that can be found in common plastic bags. The throttling song drips with sarcasm: "There is no significant risk to your health," Yorke screams, as he outlines the unknown health and environmental risks these kinds of polymers have on our planet. By all accounts, this winding song, which features Yorke's pipes in tip-top form, very nearly made it onto OK Computer. Maybe it didn't, though, because it was a bit too on the nose: Just check out the pages of facts about polyethylene that made it to Radiohead's website at the time. Instead, Radiohead chose to write songs with more oblique political statements that still sometimes become self-fulfilling prophecies and fan conspiracy-theory flames.
"Pearly"
"Pearly" is a barreling banger that also made its first appearance on the "Paranoid Android" single. It's also one of Radiohead's more nebulous songs: Its lyrics are often the subject of much debate, boiling with capitalist signifiers, like the Hard Rock Cafe, and enragement for class issues alike — two recurring themes on OK Computer. But other interpretations suggest that it's written about the the threat of whitewashing in the Third World. Could this have been the song, in another lifetime, to cement Radiohead's place as an explicitly sociopolitically-minded band, realizing their own complicity within globalization?
"A Reminder"
Most of OK Computer was, in a way, a negative reaction to fame, but this B-side, also from the "Paranoid Android" single, sounds like Yorke actively rejecting fame's surreality. The rock-star lifestyle brings with it fortune and a fleet of health specialists who can keep you looking fitter, happier, and more immortal than most humans will ever know. Yet the song harkens to the inevitability of aging, acting as a sweet note to a dear past lover: "If I get old remind me of this / That night we kissed and I really meant it / Whatever happens if we're still speaking / Pick up the phone / Play me this song." It would have made perfect sense for this to be on OK Computer. On it, Yorke is reaching out a hand, hoping for human connection in the face of looming technological ubiquity. Why not include it, then?
Perhaps it's because the sample that kicks off the crescendoing "A Reminder" was culled from an overhead announcement from Prague's metro system ("Finish getting on and getting off; the doors are closing. The next station will be Jiřího z Poděbrad") and overlaid with field recordings. These atmospheric sounds serve to ground the song in a highly specific place, maybe even a Eurocentric one, whereas the anonymous dead air space of these dismal-seeming airports and transit stops buzzing from every corner of OK Computer could be anywhere, or nowhere. Keeping it vague also makes the eventual encroachment of this all-seeing, all-knowing technology even more sinister.
"Melatonin"
The narcoleptic dirge "Melatonin," which was first released on the "Paranoid Android" single in 1997, is written from the perspective of parents watching over their son as he drifts off to sleep. If you've ever taken melatonin supplements to regulate your sleep cycles, you know how lysergic this hormone is: It often leads to drowsiness and strange dreams. This short, lullaby-esque song is appropriately spare, with just a set of keys and some drums. It also listens like a sleepy fantasy, one that lets the imagination roam into a dream world where Radiohead was not, in fact, expected to pick up the mantle where the Beatles left off, and existed instead somewhere calmer and quieter, where the prospect of putting a child to sleep was the most stressful part of their night.
"Meeting in the Aisle"
The instrumental tune "Meeting in the Aisle" also first saw the light of day on the "Karma Police" single. It's special in that it has an unusual swagger, and maybe even a bit of sex appeal, which is something that can't be said for most Radiohead songs. And while Radiohead has always been endearingly idiosyncratic, they've hardly ever been the capital-C cool kids: "The whole album is really fucking geeky," Yorke said recently of OK Computer. "I was kind of a geek when I was a kid, unashamedly so." They eventually scrapped the slick song, which also featured programming from Zero 7's Henry Binns and Sam Hardaker, but ended up using it as a walkout song during their 1998 tour (it wouldn't sound half bad as a baseball walkout song, either).
"Lull"
The twinkling "Lull," again from the "Karma Police" single, is curious in that it has all of the qualities of a quintessential Radiohead song, but it only exist within this particular universe of recordings. "Lull" sounds like it could be a sister song to "No Surprises," and lyrically, it inspires a sort of catatonic state — one that Yorke says he was in at the time. It fits in with the likes of "Paranoid Android" (which Yorke has said was inspired by an encounter at a Los Angeles bar and written about "the dullest fucking people on Earth") and "Exit Music (For a Film)," in which Yorke spits: "I hope you choke." His dual feelings — both disgust for self-centered conversation and a bit of l'esprit de l'escalier — is made plain in this song, when he sings: "There's nothing more dull / Then talking, talking about yourself / But what I meant to say / I'm sorry that I lost control." As of right now, they've never played the sunny song live.
"Palo Alto"
Long before mentions of Silicon Valley became synonymous with disruptive tech and even blood harvesting, Radiohead visited "the city of the future," Palo Alto. Presumably, the band exchanged many a pleasantry with venture capitalists: "But I'm okay, how are you? / Thanks for asking, thanks for asking," Yorke murmurs on the song several times. This song was originally entitled "OK Computer," and it's not hard to see why. Now, the contemporary question isn't so much about why this didn't become a part of OK Computer, but rather why it's not the Silicon Valley theme song.
"How I Made My Millions"
How fitting that a song titled like a self-help book is one of the most melancholic songs on the OKNOTOK reissue. On the bare song — which was left as the raw four-track take Yorke presented to the band — you can hear ambient signs of domestic life in the background: rustling, creaking, a plate being placed on a table, perhaps a screen door opening or closing. It's both unsettling and touching to hear. This song, from the "No Surprises" single, is one of Radiohead's most deliberately unpolished and most cryptic songs, which makes it all the more poignant to listen to. Maybe it's the answer to how Yorke made his millions: There is no one way. The valuable things in life happen when you're not expecting their arrival.