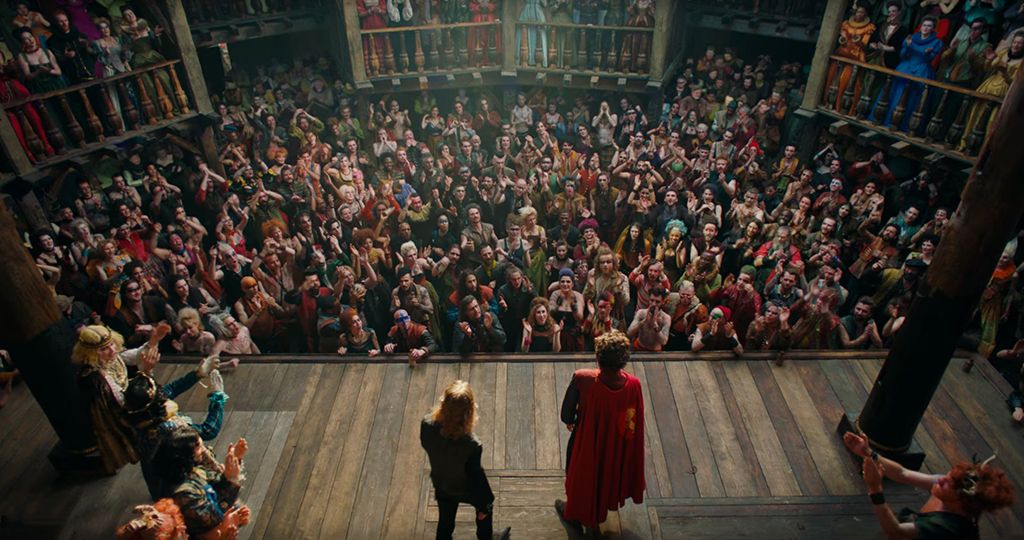 On top of being the most eminent playwright to ever exist, William Shakespeare was a remarkably brave soul. He channeled his commentary on Elizabethan society into his work; in a time when speaking out was punishable by death, Shakespeare used creative outlets to indirectly do so. And, the recurring themes in his plays, particularly those pertaining to politics and society, are just as relevant today as they were back then.
For example, Julius Caesar was selected for summer's Shakespeare in the Park production because of how uncannily applicable its themes remain. "For Julius Caesar, it's a question of the immediate political resonance. Shakespeare's extraordinary that way: His plays somehow take on the color of every time they're performed in, so they never seem old or out of date," explains Artistic Director Oskar Eustis of the choice.
Also this summer, Will, a new series focused on the life of young William Shakespeare comes to TNT. Premiering July 10 at 9 p.m., Will follows Shakespeare as he strives to become a playwright in a society rife with oppression and religious persecution. He finds massive success – he becomes a rock star of sorts with legions of followers to boot. The escapades of the counterculture hero are brought to life with Baz Luhrmann-esque boisterous vividity and contemporary music.
Julius Caesar and Will happen to overlap quite a bit thematically, and the two will even join forces at the June 17 and 18 Shakespeare in the Park performances. To celebrate the Bard's ever-relevant, enduring legacy, we've outlined a few of these common themes.

In Will's Elizabethan England, many groups are oppressed. Catholics (like Will) are viewed as the evil "other" – Mass was banned, and priests were outlawed. In the pilot episode, we see Catholics facing gruesome public deaths. In fact, this sort of cruelty is condoned by the crown, so Will is forced to keep his religious identity closely guarded.
Women are also without a voice in society: "Yes, I am that most useless of creatures, an educated woman," says Alice Burbage, the daughter of a theater owner, in one of her very first scenes.
In Julius Caesar, the theme of democracy versus monarchy and the implications for human rights, is central. "It's capturing the end of the Roman republic .. by the time Julius Caesar is over, the Roman democracy is over … there will not be another democracy on the face of the earth until 1776," says Eustis. Just like in the absolute monarchy of Elizabethan England, the Roman people are stripped of power with this shift.

Will's playwriting prowess transforms him into an Elizabethan rock star, complete with groupies. In Shakespeare's time, writing plays was one of the only ways to (albeit indirectly) express discontent at the state of society – say it outright, and literally risk your neck. Julius Caesar was one such work charged with political sentiment; parallels could easily be drawn to what was happening in the English monarchy. Around 1599 when the play was thought to have been first performed, Elizabeth I had been ruling for about four decades, with an increasing scope of power as time went on. She also didn't have an heir lined up, which was a source of great collective anxiety.
In Julius Caesar, words are used to control the fickle masses in a time of unrest and disorder. The charismatic Caesar seems to be the solution for Rome's problems – the Romans even offer him the crown, which he refuses. After Caesar is assassinated, Brutus is able sway the crowd briefly in the other direction, villainizing him with a speech. Mark Antony convinces the crowd once again to lean in favor of the fallen Caesar. It's enough to spark a bloody war between the two factions.

As viewers, we tune into Will knowing the eponymous subject is destined to become one of the greatest writers in history. We're along for the crazy ride. Similarly, we experience Julius Caesar well-aware of the grim fate the leader will meet, and its resounding effects on actual history. "Beware the ides of March," warns the soothsayer in a prophecy Caesar chooses to ignore.

In Will, the supernatural is a key theme. Shakespeare's contemporaries believed in witchcraft. If misfortune befell you, there was surely a witch to blame, and whoever was deemed a witch would burn at the stake.
The world of Julius Caesar is peppered with omens – visions of a lion in the streets, a man with a burning hand, an owl screeching – not to mention the wise soothsayer that dictates Caesar's fate. Characters sometimes (conveniently) project their own beliefs and anxieties on the things they can't explain. For example, Cassius interprets these unsettling happenings as a divine warning that Caesar is a threat to Rome.

In the world of Will, street urchins will sell you out for a bite to eat, and competitors will stab you in the back to cement their place in the spotlight. In fact, this literally happens to Will in the very first episode when a young boy discovers his religious identity and uses the information as a meal ticket. Also in episode one, it becomes clear that Will must tread carefully around some of the more territorial individuals in the theater realm or risk losing everything.
In Julius Caesar, the leader famously meets his end at the hands of his supposed friends. "Et tu, Brute! Then fall, Caesar," he says to Brutus as he collapses. He didn't see it coming, and the fact that Brutus was involved made the assassination particularly treacherous – Caesar seemingly resigned to his fate when he learned this. In the world of Shakespeare, it's every man for himself.
This is paid content produced for an advertiser by New York Brand Studio. The editorial staff of Vulture did not play a role in its creation.