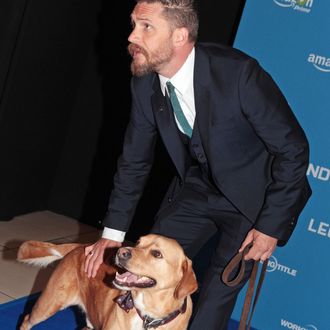 Tom Hardy and Woody.
Photo: David M. Benett/Dave Benett/WireImage
Tom Hardy is the scruffiest real-life (and on TV) Peaky Blinders character you know who also happens to love bedtime stories, drawing sketches, and dogs. Which means that when his beloved dog Woody (formally known as "Woodstock") died, Hardy was moved to share a lengthy tribute to his best friend on with the fan Tumblr TomHardyDotOrg. The post includes the story of how Hardy found Woody while filming Lawless, as well as anecdotes about bringing Woody to film sets and press events. "To the bestest friend ever," Hardy writes. "To me and to a family who loved him beyond words and whom he loved without doubt more than I have ever known. Woody was the bestest of journey companions we ever could dream of having. Our souls intertwined forever." Read the full post below.