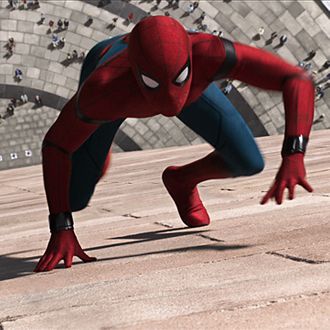 Spider-Man: Homecoming
.
Photo: Marvel
After a three-movie slump, the word is out: Spider-Man: Homecoming is a return to cinematic form for Marvel's web-slinging superhero. Critics and fans who got an advanced look at the upcoming MCU film on Friday night quickly took to Twitter to express their enthusiasm, singling out Homecoming's aversion to blockbuster clichés and the excellent performance of Tom Holland. Early reactions are so good, in fact, that many favorably — or at least seriously — compare it to Sam Raimi's Spider-Man 2, widely considered the best of the Spidey films and among the best of all comic-book films.
Naturally, skepticism is already setting in:
There are worse places to be than in a debate over whether you deserve to be mentioned in the same breath as Spider-Man 2 — as the old saying goes, if you've reached Twitter nitpicking over your superhero-movie ranking, you've made it — and, inevitably, the comparisons will only get more intense as we edge closer to Homecoming's July 7 release. As for those who might be thinking up other superlatives for the movie, know this: Anyone who says that this is Holland's best performance to date had better be prepared to defend it.