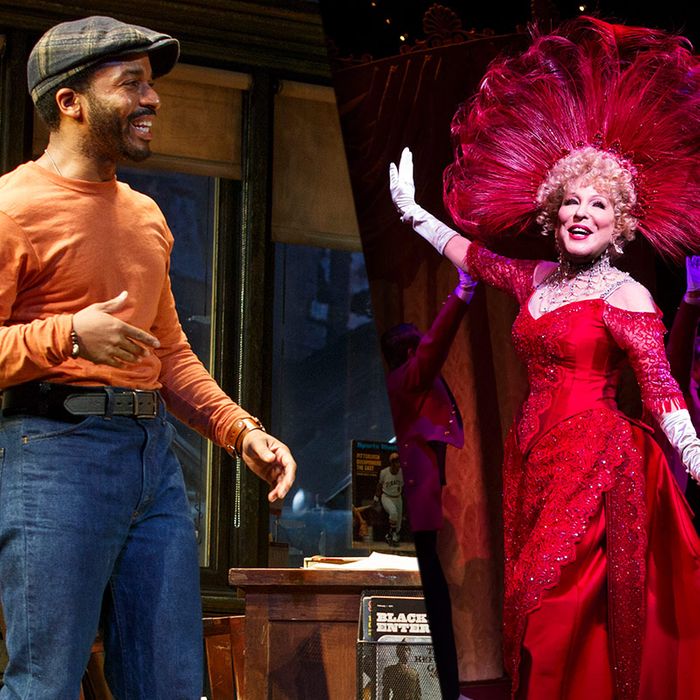 André Holland in Jitney and Bette Midler in Hello, Dolly!
Photo: Joan Marcus and Julieta Cervantes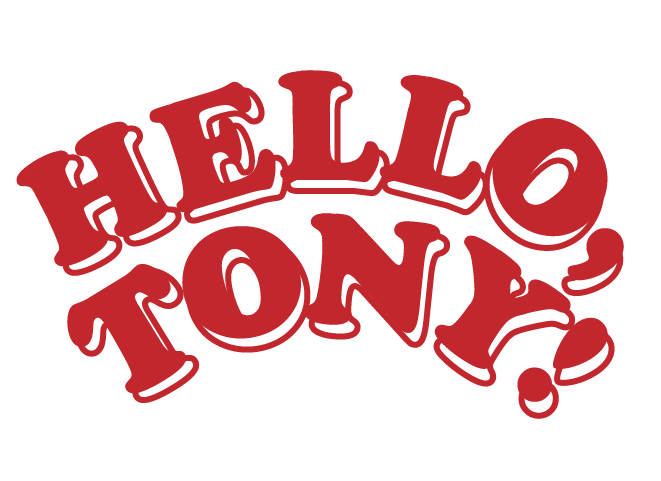 There is one thing every theater pundit can agree on regarding Sunday night's 71st Annual Tony Awards: The winner of Best Actress in a Musical is the only sure Bette. Outside of the divine Hello, Dolly! star, however, it's anyone's guess as to who will win at this year's unusually competitive, Hamilton-free ceremony. To shed some light on which names may be read on the Radio City Music Hall stage this weekend, we asked two voters — a longtime critic and an actor — to share their perspectives on how voting may go.
Best Musical
Natasha, Pierre and the Great Comet of 1812
Hansen has been breaking hearts as a standing-room-only phenomenon for months now, and voters — like the critic we asked — are apt to vote with their hearts. But heart is all over this strong lineup, and the actor was not so dear to Evan: "Hansen has its proponents, but I could not get past the point that there are no repercussions for kids telling lies and capitalizing on teen suicide." The actor prefers — and voted for — the audience-adored Come From Away, which just won the Drama Desk's top prize. But something tells us one show will be "Waving Through a Window" to victory.
Likely winner: Dear Evan Hansen
Best Play
Lynn Nottage's Sweat nabbed the Pulitzer, and Oslo nabbed just about everything else this season, but producer Scott Rudin is going all-in on getting folks to play with his Doll's. The actor loved the rollicking, funny, and poignant Ibsen update and is supporting it ("thought-provoking and kind of audacious") and it did get nods for its entire quartet (more on them to come). But Oslo — about the tense gathering of Israel and Palestine leaders for the 1990s Oslo Accords — benefits from its panoramic view of modern countries in crisis, and well … we can all certainly relate to that, right?
Likely winner: Oslo
Best Revival of a Musical
Falsettos enjoyed a five-hanky-worthy return (you can catch it on PBS this fall if you missed last winter), but our voters are in agreement: A Mack truck couldn't stop Dolly, as evidenced by the actor's bold take on the victor of this category: "Duh!"
Likely winner: Hello, Dolly!
Best Revival of a Play
It's Manhattan Theatre Club versus Manhattan Theatre Club here, with Little Foxes and Jitney duking it out. The strong-as-an-ox Foxes is still running, but Jitney was nigh-perfect August Wilson, and every awards group has uniformly agreed, not to mention the fine folks who showed us their ballots. Plus, diversity being recognized for a major award via an African-American-led production in this Hamilton- and Color Purple–free year is a step in the right direction.
Likely winner: Jitney
Best Actor in a Musical
Christian Borle (Falsettos)
Josh Groban (Natasha, Pierre and the Great Comet of 1812)
Andy Karl (Groundhog Day)
David Hyde Pierce (Hello, Dolly!)
Ben Platt (Dear Evan Hansen)
Andy Karl won the Olivier award for this role back in the spring, and he has the greatest Rocky-like story by overcoming a torn ACL to bravely perform this breakneck-paced comic role eight times a week. And this dude actually played Rocky Balboa. He'll get lots of love, and in any other year, his award would be as predestined as Phil Connors waking up to Sonny and Cher tunes in Pennsylvania every morning. In fact, the actor is even voting for the industry-loved Karl, but the critic finds it incredibly hard to believe that Platt's alarmingly emotional, "shattering" turn will not be recognized, especially in a year where adolescent suicide and its effects are on everyone's minds. (See: 13 Reasons Why)
Likely winner: Ben Platt
Best Actress in a Musical
Denée Benton (Natasha, Pierre and the Great Comet of 1812)
Christine Ebersole (War Paint)
Patti LuPone (War Paint)
Bette Midler (Hello, Dolly!)
Eva Noblezada (Miss Saigon)
Ms. Ebersole, Ms. LuPone, Ms. Noblezada, and Ms. Denton, just concede now. She may not be campaigning but it doesn't make a Santo Loquasto–reinforced stitch of difference. "Bette has this thing sewn up," says the critic. "Everyone loves her."
Likely winner: Bette Midler
Best Actor in a Play
Denis Arndt (Heisenberg)
Chris Cooper (A Doll's House, Part 2)
Corey Hawkins (Six Degrees of Separation)
Kevin Kline (Present Laughter)
Jefferson Mays (Oslo)
One of our voters cast his ballot for Hawkins for his impressive Broadway debut in John Guare's New York City valentine. But it's hard to deny Kline his third Tony, especially since he has not won one since 1981, and Kline doing Noel Coward to perfection is "not a bad thing" in our source's words.
Likely winner: Kevin Kline
Best Actress in a Play
Cate Blanchett (The Present)
Jennifer Ehle (Oslo)
Sally Field (The Glass Menagerie)
Laura Linney (The Little Foxes)
Laurie Metcalf (A Doll's House, Part 2)
It's quite a year, indeed, when a pair of two-time Oscar winners (Blanchett and Field) are the also-rans. It's a dead heat right now between Linney and initial front runner Metcalf, neither of whom has ever won, for their galvanizing turns in classics — one past, one (sorta) present. Seen to be the tightest race of the night, our voters are equally torn, but both believe it's time to give that Antoinette Perry statue to Metcalf. "She should have won a few years ago for The Other Place and happy to see her rewarded here," says the actor, but the critic says voters have been invited to see Linney and co-star Cynthia Nixon play both of the plum Foxes roles they're playing in rep. Will awards-darling Linney double their pleasure?
Likely winner: [Gun pointed firmly at one's head] … Ahh, let's go with Laurie Metcalf.
Best Actor in a Featured Role in a Play
Michael Aronov (Oslo)
Danny DeVito (The Price)
Nathan Lane (The Front Page)
Richard Thomas (The Little Foxes)
John Douglas Thompson (Jitney)
A category full of great pros, and a major case could be made for any of these guys. The actor is partial to Oslo's magnetic Aronov ("his presence and energy got me through all three hours"), but the critic thinks the hard-boiled-egg chompin' wonders of DeVito in Arthur Miller's Über-heavy family drama should emerge victorious, as he did at last week's Drama Desk Awards. Plus, who could resist having him and Ruthless People co-star Midler win Tonys on the same night?
Likely winner: Danny DeVito
Best Actress in a Featured Role in a Play
Johanna Day (Sweat)
Jayne Houdyshell (A Doll's House, Part 2)
Cynthia Nixon (The Little Foxes)
Condola Rashad (A Doll's House, Part 2)
Michelle Wilson (Sweat)
Things seem to be shaping up to a Foxes trot to the stage for previous winner Nixon, especially being up against two-show nominee face-offs. "Her third act scene was brilliant" says the actor.
Likely winner: Cynthia Nixon
Best Actor in a Featured Role in a Musical
Gavin Creel (Hello, Dolly!)
Mike Faist (Dear Evan Hansen)
Andrew Rannells (Falsettos)
Lucas Steele (Natasha, Pierre and the Great Comet of 1812)
Brandon Uranowitz (Falsettos)
The critic thinks Creel has this one locked up ("he's a Broadway stalwart"), but the actor truly loved Uranowitz ("I recognize I'm one of the few who will go this route, but Uranowitz provided emotional ballast"). Steele's scene-stealing literal falsetto was a tremendous treat as well, but Creel has paid his dues and the feeling is that Tony will say Hello this year.
Likely winner: Gavin Creel
Best Actress in a Featured Role in a Musical
Kate Baldwin (Hello, Dolly!)
Stephanie J. Block (Falsettos)
Jenn Colella (Come From Away)
Rachel Bay Jones (Dear Evan Hansen)
Mary Beth Peil (Anastasia)
Okay, we lied. This might actually be the hardest category of the night. Baldwin, Block, and Colella are golden-voiced wonders of the theater, and Peil is a living legend. "I would have preferred a write-in vote for Astrid Van Wieren, who is the heart of Away," says the actor, who went for Peil. The critic, however, is part of the Jones gang. It's hers by a sliver, but Jones's role is the closest to a lead here, and she exquisitely anchors Platt's suffering.
Likely winner: Rachel Bay Jones
Best Book of a Musical
Come From Away
Dear Evan Hansen
Natasha, Pierre and the Great Comet of 1812
You are not experiencing déjà vu, these are the exact same nominees as Best Musical. But it looks like a category ripe for a spoiler. So Away we go, as voters will want to honor its creators for telling a funny, heartfelt multi-character story of airplane travelers on 9/11 diverted to a nice Canadian town where people take them in and kiss fishes for tradition. Our voters were split with Hansen for the prize, but our Come-er thought it "weaved all these stories into a cohesive whole."
Likely winner: Come From Away
Best Original Score
Come From Away
Dear Evan Hansen
Groundhog Day
Natasha, Pierre and the Great Comet of 1812
So, yeah … it seems like there were only four musicals this season (there were not, by the way), and all have ardent supporters. Could it be Dave Malloy's eclectic, original, wildly modern Great Comet? Or Tim Minchin's Groundhog getting a makeup award after losing for Matilda? Maybe the Away team scores twice? Doubtful, especially when you have a rapidly ascending musical pair (Benj Pasek and Justin Paul) who already have a La La Land–branded Oscar to their names, and are racing toward the fastest EGOT triumph in history. Note: Neither of our theater experts checked their boxes for Hansen here, but both believe it will win.
Likely winner: Dear Evan Hansen