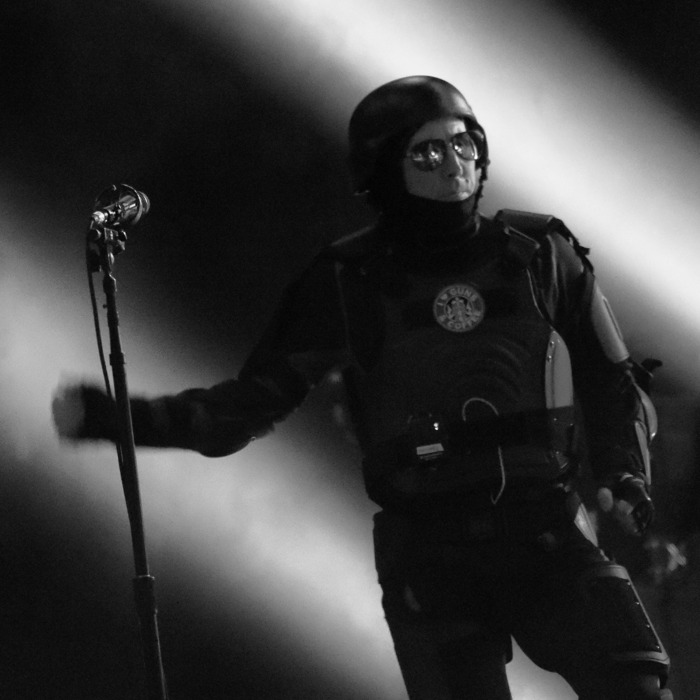 What does a Tool show look like in 2017? The Los Angeles prog-metal quartet hasn't released an album since 2006's 10,000 Days, but has toured nearly every year since. It takes a gifted band to get away with touring the same discography for a decade, and a patient fan base to keep coming back for it. Tool is covered on both fronts. The polyrhythmic interplay between drummer Danny Carey, bassist Justin Chancellor, and guitarist Adam Jones is rich and rewarding, and singer Maynard James Keenan's voice can snap from childlike purity to howling menace in seconds. The foursome's colossal tribal-metal workouts are acquired tastes, though; either you follow the band into its obsessions with chakras, sacred geometry, and Fibonacci's sequence, or you don't care at all.
All of this made Tool an intriguing choice of headliner for Governor's Ball last night. The New York City music festival hasn't dabbled much with metal in its seven-year history of rap, indie rock, and EDM parties. Booking a band with singles about fisting and jail sex (that remain virtually nonexistent on streaming services) as the Sunday headliner in a weekend whose other highlights were dance-friendly acts like Lorde, Chance the Rapper, Childish Gambino, and Phoenix was a calculated risk. But Tool, for all its eccentricities, remains a big draw because it uses music to work through relatable feelings of alienation and inadequacy. Optimistic curmudgeonliness makes Maynard both an imposing presence and a magnetic, motivational one. Beneath the jostling rhythms and hairpin turns, Tool is really just a project about shutting out negative influences and embracing self-sufficiency. The message is still powerful and necessary.
It is also a project about complete audiovisual immersion. The band took the main stage last night under a pall of smoke that blurred and cleared in waves, while screens overhead displayed a mix of splashes of color and morbid imagery. Sometimes, the visuals were just the old music videos Adam Jones crafted for the singles. The practice drew mixed results. Clips like 2001's "Schism" are still as jarring as they were on day one, but if you've been watching the little clay dude from the "Prison Sex" video suffer since the MTV Buzz Bin days, you could probably use a change of scenery.
Maynard lurked in a dark space near Carey's drum kit, as he does, this time decked out in black armor, while prowling menacingly through songs about challenging authority. He's a fascinating front man, both commanding and literally half-invisible onstage. He is also the only person who seems to have solved the conundrum of how to dance to his band's music. The audience hears Carey, Jones, and Chancellor weaving intricate micro-grooves through one another and head-bangs to the kick drum, but Maynard swoops down low and swerves like every part of his body is catching a different rhythm. Sometimes, he tensed up for a bloodcurdling scream. Elsewhere, he embraced the theatricality of his outfit and paraded through his space like an upset army general.
The band was note-perfect and well-oiled. Cuts like "The Grudge" and "Jambi" have enough built-in twists to pop, played just as is. A natural side effect of crashing through radical tone and time-signature shifts while lights and smoke play off one another overhead is that a certain sense of the passage of time is obliterated. Tool played a dozen songs in a stretch of nearly two hours, but the set rarely felt long. People even ambled around near the stage after the 1996 single "Stinkfist" closed the festival out in a blast of fireworks, hoping for just one more song. (Everyone, it seemed, had fireworks this weekend.) The show was over, but nobody felt quite done.
Without a new album to push, Tool dug generously into its back catalogue. We heard two songs from the scrappy 1992 EP Opiate alongside the expected array of fan favorites from the Ænima and Lateralus albums, and a powerful run-through of the former's 15-minute epic "Third Eye," which has enjoyed an unexpected prominence on this spring tour. The band's first New York City show in over a decade was sure to spotlight every era. All told, a 2017 Tool show looks a bit like the 2000s ones did, which is to say that it is a stern reminder of all the glorious racket four people can make in the same room.