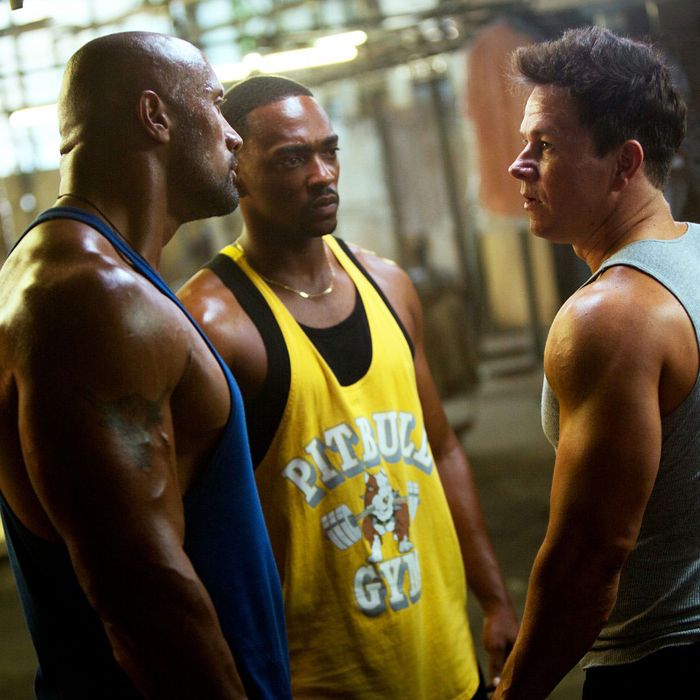 The Rock, Anthony Mackie, and Mark Wahlberg in
Pain and Gain
.
Photo: Paramount Pictures
Michael Bay is a lover of many things: explosions, sweeping 360 shots, the colors blue and orange, explosions, objectifying women — and sweat. If there is one thing Bay adores above all else, it is perspiration. With all of their massive detonations and last-second attempts to save the world, it's not surprising that Bay's chaotic blockbusters can get very sweaty indeed. The director's movies are unnervingly obsessed with human sweat, and Bay's affinity for close-ups only exacerbates this dripping and sticky effect. It's a little bit weird, but in honor of the director's newest work, Transformers: The Last Knight, here is a very scientific ranking of his characters from over the years, based on sweatiness. (In the interest of restraint — a very un-Bay emotion, we know — we've limited the list to two characters per film, max.)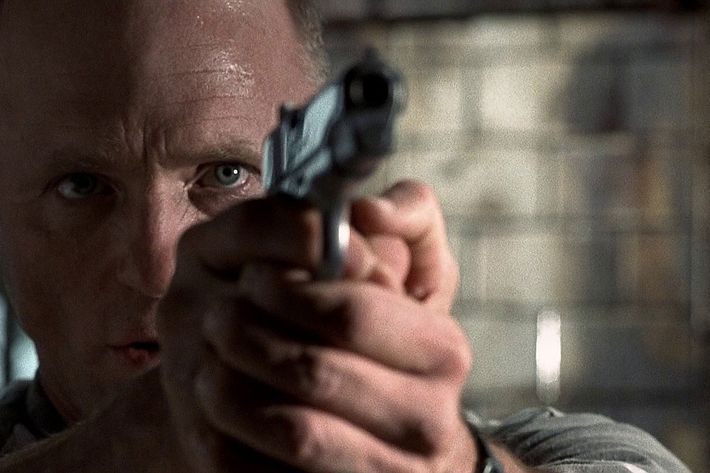 16. Brigadier General Francis X. "Frank" Hummel (Ed Harris) from The Rock
It should come as no surprise that Ed Harris is as cool as a cucumber in one of Bay's better films, in which Harris a disillusioned general who turns to terrorism. While other characters in the movie may find the life threatening circumstances to be more alarming, you'll be hard pressed to find more than the tiniest bead of sweat on Harris's villainous forehead.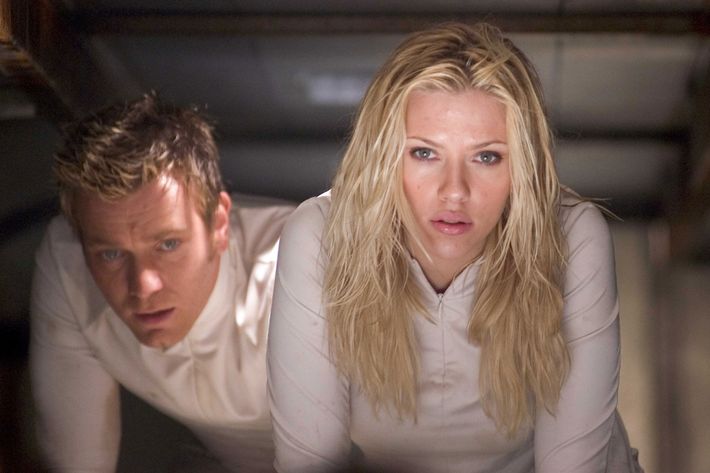 15. Jordan Two Delta (Scarlett Johansson) from The Island
Don't remember this movie? You're not alone. The Island is remarkable though for being one of Bay's few film with a female lead who actually participates in the action: Johansson plays a clone on the run after she discovers her entire purpose is to be harvested for organs. Despite literally running for her life for most of the movie, the actress curiously doesn't break too much of a sweat.
14. Carly Spencer (Rosie Huntington-Whiteley) from Transformers: Dark of the Moon
Another of Bay's few female characters who does something in relation to the plot's events, Huntington-Whiteley sweats only enough to be ever so slightly noticeable — even while running away from an army of gigantic robots.
13. Detective Mike Lowrey (Will Smith) from Bad Boys and Bad Boys 2
The Fresh Prince runs and guns as a Miami cop in two Bay movies, yet the Florida heat rarely causes Smith to perspire all that much. Sure, he'll get a light glisten going, but Smith is too busy chilling out, maxing and relaxing all cool to let the action get to him.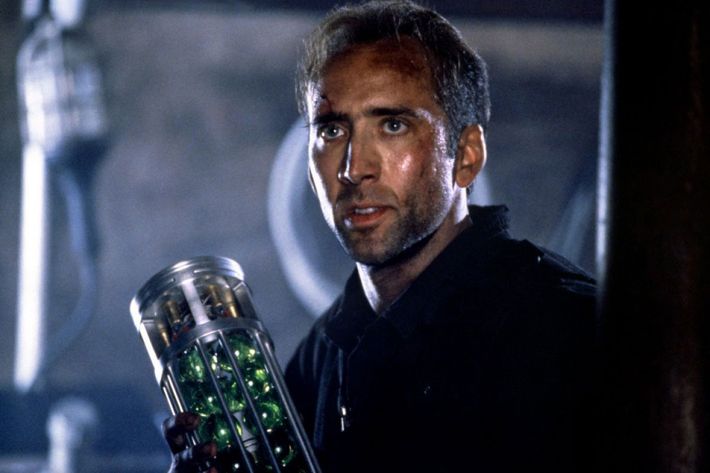 12. FBI Special Agent Dr. Stanley Goodspeed (Nic Cage) from The Rock
The heat on this list (finally) begins to turn up with one of Cage's typically crazed performances, where he plays a chemical-weapons specialist tasked with disarming deadly rockets set up by Harris. All that heavy breathing and scenery chewing makes for a fairly — though not overly — sweaty performance by Cage.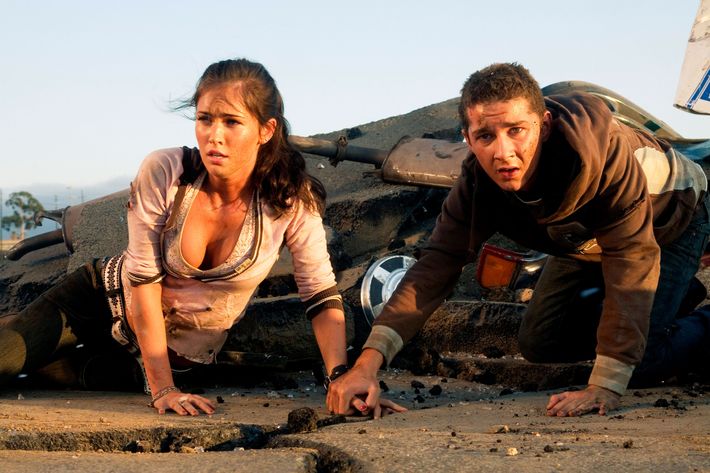 11. Mikaela Banes (Megan Fox) from Transformers and Transformers: Revenge of the Fallen
Rounding out the only three women on this list — a shockingly low number — is Fox, who perspires substantially more than her female counterparts, yet still a seemingly low amount compared to her male co-stars. They say three makes a trend, so it seems fair to say that when Bay has a woman sweat in one of his movies, it's never too much to fuss with her appearance.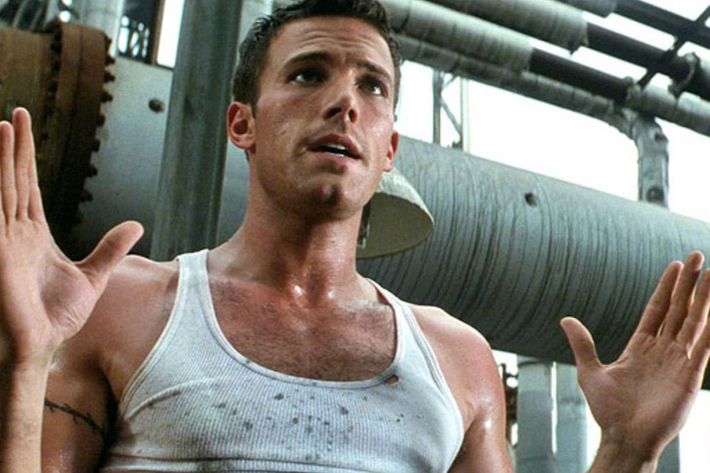 10. A.J. Frost (Ben Affleck) from Armageddon
In space, not only can you hear people scream, but you can definitely see them sweat. Just ask Ben Affleck in Armageddon.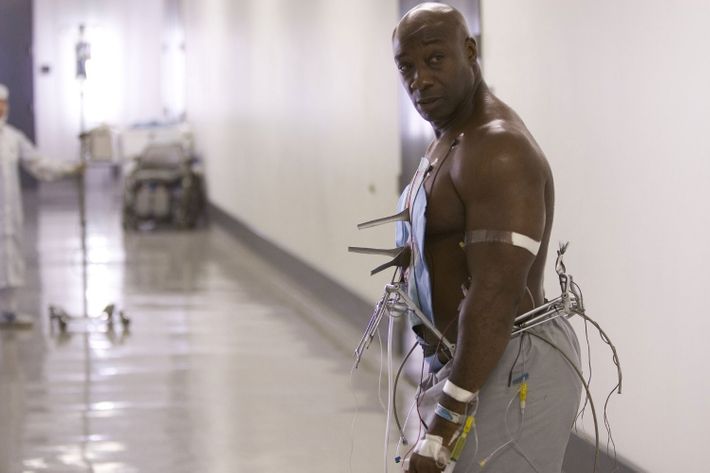 9. Starkweather Two Delta (Michael Clarke Duncan) from The Island
While this may be one of the least-consequential roles in the least-consequential films of Bay's career, it's hard to leave the late Clarke Duncan off this list for the impact he makes on the film, perspiration-wise. He's given one grand scene in which he barrels over a couple guards, only to be then dragged back to his presumed death, with his sweat glands working overtime.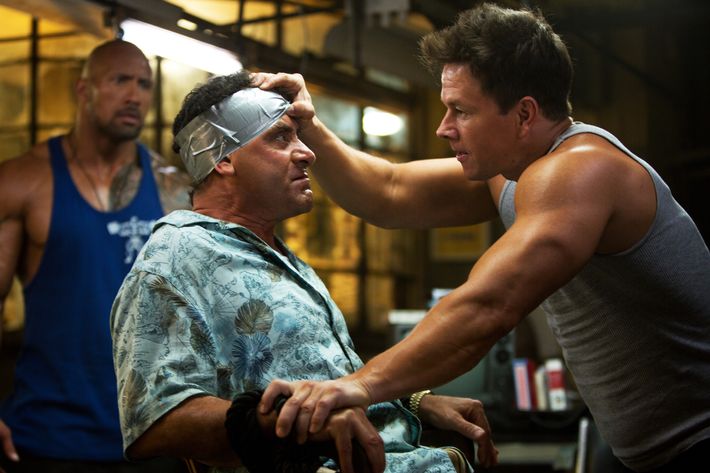 8. Daniel Lugo (Mark Wahlberg) from Pain and Gain
Before there's outrage at seeing Wahlberg's meathead performance this low on the list, it's best to really take a good, hard look at just how sweaty he gets in Pain and Gain. While no one doubts the work the actor put in — the raw amount of gainz baffles the mind — his sweat levels in the film are respectable, yet, given high expectations, also slightly underwhelming.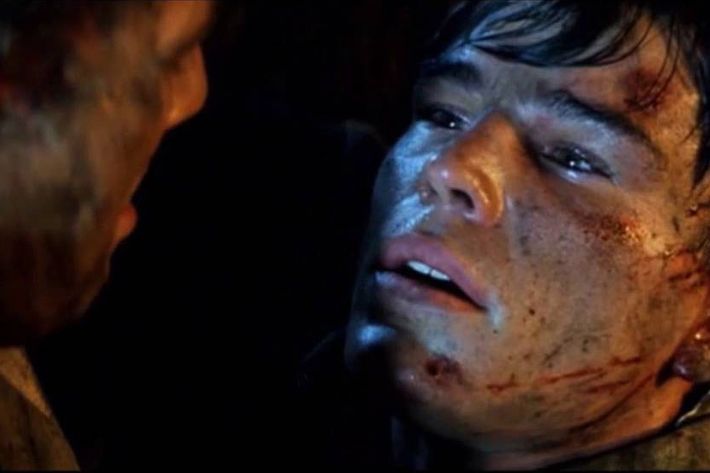 7. First Lieutenant Daniel "Danny" Walker (Josh Hartnett) from Pearl Harbor
December 7, 1941 — a date which will live in sweat-famy.
6. Detective Marcus Burnett (Martin Lawrence) from Bad Boys and Bad Boys 2
While Will Smith's straight-man cop may not show the physical results of storming drug lords' compounds, his partner certainly does. The remarkable amount of fluid pouring off of Lawrence's face, particularly during the ethically questionable shootout sequence with the KKK in Bad Boys 2, is not only commendable, but also icky.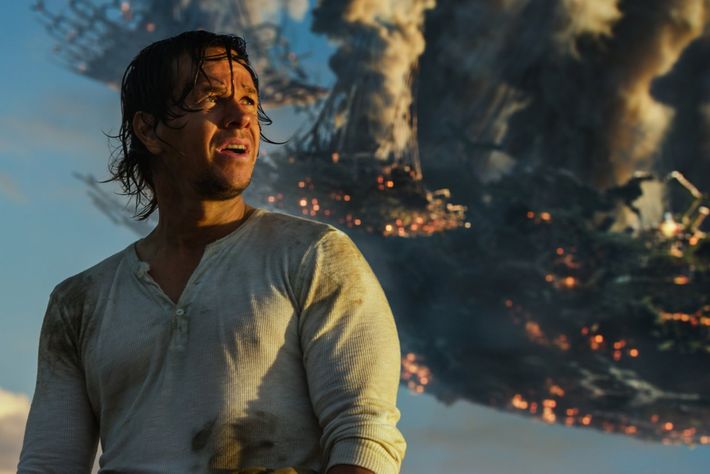 5. Cade Yeager (Mark Wahlberg) from Transformers: Age of Extinction and Transformers: The Last Knight
Wahlberg's second installment on this list is a more impressive one when it comes to diaphoresis. When he's not wearing glasses in the Transformers sequels (because he's a smart inventor) you can catch him working up a serious sweat while battling robots. Say hi to your deodorant for me.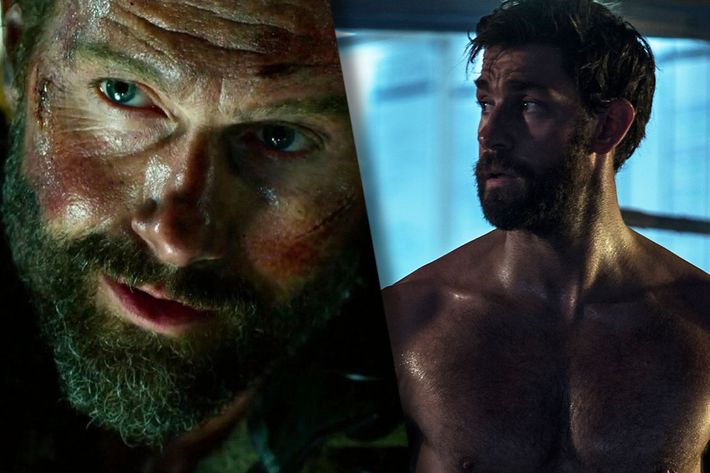 4 and 3. Tyrone S. "Rone" Woods (James Badge Dale) and Jack Silva (John Krasinski) from 13 Hours
This is where we get to the heavy hitters. Bay's Benghazipalooza movie is more restrained than you might expect, yet it doesn't hold back when it comes to the intense amounts of perspiration on display. Krasinski caused an internet stir when he beefed up for the role, and his fully drenched performance does not disappoint. His co-star Badge Dale deserves praise for his moist output as well.
Bay
E
N
G
H
A
Z
Is obsessed with sweat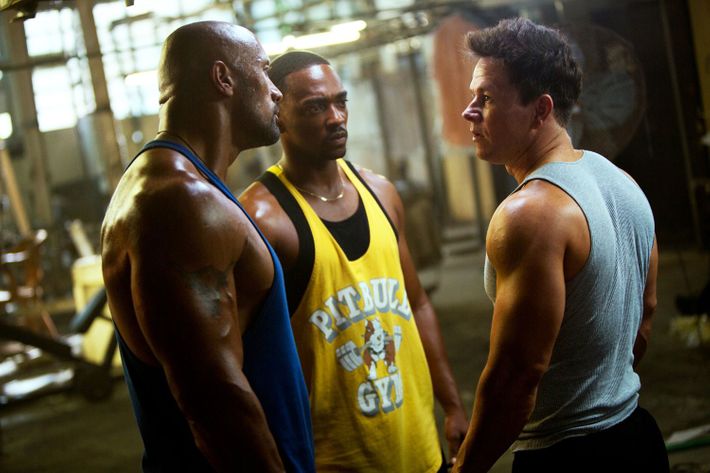 2. Paul Doyle (Dwayne "the Rock" Johnson) from Pain and Gain
Our future president rarely holds back, and his very, very sweaty performance in Pain and Gain is only one of many examples of his insane work ethic. But, like Nixon on the debate stage, is there a chance his sweat could backfire on the campaign trail?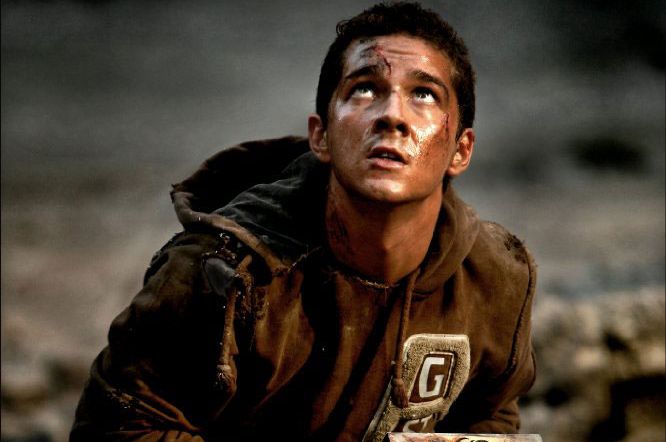 1. Sam Witwicky (Shia LaBeouf) from Transformers, Transformers: Revenge of the Fallen and Transformers: Dark of the Moon
While Shia may not achieve the height of sweatiness as those in the Nos. 4, 3, and 2 spots on this list, he wins the battle of perspiration by pure consistency. Rarely is someone this sweaty at all times. He seems to sweat just sitting in class at college. This level of sweatiness would be worth shedding a tear over, but there's already too much dampness to go around.