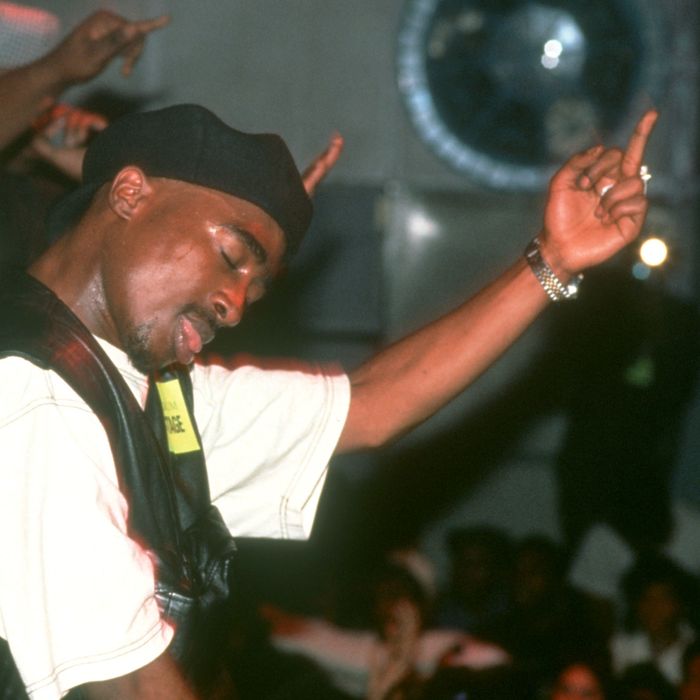 Photo: Al Pereira/Michael Ochs Archives/Getty Images
In September of 1992, Vice-President Dan Quayle called on Interscope to pull a record called 2Pacalypse Now off of retail shelves. There had been a murder in Texas; a teenager was accused of fatally shooting a state trooper during a traffic stop. The accused was said to have had 2Pacalypse Now in the tape deck of the stolen truck he was driving at the time of the shooting. The trooper's family sued Interscope and its parent company, Time Warner, along with the 21-year-old rapper, Tupac Shakur, whose work had supposedly animated the killing. Quayle decried the "irresponsible corporate act" that Warner and Interscope committed by pressing 2Pacalypse Now. Then he doubled down: "There is absolutely no reason for a record like this to be published … it has no place in our society."
2Pacalypse Now was released in 1991, the same year that Tupac Shakur brought a $10 million lawsuit against the Oakland Police Department, alleging that officers brutally beat him after he'd been stopped for jaywalking. He was awarded $43,000, the vast majority of which had to be earmarked for legal fees.
A New Yorker by birth, Pac had moved with his family to Marin City when he was still a teenager. Bay Area hip-hop's aesthetics at the time suited him well — loose and propulsive, political but never humorless. Through a series of managerial connections, he landed a gig as a roadie and backup dancer for Digital Underground, with the understanding that if he kept his head down and his legs in Lycra, he'd get the shot he was looking for. This has all been documented to exhausting degrees in books, documentaries, YouTube playlists, magazines, and now a feature film. But beyond all the mythmaking, there are important stylistic threads that began when he was waiting in the wings while Sex Packets played out on a stage in front of him.
The first single from 2Pacalypse Now was called "Trapped." On it, Pac raps about racist policing techniques, the corrosive nature of prisons, and phone taps. He makes threats like, "Did it before, ain't scared to use my gat again," and he does it in a bouncy cadence over danceable bass line and an organ that could have been ripped straight from an Oakland A's game. "Trapped" is often cited as one of Pac's first major works, and as being representative of an early, "political" phase, as opposed to the crass Death Row period. It's also where things got complicated.
Though he was only 20 years old when the album came out, Pac already had a fully formed set of political beliefs, and a preternatural ability to see how power changed people — over the course of centuries or the course of a traffic stop. That knowledge helped him paint a depressingly vivid picture of how America treats its black citizens. Where "Trapped" was formatted for radio, "Soulja's Story" was a plodding meditation on the police as an occupying force. There's no doubt that 2Pacalypse frequently returns to the idea of violent revolt against the cops: it's there on "I Don't Give a Fuck," it's there on "Violent" and "Crooked Ass Nigga" and boiling under the surface just about everywhere else on the album.
But while it's one thing to rap about the anger and indignation that would make one want to kill a police officer, it's entirely another to advocate for someone to actually go and do it. It's impossible to hear "Soulja Story" or "Violent" and draw the conclusion that Tupac was endorsing the murder of policemen. He makes the gunmen human and well-rounded. It was one of his favorite tricks: "Brenda's Got a Baby" is not unique for its plot points, it's unique because Pac puts you in the head of someone who at the time existed in the press, the public consciousness, and presidential debates as a caricature, whose health and safety and life had been reduced to a sterile point of political disagreement.
What's often overlooked in accounts of Pac's early period were the different phases he was working through as a stylist. The album opener, "Young Black Male," hears him working rapid-fire — not as off the grid as some of his peers at the time, like Saafir or E-40, but a long way from the voice and cadence that's imprinted on all of our brains today. Ultimately, 2Pacalypse is a formative record. Pac darts between points of view (the playfulness of "Rebel of the Underground," the melodrama of "Part Time Mutha") without much connective tissue. The inward gaze that would make his later work so compelling had yet to come into focus.
Maybe Dan Quayle really thought he could get Interscope to bend to his wishes, but the company had no plans to pull the record. By February 1993, after George Bush and Quayle had lost a bizarre election to Bill Clinton and Al Gore, another 2Pac album was being shipped to retailers all across the country. Strictly 4 My N.I.G.G.A.Z. was supposed to be a star turn for Pac, and in many ways it was: it cracked the top 25 on the Billboard 200, and peaked at No. 4 on the rap charts. It was also a confounding, supremely off-kilter record, the kind that only works if you're one of music's most irrepressible talents and your main foil happens to be the vice-president of the United States.
The second song on Strictly is "Pac's Theme," a frenetic interlude where Quayle's words ("It has no place in our society") and explanations from the artist himself loop and encroach on the other, interacting in strange, alchemic ways. Two tracks later, another interlude, "Something 2 Die 4," is a dirge for those who have left this earth. It memorializes a 15-year-old girl named Latasha Harlins, who was murdered by a convenience-store owner in Los Angeles in 1991, and whose death was one of the precursors to the L.A. riots. The song is also dedicated to Qa'id Walker Teal, a 6-year-old boy who was killed by a bullet from a gun that Tupac owned, that was likely fired accidentally by one of his associates.
Sometimes Strictly feels like Pac's Fear of a Black Planet. The thematic and topical connections are obvious, but in terms of structure and musical cues, he was borrowing from not only Chuck D, but Public Enemy's frenetic production team the Bomb Squad as well. The tempos are up, the beats stack sample after sample beside, on top of, or underneath the others: Parliament, George Clinton, Sly & the Family Stone, James Brown, "Planet Rock," Zapp. The thought of the paperwork, if Strictly were released today, is probably enough to give copyright lawyers everywhere hives. At the time, though, it made for a dizzying set of sounds that tied the coasts together, however briefly.
The album often feels like a collection of fragments, but when the pieces do cohere, Strictly is Pac's best work. The opening song, "Holler If Ya Hear Me," holds up next to anything he would make in the final two years of his life. "Keep Ya Head Up" and "I Get Around" are often cited as examples of Pac's contradictory nature, but the truth is that there's not really too much contradiction in rapping about uplifting women and then letting Shock G purchase them lavishly expensive clothing.
Speaking of "Keep Ya Head Up," that second verse ("I remember Marvin Gaye used to sing to me / He had me feeling like black was the thing to be") is some of the best, most deeply felt writing of Pac's entire career. He has an epiphany about how stressful his actions must have been for his mother, and he touchingly remembers his departed friends. By the time the verse is over, Pac's arrived at a hopeless place: "Say there ain't no hope for the youth / And the truth is, there ain't no hope for the future." And so instead of Tupac preaching from a place of calm, the hook becomes a reminder for him to keep his own head up.
The first couple 2Pac albums are littered with chopped-up Ice Cube vocals. The former N.W.A. front man was, by 1993, one of the biggest rappers in the world, and his appearance (alongside Ice-T) on "Last Wordz" was a crucial early co-sign for Pac. This is the first time since Pac's coming-out party, on Digital Underground's "Same Song," where you can hear him measuring himself against his peers and predecessors. It's also one of the five songs — out of the first seven — that either samples Dan Quayle's voice or references him by name.
There are times Strictly feels unfinished or underdeveloped. But it captures Tupac at a point in his maturation when he's starting to understand how his internal life is inextricable from how he experiences and interacts with the power structures he's been throwing bricks at since his youth.
By the fall of 1994, Tupac was a bona fide star. "I Get Around" and "Keep Ya Head Up" charted at numbers 11 and 12, respectively, while his roles in Juice and Poetic Justice had revealed him as a gifted actor, magnetic in the broadest movie-star sense but technically skilled enough to bring nuance to his character, even in wide shots.In September of that year, he teamed up with Macadoshis, Big Syke, the Rated R, and his stepbrother, Mopreme, to drop Thug Life: Vol. 1. While Interscope stood behind Tupac during the Quayle fiasco, they blanched at many of the songs recorded for Thug Life and, giving in to the moral panic over "gangster rap," refused to clear certain songs, severely handicapping the final cut. Still, some canonical 2Pac songs made it through, and the LP serves as an important bridge between his Oakland period and what would come later.
Tupac's professional success was perpetually offset by personal and legal disaster, but a pivotal series of events were sparked in November of '93, when Pac was charged, along with several associates, with sexually assaulting a woman. He denied the claims and was eventually cleared of sodomy and related weapons charges, but was convicted of sexual abuse and sentenced to 1.5 to 4.5 years in prison. (He would appeal the conviction, but his money dried up, giving Suge Knight the opportunity to swoop in and offer to post bail in exchange for Pac's services at Death Row.)
The night before the verdict was to be handed down, Pac was robbed and then shot in the lobby of a Manhattan recording studio. After being rushed to the hospital and undergoing emergency surgery, he evaded the doctors and checked himself out. The shooting was a major turning point in Pac's personal life, after which he became suspicious of all but his closest friends and business partners.
All of this served as the backdrop for Me Against the World. The record opens with a two-minute collage of news reports, from men and women who sometimes mispronounce his name, but never fail to scold him for checking out of the hospital too early. They recount the October 1993 incident in which he shot at two off-duty cops in Atlanta (the charges were dropped). They heavily imply he has gang connections. And just before the intro fades away, a male reporter says that the attempt on his life "once again underscores the violence that has surrounded this man."
What's striking about Me Against the World is not its intensity or its righteous fury, but rather its control. The Tupac we get here is uniquely self-possessed, sorting through his feelings of worthlessness on "So Many Tears" or getting wistful on "Young Niggaz." Never before in his music had Pac delved this deep into his own psyche. Looking inward comes with entirely different challenges than speaking outwardly to your friends and neighbors, but Pac managed to retain the authority he had on "Keep Ya Head Up," the ultimate testament to his abilities as a writer.
The album would go on to be the first rap record to top the charts while its author was incarcerated. This was thanks mostly to "Dear Mama," the beautiful ode to Afeni. Though it was sadly prescient ("Hugging on my mama from a jail cell" was supposed to be a shared memory, not a daily brief), it also built on the scaffolding that "Brenda's Got a Baby" or even "Soulja's Story" provided. With one couplet — "And even as a crack fiend, mama / You always was a Black queen, mama" — Pac countered the dominant narrative in the press, of those addicted to crack as detestable drains on society. The Reagan years and the attendant crack boom gave way to the Clinton era of rapid, expansive incarceration. Tupac just happened to see his loved ones caught in the undertow.
Pac was never one to feel around with his writing, to search for the answers on company time. He would barrel ahead, unblinking and unquestioning, until his train of thought had run its course, and if he contradicted himself later, so be it. Instead of knocking down those newscasters one by one, he stared straight through them. Me Against the World was leaps and bounds ahead of his previous work because it was his counter to a world that must have felt as if it was conspiring against him.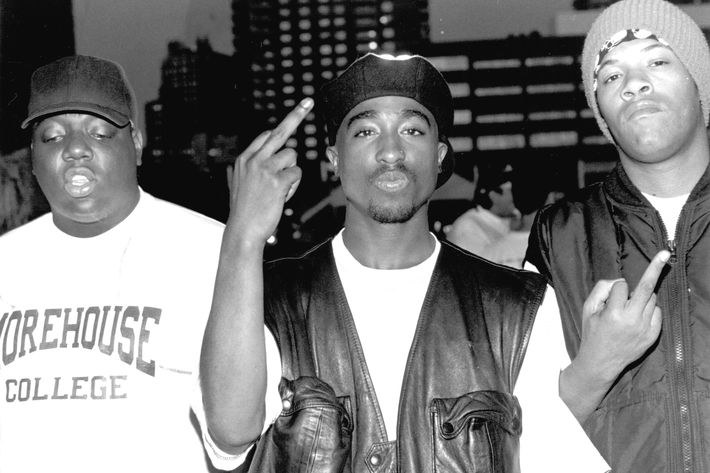 All Eyez on Me should be too much to sit through. It has a full 20 minutes on double albums like Biggie's Life After Death and Wu-Tang Forever. If a running time of more than two hours wasn't enough, the songs themselves are monstrously long: out of 27 tracks, only two clock in under four minutes. But the whole thing somehow feels breathless. The Gothic thump of "Ambitionz Az a Ridah" transitions into two radio singles. There's glossy pop and outright fury and mourning and beaches. The truly staggering thing about All Eyez on Me is that it's not even a comprehensive survey of everything Pac did well, just a survey of whatever Pac felt like doing for a couple of weeks after he got bailed out of jail.
"Ambitionz" and "I Ain't Mad at Cha" were recorded on his first day out. Not only did Pac limit himself to his first takes, but he demanded the same from his collaborators, many of whom found themselves falling asleep in the studio each night while Pac knocked out three or four songs every day. (But not E-40. When E-40 was lying on the studio floor, it was just because that was how he got comfortable to write. Once, he set his two pistols neatly beside him.)
Eight years later, Nate Dogg would claim that the insane pace was due to the fact that Pac wanted to fulfill his Death Row contract as quickly as possible and leave the label. That might have been true. But the controlled chaos, combined with a revolving door of the best talent in Los Angeles and the Bay, made the double-LP one of hip-hop's towering achievements.
When it's discussed in the context of his entire body of work, All Eyez is implied to be diametrically opposed to Tupac's earlier, "political" work. Setting aside the notion that all rap is inherently political, this makes a certain amount of sense. The album is not consumed by arguments against police occupation or former senators from Indiana. But there's an unshakable subtext. Tupac frequently sounds like he's either nearing or already past a breaking point, where there's no pulling out of the persona he's created on wax. (This proved not to be true; the interviews he gave during this period, including those on movie sets, show a markedly different disposition.) Me Against the World was a breakthrough in self-awareness: the newly famous artist dissects his problems in the mirror and in the third person, from the cable-news'-eye view. All Eyez on Me deliberately rolls that back, and fully immerses Pac in the new persona he'd adopted along with his Death Row deal.
Just like on Me Against the World, The Don Killuminati: The 7 Day Theory — supposedly recorded over the course of one week in August 1996, and the skeleton of what would likely have become Tupac's best album had he lived to finish it — opens with yet another news anchor. This time, though, it drifts further away from reality. Pac was at the peak of his fame, but the faux reports ("In today's music news, the ever-controversial Tupac Shakur …"; "Sources tell me a number of less fortunate rappers have joined together in conspiracy to assassinate the character of not only Mr. Shakur …" and so on) underscore the stakes he was assigning to his professional battles. This was a man who had survived shootings, robberies, incarceration, and a grisly bit of police brutality, but this time it was other rappers who were in the crosshairs.
Pac wastes no time burning bridges. Bad Boy, Jay Z, Nas, Mobb Deep, Dr Dre. It's scorched earth to the fullest; the album opens with two songs of dystopic dread. Even when the aesthetics switch to something radio-ready on "Toss It Up," there are long diatribes against Puffy. It's furious, sure, but it's also brilliant rap music. "To Live and Die in L.A." and "Krazy" each have a serrated edge, but there's a sentimentality that makes them stick. And as so often goes overlooked in discussions of Pac's Death Row period, "White Man'z World" is a full reversion to Strictly-era, overtly political music, with women once again center stage.
"Against All Odds" is an exhaustive rehashing of the various conspiracies aimed at Pac's life or reputation. Nearly all of these were blood feuds that had nothing to do with creative competition. But if the goal of The 7 Day Theory was to put fear in other rappers' hearts whenever they picked up a pen, Pac would have come out victorious, too. Few rappers have used their voice this well, and even fewer have done so while hitting the more technical patterns Pac pulled out on a regular basis. Neither All Eyez nor the Makaveli record are without their flaws, but it's hard to imagine them existing without those flaws.
In death, and with time, Tupac has grown into an icon. Documentaries and countless posthumous recordings have been churned out on perpetual loop; an entire cottage industry has been set up around a man who only lived to be 25.
Through five albums, Tupac had found a crucial equilibrium. He was looking outward and inward in roughly equal measure; he was living precariously in the moment just as much as he was looking to the future. The slew of posthumous material that's been released in the years since his death offsets that balance, and muddies the fairly linear progression that his proper albums reveal. It's impossible to know where Pac would have gone two, five, ten years after All Eyez on Me, but it seems unlikely that he'd be stuck on the sort of creative plateau that posthumous releases necessarily land on.
When people talk about Tupac, they're quick to note how "complicated" he was, which is fair. But part of what has made him seem like such a mystery is that the further we get from his death, and the further down the rabbit hole of commemorative reissues, special-edition retrospectives, and films we go, he becomes less human, and more of a phenomenon. We're looking at his personality — or the parts of his personality he let us see, rather than studying his work as an artist. And the work is all Tupac left behind. Without it, we're left with coiffed nightly-news reporters who paint him in broad strokes, ignoring a lot of the nuance that made him popular in the first place.
When Tupac was murdered, the New York Times obituary was headlined: "Tupac Shakur, Rap Performer Who Personified Violence, Dies."