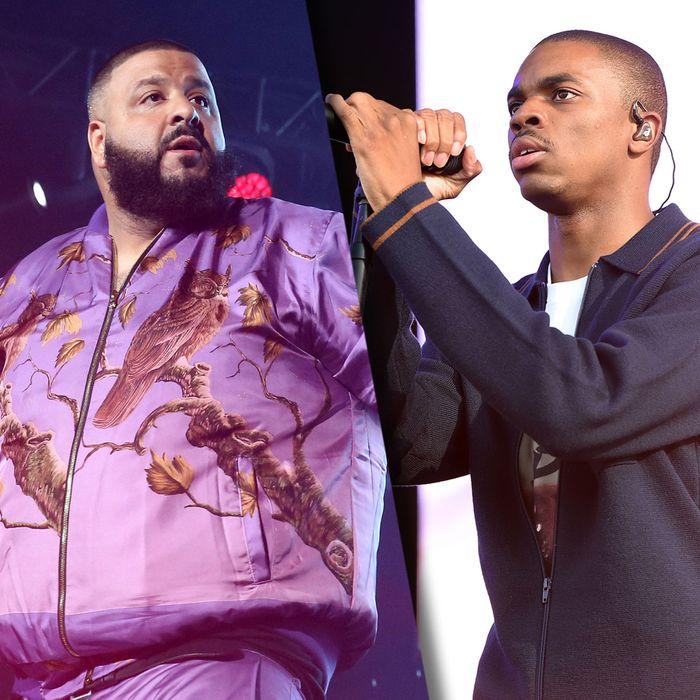 DJ Khaled; Vince Staples.
"If skills sold," the old Jay-Z line goes, "truth be told, I'd probably be lyrically Talib Kweli." They don't, though, is the point. Jay made it out of the '90s and '00s on his feet in part by cultivating a keen sense of what is — or is about to be — very, very popular. Lasting rap careers are feats of careful compromise, of mixing a little of what you love with the stuff you know your fans crave.
Vince Staples is enjoying a peculiar major-label rap career right now because he doesn't seem beholden to the grinding money-mindedness that keeps similar enterprises afloat. His Def Jam debut full-length, Summertime '06, was full of whale sounds, gunshots, and beats that sounded like the melodies had been scraped out. It didn't try and position Vince as the next in a long line of SoCal street poets by genuflecting to G-funk and DJ Mustard, like it could've. Instead, Staples and veteran Chicago rap producer No ID cooked up a double album of damaged, futuristic funk.
Staples's latest full-length, Big Fish Theory, is another curveball. For the last three years, Vince has led dueling careers as a whip-smart internet humorist and a grim street documentarian. On record, he was caustic and fatalistic. On Twitter and on camera, he's a volley of laughs. Big Fish feels like the first Staples project that approaches the tone of his internet presence. Some of the jarring urgency of Summertime and last year's Prima Donna EP is missing. The gains of good-spirited appearances on records from Gorillaz and beatsmiths Clams Casino and Flume can be felt in chipper cuts like the title track. ("Should've been dead broke, should've been chalked out / But it didn't happen, now it's time to get it crackin'.")
The single "Big Fish" is the closest the album gets to conventional West Coast gangsta rap, and even that one comes couched in the joy of not having to hustle for a living anymore. Elsewhere, Staples, Los Angeles beat-scene alum Zack Sekoff, PC Music affiliate Sophie, and Australian producer Flume are fully invested in crowding dance floors. The pounding bass and harrowing synths sound like warfare in a good set of headphones. There are shades of U.K. garage and future bass and nods to NorCal ratchet and Houston Screw music. Fans have drawn comparisons to the sharp turn into dance music Kanye West and Daft Punk pulled on 2013's Yeezus, but the similarities end at a penchant for cutting-edge electronic music. Ye used Yeezus to hammer out prickly thoughts about racial and sexual power dynamics. Vince is here to sail slick lines over face-melting beats.
Optimistic lyrics and crushing production are something of a role reversal for a Vince Staples project. Usually it's the other way around. You come to his music expecting his verses to paint bleak images over producers' subtle canvases. The conceptual slightness of a song like "Homage" ("Supercars, not drivin' no Camry / Fresh meals on the table, no Rally's") might be a turnoff to fans drawn to the family hustle anthem "Nate" or the drug-addict suicide story "Jump Off the Roof."
As a deliberate exercise in lightening up, though, Big Fish Theory is a success. Vince still raps circles around most of the competition, even when he's just rhyming about supermodels and appearance fees. What's more, he gets how to coax a great song out of half a dozen collaborators. (Another Kanye analogue, perhaps.) "Love Can Be …" finds room for both Gorillaz chief Damon Albarn and R&B singer–reality-TV showboat Ray J without falling off course. "Yeah Right" smartly pairs Sophie with Flume on a scabrous beat and matches a sharp Vince verse to vocals from Australian producer-singer Kučka and a frantic guest spot from Kendrick Lamar. Big Fish doesn't treat its guest appearances like events the way other rap albums often do, trumpeting collaborations with studio pics and confusing concept videos. The outside voices are more like spices in a gumbo. Justin Vernon and A$AP Rocky both have contributions you might miss on the first few passes. You wouldn't know who sang on "Love Can Be …" without scouring writer credits.
An example of this kind of thing done poorly is DJ Khaled's new full-length, Grateful, which dropped the same night as Vince. At 23 tracks in 87 minutes, it's a hopeless slog whose sporadic successes happen in spite of themselves. Rihanna and Bryson Tiller work well over a bad-on-paper retread of Wyclef's "Maria, Maria." Nas and Travis Scott mix as poorly as you'd think they would. The Chance the Rapper and Drake solo cuts are puzzlingly annoying outings from guys who should know better. Lately Khaled assembles albums the way a child plays with Legos. He just stacks shit haphazardly until he runs out of pieces.
Onstage as well as on record, DJ Khaled builds frenzy with blinding, shocking star power. By track five, Grateful has already called in Jay-Z, Beyoncé, Rihanna, Drake, Justin Bieber, Chance the Rapper, and Lil Wayne. The energy never quite recovers, and the list of players rarely reaches past the edges of Top 40. Khaled depends too much on jagged, unexpected team-ups of A-list names and not enough on fostering chemistry or discovering new talent. His records top the charts but they never feel new. In a rap world increasingly led by artists like Kendrick and J. Cole, who'd just as soon leave other rappers off their albums entirely, Khaled's vision looks more like 2007 than 2017.
Big Fish Theory is both star-studded and unassuming, heavy-sounding but also deceptively upbeat. The apparent lack of a grim, overarching thematic conceit might take some getting used to, coming out of a rapper whose specialty up till now has been abrasive dispatches from the front lines of Long Beach, California, gang violence. But it's not fair to demand that a rapper fixate on death and dying all the time or to bristle if they briefly stop. Snoop Dogg, another LBC alumnus, wrote about crime and depravity on "Deep Cover" and "Murder Was the Case," but he eased off it on "Drop It Like It's Hot" and "Sexual Eruption." He was allowed the space to be as serious or silly as the song required. Vince Staples deserves the same. The hood ain't just set trips and shootouts. Let a brother breathe.