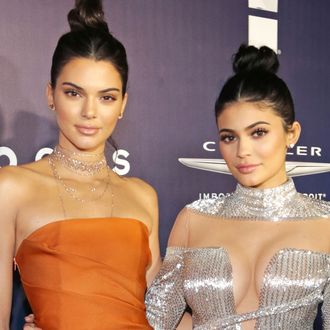 Kendall and Kylie Jenner.
Photo: Loreen Sarkis/Getty Images
Just months after Kendall Jenner was briefly run off social media for that truly regrettable Pepsi commercial — in which she and a multicultural cohort of protesters and sympathetic policemen solved intolerance via a soft drink — she and her sister are once again the subject of the wrong kind of media attention. The young Jenner women just released a series of shirts through their Kendall + Kylie label featuring, inexplicably, images of Tupac Shakur and Notorious B.I.G. with pictures of themselves watermarked over the top.
Maybe K+K are competing in some kind of secret Appropriation Bingo game? If so, how many bad-idea boxes are left to check?! Ethically, it's past questionable. And based on the reaction of Biggie's mother, Voletta Wallace, it was just poorly done business, too. In an Instagram post from today, Wallace says no one from the Jenner camp contacted the Wallace estate to get permission for using his likeness:
According to TMZ, the lawyer for the Wallace estate has sent a cease-and-desist letter to the Jenner camp demanding they stop selling products with images of Biggie or face legal action. "This is misappropriation at its finest," lawyer Julian K. Petty said. "I'm curious to hear the justification. I'm even more curious to hear the proposed resolution."
Tupac Shakur's estate has not responded to the sartorial situation, but it would be unsurprising to learn that permission was also not sought for T-shirts bearing Tupac's image alongside that of Kylie Jenner exiting a pool and Kendall Jenner wearing large hoop earrings. Images of the shirts have been rounded up in tweets and blog posts, though it appears that the new vintage-line items are no longer available on the retail site.
Update 5:05 p.m.: Kendall Jenner has apologized on behalf of her and her sister in a tweet: