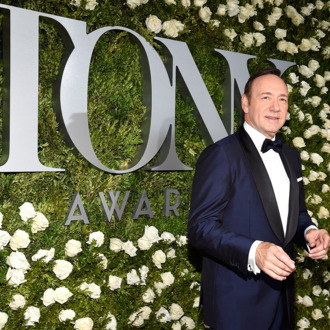 Kevin Spacey hosted the 71st annual Tony Awards on Sunday evening.
Photo: Kevin Mazur/Getty Images for Tony Awards Productions
Kicking off Sunday night's Tony Awards, host Kevin Spacey — who, in case you've forgotten, is a Tony winner himself — sort of sang and sort of danced his way through modified musical numbers from the top shows of the last year. To begin, Spacey took the stage wearing a blue striped polo and cast on his arm a la Ben Platt in Dear Evan Hansen. "Have you ever felt the ratings would disappear," Spacey sang to the tune of Hansen's "You Will Be Found." "That you could host and no one would cheer."
Ditching the cast, Spacey moved on to tackling several other roles from this year's Broadway season, popping out of bed again, and again, and again, as Phil Connors (played by Andy Karl, who was nominated for Best Lead Actor in a Musical) from Groundhog Day and slapping on a beard and a stomach pillow to portray Pierre from Natasha, Pierre & the Great Comet of 1812.
Throughout the number, Spacey was paid visits by the ghosts of several Tony Award hosts past, including Whoopi Goldberg and Billy Crystal. The latter advised Spacey that if he felt the number was going south, he should just throw on a dress. Cue a riff on "As If We Never Said Goodbye" from Sunset Boulevard.
For the latest on this year's Tony Award winners, follow along here.