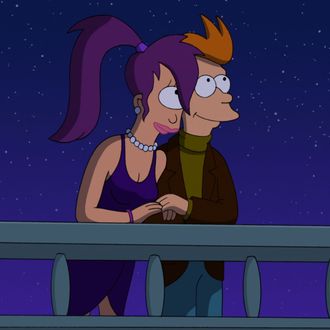 Photo: WallFon.com/WallFon.com
Each month, several films and TV shows leave Netflix's catalogue. We provide a list of departing titles and recommend a few standouts so you can watch them before they're gone forever (or are just available on a different site). For more comprehensive coverage of the best titles available on Netflix and elsewhere, check out Vulture's What to Stream Now hub, which is updated throughout the month.
If you have Rick & Morty separation anxiety: Futurama
Bad news, everyone. After many a death and resurrection, Matt Groening's 30th-century sci-fi satire is removing a good chunk of its output from the streaming service of the future. The affected seasons cover the show's original Fox run, plus the four direct-to-DVD movies that bridged the gap to its Comedy Central revival. As a sampler platter, try "The Problem With Popplers" for pure laughs and "Jurassic Bark" for a glimpse of the show's sadder side. Leaving July 1.
If you love cowboys and saloons: El Dorado
Blazing Saddles is also leaving Netflix this month, and it's required viewing. But once you've watched Mel Brooks pulverize the old-timey Western genre, perhaps you'd like to acquaint yourself with an example of what he helped to (temporarily) bury. This 1966 mercenary-goes-good picture has all the big names in one place: John Wayne and Robert Mitchum co-starring, Howard Hawkes directing, and even an earnest title ballad accompanied by gorgeous storyboard paintings of horseback riding. The script is a rehash of Hawkes's superior Rio Bravo — there's a battle over water supplies, with a well-meaning alcoholic sheriff — so it's best to think of El Dorado the way Hawkes himself reportedly described the film to Mitchum: "No story, just characters." Boy, howdy. Leaving July 1.
For Marilyn Monroe fans: Gentlemen Prefer Blondes
The back half of this Howard Hawkes double feature brings you a very different side of Hollywood's golden age. For four minutes, Marilyn Monroe sashays in her pink gown and blinding accessories, chased by a tuxedoed army as she vamps her way through "Diamonds Are a Girl's Best Friend." And there you are: one of the most sensational, sensual moments ever committed to film. Snarky and subversive in its gender politics, this comedy of material girls (and the men who fear/revere them) cemented Monroe's reputation as the sexpot of the silver screen. It's got a thing or two to say about America's high society, too. Leaving July 1.
Noteworthy selections in bold.
TV
Leaving July 1
Futurama: Seasons 1–6
Ghost Whisperer: Seasons 1–5
MacGyver: Seasons 1–7
Leaving July 6
Los Heroes del Norte: Seasons 1–2
MOVIES
Leaving July 1
9/11: Stories in Fragments
America's Secret D-Day Disaster
American Pie Presents: Band Camp
American Pie Presents: Beta House
American Pie Presents: The Naked Mile
An Unmarried Woman
Angus, Thongs and Perfect Snogging
Batman
Black Wings
Blazing Saddles
Blondie's New York
Bombs, Bullets and Fraud
Day of the Kamikaze
Death Beach
El Dorado
Flicka 2
Gentlemen Prefer Blondes
Hello, Dolly!
Hip Hop: The Furious Force of Rhymes
History in HD: The Last Bomb
Hugo
The Hunt for Bin Laden
The Incredible Bionic Man
Kate & Leopold
Mystery Files: Hitler
Mystery Files: Leonardo da Vinci
Nazi Temple of Doom
Samurai Headhunters
Secrets: A Viking Map?
Secrets: Richard III Revealed
Secrets: The Sphinx
Shuttle Discovery's Last Mission
Titanic's Final Mystery
While You Were Sleeping
Working Girl
Leaving July 3
The Last Samurai
Two Weeks Notice
Leaving July 11
Opposite Field
Leaving July 12
Adventures of Pepper and Paula
In the Basement
Sleeping Beauty (2014)
Leaving July 13
Kevin Hart: Laugh at My Pain
Leaving July 15
All That Glitters
Lessons for a Kiss