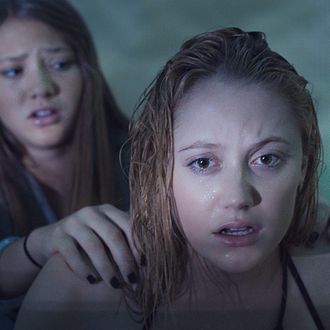 Each month, several films and TV shows leave Showtime's catalogue. We provide a list of departing titles and recommend a few standouts so you can watch them before they're gone forever (or are just available on a different site). For more comprehensive coverage of the best titles available on Showtime and elsewhere, check out Vulture's What to Stream Now hub, which is updated throughout the month.
For fans of truly great horror: It Follows
The good news is that not a lot of the movies leaving Showtime this month are any good. The bad news is that It Follows is one of the very best on the service. If you haven't seen it yet, don't wait any longer. Kill the lights, turn up the volume, and let this gorgeous horror movie envelop you. It's perfect for a warm night with a breeze in the window, the kind that stirs the curtains when you least expect it and makes the hair on the back of your neck stand up. Leaving July 12.
For some vintage Kenneth Lonergan: You Can Count On Me
Manchester by the Sea director Kenneth Lonergan's Oscar-nominated debut in the director's chair was a small drama starring Laura Linney, Matthew Broderick, and an up-and-coming Mark Ruffalo. Set in the Catskills, Linney plays single mother Sammy Prescott, whose brother Terry (Ruffalo) decides to appear back in her life for the first time in months because he needs money. Like the rest of Lonergan's work, it's a film of melancholy and quiet pain that, if seen through, is quite beautiful in the end.  Leaving July 31.
If you want to see very good actors in a very bad movie:  Lucky Numbers
I do not know if it is bad writing or just something that has seen its appeal dim with time, but when the trailer for Lucky Numbers wants to show that John Travolta's rock star weatherman Russ Richards is A Big Deal, it does so by telling us that he HAS HIS OWN TABLE AT DENNY'S. You know, the place that does Grand Slams? Anyway, Lucky Numbers is a Nora Ephron movie that slipped into theaters almost unnoticed in 2000, despite the fact that it starred Travolta — still kind of big deal back then, even though his star power was marred by Battlefield Earth — and Friends star Lisa Kudrow, who deserved better. If you care to look deeper, read this fascinating, in-depth story about how Lucky Numbers was a tremendously promising movie, until it fell apart in a most spectacular way. You don't have to watch it, of course, but the movie's Showtime departure is as good an excuse as any to check it out in between episodes of Twin Peaks. Leaving July 31.
Leaving July 3
High School
Leaving July 5
Mighty Joe Young
Leaving July 7
Public Enemy: Live From Metropolis Studio
Leaving July 12
Arthur and the Invisibles
It Follows
Leaving July 14
Da Sweet Blood of Jesus
Leaving July 19
Fried Green Tomatoes
Leaving July 20
Everything Must Go
Leaving July 21
Alpha Dog
Leaving July 24
How to Be a Player
Leaving July 26
Hannibal Rising
Leaving July 29
Coffee and Cigarettes
Leaving July 30
The Howling Reborn
Leaving July 31
Bloodworx
Cecil B. Demented
Cry Freedom
Down to Earth
Frankenhooker
Laws of Lust
Like Sunday, Like Rain
Lucky Numbers
Orange County
Permanent Midnight
Saw III
Saw IV
Saw V
Split Decisions
Star Kid
When Time Expires
Woman in Gold
You Can Count On Me