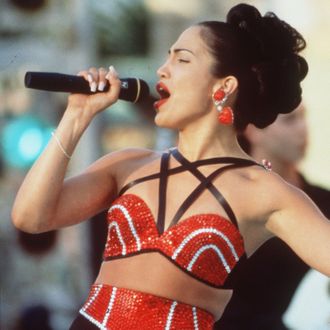 Photo: Warner Bros. Pictures
At the beginning of (and during) each month, HBO adds new movies and TV shows to HBO Go and HBO Now. Below, you'll find our June 2017 recommendations along with a full list of new titles. For more comprehensive coverage of the best TV shows and movies available on HBO and elsewhere, check out Vulture's What to Stream Now hub, which is updated throughout the month.
If you want to celebrate a musical icon: Selena
Twenty years ago, Selena premiered in movie theaters. A biopic about the late crossover Tejano pop star Selena Quintanilla-Pérez, released two years after her murder, Selena is one of the few times mainstream Hollywood cinema made what felt like a genuine overture to Hispanic-Americans in general, and Mexican-Americans in particular. Full of great performances, Selena is the film that made Jennifer Lopez a star and allegedly inspired her to begin her career in music. Charming and emotional, Selena succeeds by being utterly earnest, celebrating the tragically short life of a singer who meant the world to her community. Available July 1.
Because Steven Spielberg can be weird, too: Minority Report
Spielberg is great at wonder and childhood and awe, all those big timeless things that make his movies endure for decades. Whatever. You know what else he's good at? Freaking creepy-as-hell robo-spiders that scan your eyeballs. Minority Report is Spielberg thrilling in the slick strangeness of science fiction, creating an influential aesthetic that would inform movies for decades. Also, it's one big Tom Cruise chase scene, and a great one at that. Available July 1.
If you're ready for some serious funny: Tour de Pharmacy
This is a bit of a cheat since Tour de Pharmacy hasn't premiered yet, but like the extremely funny Seven Days in Hell before it, Tour de Pharmacy bills itself as a mock 30 for 30–style sports special about a Tour de France–esque cycling race. Reuniting star and co-creator Andy Samberg with Seven Days in Hell writer Murray Miller, Tour de Pharmacy is another cameo-packed absurdist romp, trading in tennis shorts for bikes and doping. Not unlike Popstar: Never Stop Never Stopping, which also comes to Netflix this month, it'll almost certainly be one of the funniest comedies of the year. Available July 8.
Noteworthy selections in bold.
TV
Game of Thrones (premieres July 16)
Ballers (premieres July 23)
Insecure (premieres July 23)
Room 104 (premieres July 28)
MOVIES
Available July 1
About a Boy
American Gigolo
Bean
The Blair Witch Project
Book of Shadows: Blair Witch 2
Born on the Fourth of July
Cobra
The Dark Knight
Erin Brockovich
Heartburn
Johnny Handsome
K-Pax
Lara Croft: Tomb Raider
Le Divorce
Leatherheads
Loving
The Man Without a Face
Mimic (Extended Version)
Minority Report
Mission: Impossible II
Mr. Deeds
Necessary Roughness
Next Day Air
The Other Side of the Door
Over Her Dead Body
Panic Room
Pearl Harbor (Extended Version)
Platoon
Richie Rich
Robin Hood: Men in Tights
The Rose
Selena
Solaris
Soul Food
Thirteen
Watchmen (Extended Version)
The Women
The X-Files: I Want to Believe (Extended Version)
Available July 8
Popstar: Never Stop Never Stopping
Tour de Pharmacy
Available July 15
Keeping Up With the Joneses
Available July 22
Hacksaw Ridge
Available July 29
Almost Christmas