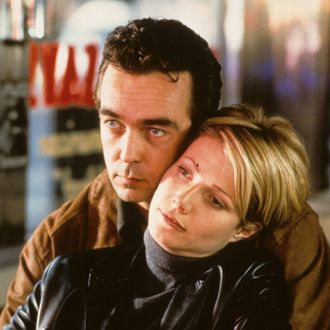 Photo: Miramax Films/IMDB
At the beginning of (and during) each month, Hulu adds new movies and TV shows its list of offerings. Below, you'll find our June 2017 recommendations along with a full list of new titles. For more comprehensive coverage of the best TV shows and movies available on Hulu and elsewhere, check out Vulture's What to Stream Now hub, which is updated throughout the month.
If you've been missing a lot of trains lately:  Sliding Doors
Ever get a pair of sneakers and suddenly notice that everyone has that same pair of sneakers? In my experience, that's what watching Sliding Doors is like: It's a movie that lots of people you know have seen, but you'll never notice until you see it yourself. Gwyneth Paltrow stars as a young woman in London who misses her carriage on the tube — or does she? After that moment at the station, the film cuts back and forth between two parallel timelines, one in which she made the train and another in which she did not. Sliding Doors is a clever, gentle, wistful little romance about what might have been.   Arrives July 9.
A fun thriller you probably missed: Nerve
Last year's Nerve flew under the radar, which is a shame because it's a tremendous amount of fun. It's the story of two good-looking young people — played by Dave Franco and Emma Roberts — who get trapped in a game that pushes them to take on increasingly risky dares for cash and viral fame. It's a thriller that engages with our cultural moment's obsession with livestreaming and fleeting fame, delivering a taut, well-paced film that doesn't try too hard to appeal to the Youths or clumsily condemn the culture it depicts. Arrives July 1.
Because an airport can be a really charming place: Up in the Air
Although it isn't as magnetically watchable as his Thank You for Smoking nor as aggressively of-its-moment as Juno, director Jason Reitman's Up in the Air still holds up rather well. Ostensibly a romantic comedy about people who live transient lives on the road (but not-so-secretly a black comedy about the American economy), George Clooney plays a guy who travels around the country and fires people. Meanwhile, Anna Kendrick plays a talented woman whose ideas may, one day, put Clooney out of a job. Throw in the excellent Vera Farmiga, and you have a funny, warm movie about people slowly try to ground themselves. Arrives July 1.
Noteworthy selections in bold.
Available July 1
48 Hours
8 Heads in a Duffel Bag
Altered States
Another 48 Hours
Area 51
As I Am: The Life and Times of DJ AM
Bandits
Beverly Hills Ninja
The Blob
Boomerang
Braveheart
Bull Durham
Cat O'Nine Tails
Clear and Present Danger
Click
Coma
Dark City
Dead Calm
Death Wish IV: The Crackdown
The Devil's Advocate
Divine Secrets of the Ya-Ya Sisterhood
Dream a Little Dream
Drunk Wedding (2015)
The Eagle and the Hawk (1950)
Eight Men Out (1988)
Encino Man (1992)
The Fan (1996)
The First Wives Club (1996)
A Fistful of Dynamite (1972)
Flashdance (1983)
Fly Me to the Moon (2008)
Free Money (1998)
The Furies (1950)
Get Well Soon (2002)
Godsend (2004)
The Good, the Bad and the Ugly (1967)
House of the Dead (2003)
House of the Dead 2 (2006)
Hudson Hawk (1991)
The Hunt for Red October (1990)
John Carpenter's Vampires (1998)
John Grisham's The Rainmaker (1997)
Johnny Guitar (1954)
The Juror (1996)
Killing Zoe (1994)
Kingpin (1996)
Kingsglaive: Final Fantasy XV (2016)
Kit Kittredge: An American Girl (2008)
La Bamba (1987)
Les Miserables (1998)
The Letter (2012)
Lost Souls (2000)
The Lucky Ones (2008)
A Man Alone (1955)
The Mangler (1995)
Manhattan (1979)
Married to the Mob (1988)
The Mask (1994)
The Midnight Meat Train (2008)
Misery (1990)
My Dog Skip (2000)
Needful Things (1993)
Nerve (2016)
Payback (1999)
The Peacemaker (1997)
A Perfect Murder (1998)
Pootie Tang (2001)
The Presidio (1988)
The Professional (1994)
Reasonable Doubt (2014)
Rescue Dawn (2007)
Riding in Cars With Boys (2001)
Road House (1989)
Rosemary's Baby (1968)
Rustler's Rhapsody (1985)
Sacred Ground (1983)
Santee (1975)
School Daze (1988)
Scrooged (1988)
Sense and Sensibility (1995)
Sniper (1993)
Star Trek II: The Wrath of Khan (1982)
Star Trek III: The Search for Spock (1984)
Star Trek IV: The Voyage Home (1986)
Star Trek IX: Insurrection (1998)
Star Trek V: The Final Frontier (1989)
Star Trek VI: The Undiscovered Country (1991)
Star Trek VIII: First Contact (1996)
Star Trek VII: Generations (1994)
Star Trek: The Motion Picture (1979)
Suicide Kings (1997)
Syriana (2005)
The Tall Stranger (1957)
Teenage Mutant Ninja Turtles (1990)
Teenage Mutant Ninja Turtles 2 (1991)
Teenage Mutant Ninja Turtles 3 (1993)
The Pursuit of Happyness (2006)
The Water Horse (2007)
To the Arctic (2012)
Top Dog (1995)
Top of the Food Chain (2000)
Up in the Air (2009)
Walking Tall (2004)
The Witches (1990)
Wolfen (1981)
Available July 4
Jonah: A Veggie Tales Movie (2002)
Available July 5
The Eric Andre Show: Complete Season 4 (Adult Swim)
Prince Avalanche (2013)
The Sorcerer and the White Snake (2011)
Available July 6
Under the Gun (2016)
Available July 7
Pure: Complete Season 1 (Cineflix)
Available July 8
Our Kind of Traitor (2016)
Available July 9
Sliding Doors (1998)
Available July 10
Blood, Sand & Gold (2017)
Available July 12
The Bold Type: Series Premiere (Freeform)
Humpday (2009)
Melancholia (2011)
Talladega Nights: The Ballad of Ricky Bobby (2006)
Available July 14
Uncle Grandpa: Complete Season 4 (Cartoon Network)
Da Sweet Blood of Jesus (2014)
Available July 16
Inside Job (2010)
Available July 19
John Dies at the End (2012)
Available July 20
Tagged: Complete Season 1 (Awesomeness TV)
Available July 23
Touch of Light (2012)
Available July 24
Guardians of Oz (2017)
Touch of the Light (2012)
Available July 25
Midnight, Texas: Series Premiere (NBC)
Somewhere Between: Series Premiere (ABC)
Available July 26
Good Ol' Frieda (2013)
Oxford Murders (2008)
Available July 28
Betch: Complete Season 2 (Awesomeness TV)
Available July 30
96 Souls (2016)
Available July 31
Jeepers Creepers (2001)