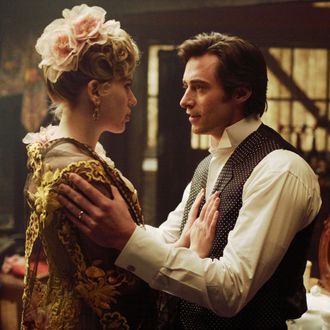 Photo: Buena Vista/Warner Bros.
At the beginning of (and during) each month, Showtime adds new movies and TV shows its list of offerings. Below, you'll find our July 2017 recommendations along with a full list of new titles. For more comprehensive coverage of the best movies and TV shows available on Showtime and elsewhere, check out Vulture's What to Stream Now hub, which is updated throughout the month.
If you can't wait to see Christopher Nolan's latest project: The Prestige
Dunkirk finally storms movie theaters this July, so it's a good a time as any to revisit Nolan's best work. The Prestige is the finest puzzle box the director has ever crafted, a tale of rivalry and revenge between two gifted magicians in 19th-century London. With terrific performances by Christian Bale and Hugh Jackman, The Prestige draws you into its world and its central feud with mesmerizing showmanship. It's Nolan's most complex film, not just in its plotting but also in its emotion, and it's got a killer David Bowie appearance.   Arrives July 21.
If you love R-rated superheroes: Punisher: War Zone
Marvel occasionally dipped into R-rated fare before Deadpool, but Punisher: War Zone has the distinction of being one of its last movies to be released before the Marvel Cinematic Universe began in earnest and put most adult-oriented Marvel superhero fare on ice for the better part of a decade. Punisher: War Zone is an unapologetic work of gratuitous violence, a reboot that aims to be a much nastier piece of work than the previous 2004 film. Swapping out Thomas Jane for Ray Stevenson and giving its anti-hero a foe actually lifted from the comics in Dominic West's Jigsaw, War Zone is an absolutely unrestrained movie. In superhero-land, that's a rarity. Arrives July 1.
If you're in the mood for horror: The Descent
Neil Marshall has spent the last decade making a name for himself as a director of standout TV episodes, like Game of Thrones' "Blackwater" or Hannibal's final-season pivot to full-on horror in "The Great Red Dragon." Unfortunately, that work kept Marshall away from movies, where he most notably made a tremendous impression with 2005's The Descent. A terrifying story about women exploring some caves where they accidentally discover flesh-eating monsters, The Descent wows with its imagery and tension, allowing for some great chills on summer nights. Arrives July 1.
Noteworthy selections in bold.
Available July 1
London Town
The Descent
Election
Eternal Sunshine of the Spotless Mind
The Nanny Diaries
The Others
Punisher: War Zone
Transporter 3
Available July 2
Snowden
Available July 7
Erik Griffin: The Ugly Truth
Available July 11
A Woman, A Part
Available July 22
Risk
Available July 28
Punching Henry