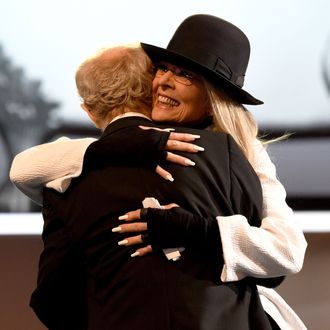 Woody Allen and Diane Keaton.
Photo: Michael Kovac/Getty Images for AFI
In a rare public appearance in Los Angeles, director Woody Allen appeared at the AFI Life Achievement Award ceremony for Diane Keaton to both roast and honor the actress who starred in Annie Hall and many of his other most famous films. As part of his surprise appearance, the controversial Allen roasted Keaton, making jokes about her looks ("Her beauty is not conventional — by conventional I mean pleasing to the eye."), her romantic history, and according to BuzzFeed, her history with bulimia. Other guests included Sarah Silverman, Jane Fonda, Meryl Streep, Warren Beatty, Al Pacino, Morgan Freeman, Rachel McAdams, Emma Stone, Reese Witherspoon, and Lisa Kudrow.