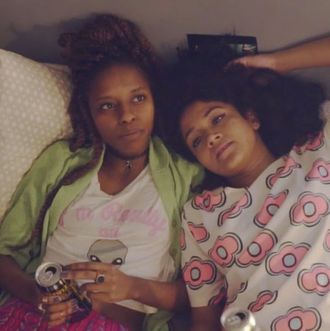 HBO has found its next Insecure.
Photo: OpenTV/browngirlswebseries.com
In yet another sign that the most forward-thinking television lives on the internet, HBO has put its weight (and dollars) behind one more viral web series. The creators of Brown Girls, writer Fatimah Asghar and director Samantha Bailey, have announced to Elle that HBO has signed the pair to a development deal to bring their hit series to the network. It's a similar process to the one that fostered Issa Rae's Insecure, which HBO took notice of when the show was a popular web series called The Misadventures of Awkward Black Girl. The network then brought Rae on to expand the show for a full series with a bigger budget and writers room. Brown Girls had its first run in February on OpenTV with seven episodes centered on two best friends, Leila and Patricia, and their day-to-day lives in Chicago, trying to navigate their love lives and careers in their 20s with the added complexity of being brown women. Leila's a Muslim South Asian writer who not only can't make roti, but has to figure out how to tell her pious aunt that she's queer; Patricia's a black singer who idolizes perpetually single women like Oprah and Gayle, and prefers casual sex over intimacy as she watches her parents' marriage falter.
Newcomers Nabila Hossain and Sonia Denis give breakthrough performances playing versions of real-life friends Asghar and Chicago singer Jamila Woods, who's also the show's music consultant, but Ashgar and Bailey's shared voice and perspective anchor the series. If the show makes it out of development purgatory, where Rae's Insecure spent years before being properly green-lit, it'll be unlike anything TV's ever seen — as if Master of None's "Thanksgiving" episode was told across an entire season, from only women's point of view and with even deeper cultural intersectionality. In the show's cathartic third episode, we see Leila come out to her sister, who comfortingly tells her she already knew. "All this hiding is going to kill you," she warns Leila of not living her truth, in the most poignant moment of the season.
And if Ashgar and Bailey get the creative control they say HBO has granted them (even down to the excellent all-Chicago soundtrack), there'll be more groundbreaking scenes like this in the show's future. "The web series is a small, small slice into the potential of the show. I want [the TV show] to be very Chicago-focused and queer folks of color–focused," Asghar tells Elle. "And to have women of color and queer people of color be the protagonists and the antagonists in their own story. That's very important to me … The people of Brown Girls are not caricatures."