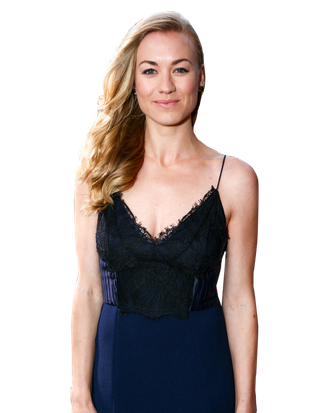 Spoilers ahead for season one of The Handmaid's Tale.
By the end of The Handmaid's Tale's first season, Offred (Elisabeth Moss) is taken away by the Eye without the consent of her masters, the Waterfords. But that doesn't mean one of TV's scariest villains, Serena Joy, is out of the picture. The Commander and his wife, played by Joseph Fiennes and Yvonne Strahovski, will return for the second season, which means Strahovski, who recently played a serial killer's accomplice on Dexter, a CIA agent on 24: Live Another Day, and a feminist on The Astronaut Wives Club, will be around to terrorize the show's protagonist and its viewers for a while longer. Strahovski, who admits she has trouble with Serena Joy's general awfulness, spoke to Vulture about the challenges she faced finding her character's humanity (yes, she does have some), what it was like to film the Ceremony, and how horrible she personally felt filming the disturbing car scene in the finale.
Why were you interested in playing Serena Joy? What resonated with you?
I read the pilot before I even read the book, and so I was really drawn to the writing, Bruce Miller's creation, and this character of Serena Joy and how complicated she seemed to be. And I just loved all of the nuances that seem to be hanging in-between all the dialogue in this particular script. It seemed to be dripping in a lot of subtext, which I really loved. Once I got the role, then I read the book and dove into the world of Margaret Atwood and the whole novel and the world of Serena Joy, which seemed to be a bit of an endless, bottomless pit of complexities and dualities which I had to make sense of, which was quite the task.
In the book, Serena Joy is an older woman. It's a completely different relationship with Offred.
Yeah, it's different. She is arthritic and she walks with a cane. I think making Serena and Offred of the same age brings that fertility aspect right to the forefront of their minds. Especially Serena Joy's because it's something that I think she's still very desperately in mourning over, and it's a very raw topic for her — that she is truly unable to fulfill that role. And it's something that she was promoting this whole time, this idea of women following their biological destinies. Domestic feminism is what she calls it. And here she is now. She cannot fulfill the very thing that she's been promoting and trying to empower women with.
That part is fascinating to learn. For a while, you might think of her as a victim too. But then you learn she had as much of a hand in writing the laws and establishing the Gilead patriarchy and totalitarian form of government.
It is shocking. There were a lot of things that I bumped on in the making of it. The ceremony scene: I had to ask myself, what woman would even agree to this? Even someone in Serena Joy's position. Here was such a woman of faith and her own moral belief system, the very moral belief system that contributed to the architecture of Gilead and the way that things are now in the story. But there are certain things I struggled with. Why would she have agreed to these other things? I do think we did explore that in episode six. There was that point where she lost her voice in the conversation just like every other woman lost her voice in this society. And she too was one of them even though she is at the top of the food chain when it comes to women in this new regime.
But she also isn't allowed to read or write. She can't have sex with her husband. Yet, she helped create this reality.
Yeah, I think that's one of the biggest dualities that I grappled with. There are a lot of these negotiations that she has. The negotiation of, I'm in this crappy position now but I've put myself here. And the negotiation of, Now my hope is that I can have a child but I can't have her myself so I have to have it through this handmaid. But I despise the handmaid. I think she battles a lot and feels emotions against her will.
Did you get to a point where you could empathize with her?
I did. It was a tough road to get there, but I do. [Laughs.] I mean on paper she is incredibly brittle and unlikable and unapproachable and completely unfriendly. So it was really about peeling away all those layers and labels and trying to figure out what really makes her so sad and so bitter and to abuse her power the way that she does and treat Offred the way that she does. You touched on something that really struck me, which was the fact that she has been stripped of her ability to read and write and be the author that she once was. And have sex with her husband. So you strip away a lot of these things that create a part of what makes you you, and your identity, and how you identify to someone that you love. Those are major things that exist. And when you take that away, then what do you have? You have an empty void, and there's not a whole lot left in this society to fill the void with in Gilead.
When you learn her backstory in the middle episodes, you do see her a little bit differently. You do feel for her in a way but then, oh boy, in those last couple of episodes, Offred is right: Serena Joy is a monster.
I'm glad that you say that because it was important for me to humanize her in some way and try to show some of her vulnerabilities. I wouldn't want you to tell me you just straight-up hated her. And that it's someone that you love to hate. I'm glad that it's confusing because it is a character that I think that is important to humanize. And at the same time, show her brutality.
You mentioned how challenging filming the ceremony was. How did you do it? Where did your mind go? In the beginning, you were stoic, but by the end of it, your eyes are welling up.
It felt disturbing. Immediately my mind went to trying to figure out, would you really be okay with this? Even if you agree to do the ceremony, even if you were a part of creating it, and you signed off on it, I don't think you can help but have pretty real human emotions across the spectrum. I need to do this because this is something I agreed to. But this is awful. Look what I'm watching my husband do. And also the whole notion of turning a blind eye to what is essentially a rape happening right in front of her. There's turning a blind eye to that completely. Which makes her also a passive bystander at the same time as having this very real, personal struggle of her own and watching her husband be intimate with someone else. And it's her husband that she has completely lost intimacy with, as we see, in that one episode where she even tried to help him out when he was having trouble in the ceremony and he rejects her. There's a lot of raw emotion all around her rejection.
Then when she thinks Offred is pregnant, she shows a softer side. But by the end of the third episode when Offred tells her she's not, Serena Joy has an extreme reaction. She shoves her into her room and forbids her to get out. Did this surprise you? Did you have difficulty executing that?
It was heavy. I mean it feels like it has to be a pendulum swing in a way because Serena does abuse her power. And I do feel like in this awful way, I sort of justified it in my head as she doesn't have any other outlet. So she chooses to do it this way. Which is horrible and inexcusable, but she still does it. Also, to me when I read the scene, I felt there would be an element of betrayal. There are these weird moments of connection between Offred and Serena where you almost see a little sparkle of, dare I say friendship, even though that's really not allowed, or they're pitted against each other so that's kind of strange. But you do see glimpses of that. The fact that Serena knows that Offred waited for an entire evening and night and then a morning to tell her this one, big important detail, was so offensive to her. She was trying to get her power back in the most brutal way possible.
That scene with you and Elisabeth Moss in the car is so hard to watch. It's excruciating. Tell me what it was like to be a part of that, to have to sit there while Elisabeth Moss is totally losing it as Offred.
That was brutal. That was the hardest scene. I spent most of my time apologizing to Lizzy after each take. Just saying, "I'm so sorry." It's awful. Because it is. Here is this woman breaking down. I've just done the most horrible thing I can ever do to this woman, and I really had to shut off and not care, really. At the end of the day, here's the thing about Serena — and I'm biased because I have to play her — this is a story told through Offred's eyes, of Offred's survival in this society that isn't allowing her to have any power, yet she finds these moments of power. But this is also a story of survival, and you see each of the characters doing the same thing whether they are on the authority side or the non-authority side. And just as equally for Serena, she's trying to survive and she will do anything to protect that child — and to get that child in the first place. And it's going to be at the expense of Offred. This is the only card she knows how to play to protect her child and her own survival regardless of how it impacts Offred. So that's what makes it so hard to watch. It's so brutal because she is going to be stubborn in her own thought process.
And all of that comes after striking her in the face in the beginning of the episode, after Serena Joy figures out what the Commander and Offred have been up to.
There is a lot of anger mixed in obviously about that too. It was the hardest part of playing her — justifying her brutality. It wasn't hard for me to find her humanity and vulnerability. That was somewhat easy. But it was difficult justifying the extreme side of her, going into the brutal end of things. It's what makes this an amazing part and show to be a part of.
This interview has been edited and condensed.