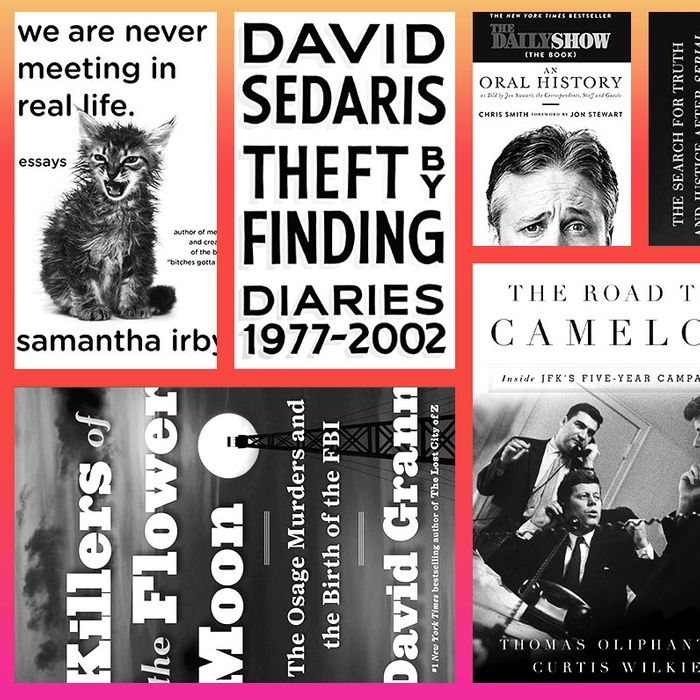 This week, Vulture is providing Summer Selections: picks for the best beach-worthy novels, comics, music, and podcasts of the past 18 months (and a few older ones for good measure, too), as chosen by creators of that entertainment. Today we're highlighting nonfiction books; here's our panel:
KEVIN FLYNN AND REBECCA LAVOIE
Flynn and Lavoie are a husband-and-wife writing team — together they've co-authored four true crime books: Our Little Secret, Legally Dead, Notes on a Killing, and Dark Heart. Flynn is also the author of American Sweepstakes.
SCAACHI KOUL
Scaachi Koul is a culture writer at BuzzFeed and the author of One Day We'll All Be Dead and None of This Will Matter.
THE PICKS (ARRANGED ALPHABETICALLY):
Adnan's Story: The Search for Truth and Justice After Serial by Rabia Chaudry
For those who couldn't get enough of the runaway podcast, Chaudry fills in the blanks and advances the argument and Adnan Syed was wrongly convicted. She brings the same passion to Syed's story that she brings to her real-life advocacy for his release. —Flynn & Lavoie
The Daily Show (The Book) by Chris Smith
As a teenager, I was obsessed with The Daily Show, watching every episode and later rewatching old clips online. (Virgins are very productive!!) This book has satiated the deep, sick need I have to know about everything that happened behind the scenes during Jon Stewart's tenure. It's more than 400 pages of delicious gossip and romances and divorces and friendships and fights and successes and more goings-on that none of us really have the right to know. —Koul
The Duke of Wellington, Kidnapped! The Incredible True Story of the Art Heist That Shocked a Nation by Alan Hirsch
In 1961 British authorities were stunned by the brazen theft of one of the National Gallery's most known works of art. Years later an elderly man came forward to take credit, claiming to have stolen Goya's "The Duke of Wellington" armed with a toy gun. And that's when the story really gets odd. —Flynn & Lavoie
Homicide: A Year on the Killing Streets by David Simon
The inspiration for the NBC drama, this is required reading for any true-crime fan. David Simon (yes, that David Simon) spent a year embedded in the Homicide Squad. The book follows multiple cases and provides an unflinching, sometimes unflattering, look at the crimes and detectives laboring to solve them. —Flynn & Lavoie
Intolerable by Kamal Al-Solaylee
Summer is a great time to cry, so this book about a gay man growing up in Yemen will ruin your life, appropriately. It's a devastating look at how religious extremism affected his once-liberal family in the Middle East, as well as his transition to Canada. Part of it is a coming-out story and part of it is an analysis of war, but all of it is beautiful and sad and empathetic. —Koul
Killers of the Flower Moon by David Grann
A baffling mystery from the 1920s about systematic killings on Oklahoma's Osage Indian Reservation. Are they connected to the abundant oil fields on their land that have made them all rich? That's when J. Edgar Hoover and his new FBI comes in. A fascinating case lost to history. —Flynn & Lavoie
The Road to Camelot: Inside JFK's Five-Year Campaign by Thomas Oliphant and Curtis Wilkie
Despite the title, this is a not glamorized whitewashing of a beloved politician's rise to glory. It's an honest, gripping look at the Kennedys' long game. It's a last hurrah for the type of politics — and politicians — that will never come again. —Flynn & Lavoie
Theft by Finding by David Sedaris
I don't imagine this is the best Sedaris book to start with if you're not already a fan, but for those who are already familiar with his work, this is a perfect thing to read at the end of the day in short bursts. The book is a collection of Sedaris's diary entries with, admittedly, some repetition from his past work, but it's still perfect for slow, pleasurable reading. —Koul
Trust No Aunty by Maria Qamar
Everyone has an overbearing aunty! Qamar's first book is where memoir and comic book and brownness meet, with advice on how to handle pushy aunties as well as recipes and stories about dating and racism. Qamar also illustrated the book with her Lichtenstein-esque feisty Indian women reminding you to get married or call home or not to "fall in love with another nikamma." —Koul
We Are Never Meeting in Real Life by Sam Irby
Look, do you want to read a bunch of short, endlessly enjoyable essays about a woman humiliating herself in new and horrible ways, often involving butt-related incidents while relaxing during the dog days of summer, perhaps on a beach? Trust me, you do. Irby's latest has been seemingly recommended by anyone with eyeballs but let me add to the chorus: this is the funniest thing I read all year. —Koul