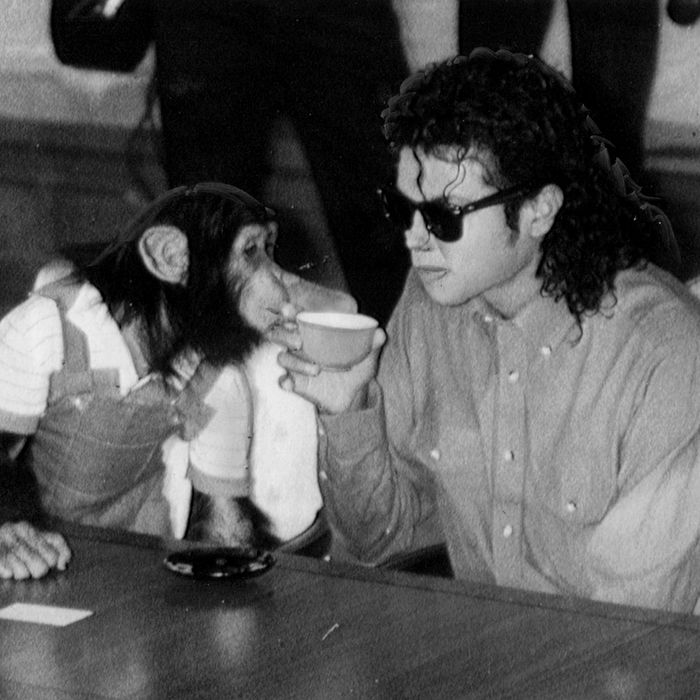 Photo: Sankei Archive/Getty Images
By now you've heard about (and probably even avoided more than one group text about) Lena Dunham's public sparring with her dog Lamby's former shelter. Brooklyn-based BARC shelter employee Robert Vazquez slammed Dunham (and, hilariously, shaded Girls), saying that Lamby did not have a history of the aggression that Dunham said ultimately caused her to give up the dog. In response, Dunham said that she has a different account of the animal's early life, but that he seems to be adjusting better in a new home. But the Lamby/Lena saga is only the latest in a history of sometimes happy, sometimes sad, oftentimes bizarre celebrity-pet sagas (which include a curious rumor about Paris Hilton wanting to bury her pet goat next to Marilyn Monroe). Here are 11 more crazy celebrity-pet stories:
Drew Barrymore scattered her dog's ashes in India.
When Drew Barrymore and Tom Green divorced in 2001, both sides fought to keep Flossie. The dog woke the couple during a blaze that burned their estate north of Beverly Hills, ultimately saving their lives. Barrymore got custody. When Fossy died at age 16, Barrymore bought a plane ticket to India to scatter some of the dog's ashes. Her stops: Gandhi's house in New Delhi, a Buddhist monastery up in the Himalayas, and on a quiet path in the countryside by the Ganges River. "Flossie was my first girl," Barrymore wrote in her memoir. "And the love I felt for her is one of the best gifts I have ever known."
Beyoncé used to snuggle her pet python.
When Beyoncé was rooming with her cousin, the two shared a pet snake named Fendi. Her dad, Mathew, wasn't pleased, especially when the snake went loose in the house. "I loved the snake," Beyoncé said wistfully. "We slept with the snake."
The Harry Potter crew made a tiny coffin for Emma Watson's tiny hamster.
Emma Watson grew up on those Harry Potter sets and remembers them fondly. "The British film industry hasn't just been a workplace for me," Watson said during an acceptance speech at the L.A. BAFTA ceremony. "It's been the place that I grew up, it's been a surrogate family, really." Watson's surrogate Potter family was close enough to mourn her pet hamster, who died on set when she was 10 years old: The crew built a small coffin lined with velvet and a little placard.
Quentin Tarantino sued True Blood creator Alan Ball over Ball's macaws.
Alan Ball and Quentin Tarantino were neighbors who butted heads over Ball's pet macaws, which Tarantino hated. The director complained about the animals' "obnoxious pterodactyl-like screams" and sued in 2011. "On a daily basis Defendants' Macaws, large tropical birds known for their loud squawks and screams, are placed in an outdoor aviary where they emit blood-curdling screams at random intervals for seven to eight hours each day," according to the court filing. The neighbors settled the dispute out of court.
Rashida Jones was bitten by Michael Jackson's monkey, Bubbles.
"I got attacked. By Bubbles," Rashida recalled to Desus and Mero. She was a child, hanging around while her dad, Quincy Jones, worked with Michael Jackson. Once, though, Jackson's monkey snapped at her. "He also looked me dead in my eye. While he was biting me. I was trying to punish him because he threw something at me. And I, like, hit him on the head and said, 'No!' because I had seen Michael trying to punish him before. And he just grabbed my hand and looked me dead in the eye." (Bubbles is now a renowned artist.)
Hulk Hogan had an in-home zoo, according to Hulk Hogan's neighbors.
In a very We Bought a Zoo move, Hulk Hogan's Belleair, Florida, home had wild animals running loose in 2005. Neighbors complained of "dogs, rabbits, ferrets, chickens and roosters" that cause "loud and frequent noise and an unsanitary stench."
Mike Tyson can't bring himself to name his pet pigeons.
Remember when Mike Tyson had three tigers? One of them even knocked out a gold tooth when he tried to kiss her. Ah, the '90s — forever in our hearts. These days, living more frugally, Tyson looks after a lot of pigeons. When GQ accompanied Migos on a visit to Tyson's estate, the athlete let his guests meet his pigeons before sharing a sobering reality: He doesn't name them because it makes him sad to get too attached. Per GQ: "The Migos look at the pigeons, and the pigeons look back."
Miley Cyrus wrote a song mourning her dead fish.
Back when Miley was doing those ultrahip Backyard Sessions, she sang a tune to commemorate her dead pet, Pablow the blowfish. Our favorite lyric: "Watching my friends eat my friends ruined my appetite." It's the thought that counts.
J.Lo's Hamptons neighbors were annoyed over her dogs' spa day.
To be clear, Jennifer Lopez's dogs are not "from the block." For these pets, luxury or nothing: One weekend last August, a black Lincoln Town Car dropped off her two boxers (Bear and Rocky) and their pup pals (two Labradors named Lady and Buddy and a mastiff named Champ) at the Dog Store in Wainscott, New York. The dogs' pampering was reportedly an all-day affair, much to the chagrin of locals. "Every Friday, we drop off our dogs at the spa while we go to Barry's Bootcamp next door," a Hamptons resident told "Page Six." "But this time the doors to the spa were shut, and a handler was overheard saying Lopez's dogs were inside. They were there nearly all day."
If Cheryl Hines's pet emu dies in a mysterious accident, Cheryl Hines definitely killed it.
Hines's husband got their daughter a pet emu when she was younger, a "cute" and "quirky" childhood pet. Joke's on Hines: The emu has become a nuisance that, in cahoots with one of the family's dogs, often moseys into the house. On the Late Late Show, Hines told a story about the emu, and also said that she's waiting for it to die. An emu's lifespan is about 25 to 35 years.
Oh, and Sandra Bullock has chickens.
Three of them, to be exact: Carol, Wanda, and Phil. They're named for Carol Burnett, Wanda Sykes, and Phyllis Diller. (Phil turned out to be a rooster.)