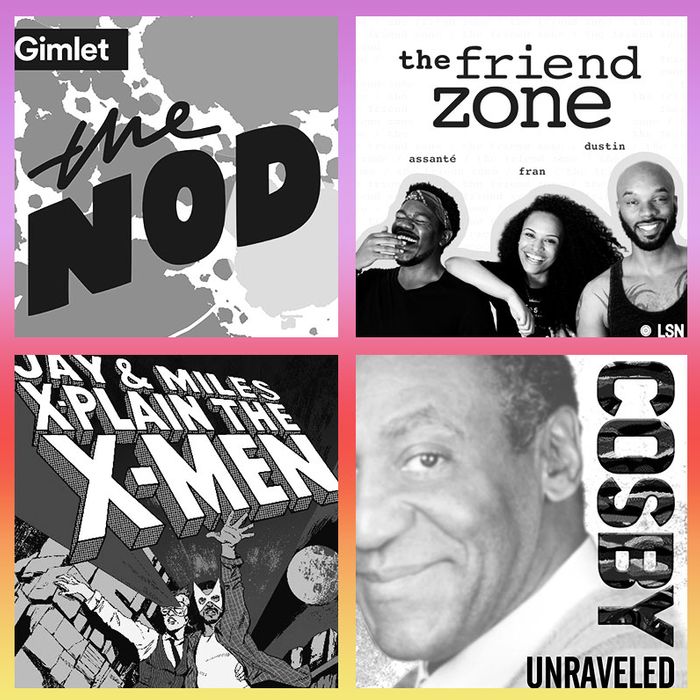 This week, Vulture is providing Summer Selections: picks for the best beach-worthy books, comics, music, and podcasts of the past 18 months, as chosen by creators of that entertainment. Today we're highlighting podcasts; here's our panel:
MICHAEL BARBARO
Barbaro is the managing editor and host of the New York Times' morning news podcast, The Daily. He has been at the paper for 11 years, previously serving as a political reporter, and was recently the subject of a fawning BuzzFeed article for his work on the podcast.
PHOEBE JUDGE AND LAUREN SPOHRER
The Durham, North Carolina–based Judge and Spohrer are the incredibly talented duo behind Radiotopia's Criminal, the podcast that tells "stories of people who've done wrong, been wronged, and/or gotten caught somewhere in the middle."
REGGIE OSSE (a.k.a Combat Jack)
Osse is the multitalented host of the Combat Jack Show and, most recently, Mogul, his podcast documentary collaboration with Gimlet Media that told the story of the late legendary hip-hop executive Chris Lighty. He is also a founding partner of the Loud Speakers Network, and a former hip-hop attorney and executive.
THE PICKS (ARRANGED ALPHABETICALLY):
30 for 30
I'm the complete opposite of a die-hard sports fan. The last time I watched a baseball game in its entirety was probably 1989. I had no choice. My parents took me. But I like a memorable, well-crafted story from the world of sports. 30 for 30 scratches that itch: A recent episode, "Yankees Suck," tells the story of the epically contemptuous relationship between the Boston Red Sox and the New York Yankees through a group of hard-core fans who love to hate each other (and profit from that hate, with a best-selling T-shirt). —Barbaro
Cosby Unraveled
Without giving too much away, this case hits fairly close to home, so I was interested in getting as much of the backstory as possible. Cosby Unraveled delivered on that and much more. The show, hosted by Annette John-Hall, an African-American journalist from Philly, starts off with Cosby's humble upbringing in the city of not-so-brotherly love and then follows his rise in Hollywood and subsequent impact on American culture. Including, of course, his recent trial, which resulted in a mistrial. While the show did make me consider how Hollywood personalities accused of rape like Roman Polanski received different treatment than Cosby, it ultimately reinforced my not-so-positive view of someone that I used to look up to. —Osse
Ear Hustle
Ear Hustle tells stories about life in prison, but unlike any other crime show, this one is told and produced by people in prison. Earlonne Woods and Antwan Williams, currently incarcerated at San Quentin State Prison, collaborate with Nigel Poor to produce stories about what their lives are like. The inmates make the decisions about what stories to tell, and do their own writing, editing, and sound design. —Judge and Spohrer
Friend Zone
This one is on Loud Speakers, so I might be a little biased, but I love checking in with hosts Hey Fran Hey, Dustin Ross, and Assante. The show's premise is promoting mental health and maintenance in the African-American community because "no one wants a musty mind." My own had been getting mustier than an old gym locker recently, so checking in with these guys was some audible fresh air I really needed. Outside of the mental-health talk, Fran also shares a lot of organic health tips too. Who knew coconut oil had so many benefits. —Osse
Jay and Miles X-plain the X-Men
I don't read comic books as much as I used to or as much as I'd like to. And the X-Men was one of my favorite titles. Jay and Miles X-Plain the X-Men is an amazing and fun podcast all about the mutants of Marvel. This formerly married couple dig deep into the rich history of the X-Men, covering story arcs, spinoffs, and even reaches into the X-Men's appearances in film, cartoons, TV, and video games. Formerly titled Rachel and Miles X-Plain the X-Men, what's more amazing about how detailed they deliver the comics' history is that this duo were once married, recently divorced, and still record this podcast. In addition to their coverage, there's some great episodes which feature interviews with actual writers, artists, and editors who've worked on X-Men and X-Men-related comic books. Nerdy, funny, and always full of gems, this podcasts kind of fills the void of me not reading as many comics as I did as a kid. —Osse
Love Me
The new season of Love Me just launched. This show tells surprising, twisty stories about love and confusion. One of our favorites is called "Falling," about a love triangle involving a bonobo, but every single episode is beautifully produced and has a distinctive, patient pacing you don't often hear. The first story of their new season, "The Other Side," is about a woman named Mo who is a volunteer at the Calais Jungle migrant camp when she falls in love with Tamim, a refugee fleeing the Syrian war. —Judge and Spohrer
The Nod
Co-host Eric Eddings was one of the editors on my podcast Mogul (and did an amazing job), so I was able to get an "advance copy" of this. I'm hoping by the time this article runs you all will be able to hear it too, because Eric and his co-host Brittany Luse have painted a more nuanced picture of black life than I've heard on a podcast before. All the episodes I've heard so far start in a seemingly unremarkable place and then quickly take you somewhere special. I can't wait to hear the rest of the season. —Osse
The Organist
The Organist is a collaboration between The Believer magazine and KCRW. Every episode is different and they're all very odd. Try "Sleeping Knowledge," with legendary sound engineer Susan Rogers (she worked with Prince on his albums Purple Rain and Sign o' the Times). Rogers researches psychoacoustics — the ways in which our brains process sound and what happens to our bodies when we listen to music. This episode has an amazing follow-up ("Hypnotic Induction") that aims to hypnotize listeners. There's a warning at the beginning that you shouldn't listen while driving or operating heavy machinery. —Judge and Spohrer
A Piece of Work
When we were launching The Daily, I had great visions of touring museums and discussing the latest exhibitions with curators. The delightfully awkward, gallery-issued-headphones audio tour translated into podcast form. The news of the past few months has meant that sort of cultural coverage hasn't quite worked on our show. But I'm so glad someone else is doing it. Abbi Jacobson — one amazingly talented half of the Broad City comedy duo — is also an artist and illustrator. The show brings these two sides of her together in a really compelling way — she visits important works at MoMA with both her creative friends and museum curators and makes them accessible and interesting. Also, the episodes are under 20 minutes, which listeners of The Daily know is the secret, underutilized sweet spot of audio. —Barbaro
This American Life
People seem surprised when I list This American Life as one of my favorite podcasts. Hosted by Ira Glass and considered the gold standard of the "NPR voice"-styled podcasts, This American Life never fails to amuse, entertain, inform, or educate me about the broad range of topics covered episode by episode. What's makes this podcast so valuable is that Glass and his team do an amazing job of getting me interested in matters I would never be interested in. The long and short is whenever I want to be (and sound) smarter, this is what I tune in to. —Osse
The Turnaround
Produced in conjunction with Columbia Journalism Review, this is a new podcast about famous interviewers. Host Jesse Thorn has talked with Susan Orlean, Larry King, and Marc Maron, but the episode we specifically recommend is with NPR's Audie Cornish. It starts off pretty much as you'd expect, with friendly shop talk, but then it shifts into something a bit more interesting. You begin to feel like you're eavesdropping on a conversation that's more intense and sincere than you're expecting. You'll know things are starting to shift when you hear Thorn say NPR hosts are "almost ciphers." —Judge and Spohrer
You Must Remember This
I'm a low-key history buff, so I immediately got hooked when a friend introduced me to Karina Longworth's You Must Remember This. The podcast explores the secrets and/or long-forgotten histories of Hollywood's first century. The one that really got me hooked is an incredible ten-parter on Charles Manson. I'd read Helter Skelter back in the day and thought I'd had my fill of the case, but Longworth's retelling really blew my mind. Even if you don't normally go for history shows, I promise you'll find the Manson episodes riveting. —Osse