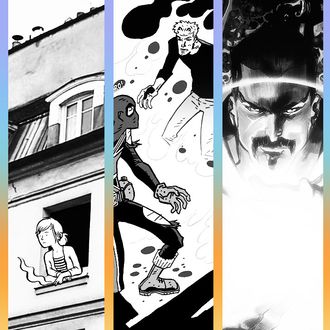 This week, Vulture is providing Summer Selections: picks for the best beach-worthy books, comics, music, and podcasts of the past 18 months (and a few older entries for good measure, too), as chosen by creators of that entertainment. Today we're highlighting comics; here's our panel:
SHANNON WATTERS
Watters is a comics writer and editor who is perhaps best known for co-creating the acclaimed all-ages comics series Lumberjanes. She serves as an editor at BOOM! Studios, as well as the head of their all-ages BOOM! Box imprint.
TOM KING
King is a comics writer and former CIA agent who has garnered acclaim in recent years for his work on series such as The Omega Men, Vision, and Sheriff of Baghdad. He is currently writing DC Entertainment's flagship Batman series.
VERONICA FISH
Fish is a comics artist known for her genre versatility and deft action sequences. Her recent credits include Spider-Woman, Archie, SLAM! and The Wendy Project. She also teaches at the Worcester Art Museum in Worcester, Massachusetts.
THE PICKS (ARRANGED ALPHABETICALLY):
Aria by Kozue Amano
Aria is my favorite manga series of all time and is literally the breeziest comic that has ever existed. A mix of science fiction and slice of life, Aria follows the day-to-day joys and trials of a novice gondolier in Neo-Venice on a gorgeously terraformed Mars. That's it. That's the whole thing! ISN'T THAT WONDERFUL? It's breathtakingly beautiful AND kind, my preferred combination. —Watters
Black Panther: A Nation Under Our Feet by Ta-Nehisi Coates and Brian Stelfreeze
Surprisingly, one of the great intellectual voices of my generation is writing a monthly mainstream superhero comic book. Unsurprisingly, it's transcendent. Come for Coates's thrilling, tragic tale of power and loss in Wakanda, stay for Stelfreeze's stunning, emotional art, the kind that pushes the medium forward and makes all us funny-book writers say, "Whoa." —King
Jim Steranko's Captain America (issues No. 110–113) by Stan Lee and Jim Steranko
The story picks up with Cap having revealed his true identity to the public while simultaneously reliving difficult memories of his time with pal/sidekick Bucky, back in the '40s. But this Cap has a heavier feel, he even lights up a cigarette like Humphrey Bogart, and later we're introduced to super-chic femme fatale, Madame Hydra. Steranko's dynamic layouts and energetic line make every page a visual feast. Steranko's impact on comics can't be understated, and much like his magic, makes it look so easy. —Fish
Curveball by Jeremy Sorese
Jeremy's queer science-fiction opus is all at once an immersive window into an imaginative future world and a highly specific story of love and heartbreak. His flowing, tactile cartooning is perfect for an achingly sincere story that's perfect for tucking into your heart in the sun and the sand and the light. —Watters
Dark Night: A True Batman Story by Paul Dini and Eduardo Russo
Look, this is a story about what it's like to be a neurotic, struggling human who also writes Batman, a superhero created to inspire neurotic, struggling humans. This pretty much describes my life, so I may be uniquely suited to relate to it. So, that said, take this with a truck of salt: This was the best graphic novel of the last year, beautiful, poignant, gripping, and, ultimately, inspiring to anyone struggling to live in the shadow of the myths above. —King
Dr. Strange and the Sorcerers Supreme by Javier Rodriguez and Robbie Thompson
With glorious artwork by Javier Rodriguez and a fast-paced, jam-packed story by Thompson, it's an exciting read. Rodriguez draws action sequences like nobody else, and the character designs are so rich and complete, you'll feel sucked into the world. Dr. Strange calls on the Sorcerers Supreme from past, present, and future to take on an ancient force threatening to destroy reality, but not everybody is a team player. Prepare to have your disbelief suspended. —Fish
Dungeon, Vol. 1 by Joann Sfar and Lewis Trondheim
This is one of the most fun books I have ever read, and any volume is a welcome addition to the library. A parody of role-playing games, the format is brilliant — a mild-mannered chicken runs his business as best he can, a dungeon in which various heroes and creatures come to defeat ogres and find treasure but inevitably die or fail miserably. There are multiple arcs of this series as well as spinoffs; the one I'm reading now being the Zenith section. Even if you are not a gamer, simply getting the multiplayer fantasy gag will be background enough. Highly recommended for teens as well. —Fish
French Milk by Lucy Knisley
All of Lucy Knisley's work is intimate, personal cartooning, but her first graphic novel, a travel journal illustrating a monthlong trip to Paris with her mother, links arms with the reader and takes them along for the ride, painting such an evocative picture that it very nearly feels like a trip to France. —Watters
Jack Staff by Paul Grist
Grist is an artistic hero of mine. His artwork is expertly designed, and he's a master of editing the visuals down to the most essential information. The story is about Jack, "Britain's Greatest Super Hero," who has actually been around since the 1900s and has been quietly working as a builder while moonlighting as a crime fighter. It turns out he has a higher purpose for staying alive so many decades. The mystery unfolds with amazing characters like Becky Burdock: Vampire Reporter, Tom Tom the Robot Man, Commander Hawkes of Unit D, and the Man of Shadow. It makes a great series for many types of readers, casual or comic buff. —Fish
Kitaro by Shigeru Mizuki
D&Q is printing Mizuki's beloved manga GeGeGe no Kitaro in a series of beautifully designed collections. Mizuki passed away in 2015 at the age of 93, leaving behind a body of work to rival Tezuka. Kitaro is so wonderful and weird, the creatures and spirits were nothing like I'd ever seen before. There are so many great faces and expressions, so many crazy beasts and bits to explore. If you are interested in Japanese folklore, yokai, spirits, ghost stories, legends, and all that fun stuff, it's a great educational tool for that as well. —Fish
Lady Killer, Vol. 1 by Joëlle Jones and Jamie S. Rich
Lady Killer is Mad Men but with significantly more blood. Jones and Rich tell the story of a housewife in 1961, who also happens to be a contract killer. Beautiful and immersive, this is a classic in the making. Bonus: Jones is about to be the next comic-book superstar, so you get a chance to say you love her early stuff. —King
Mai the Psychic Girl by Ryoichi Ikegami and Kazuya Kudo
While you are waiting for new episodes of Stranger Things, this is a great read. Mai is a 14-year-old psychic girl with supernatural powers who is being pursued by the Wisdom Alliance, a secret organization attempting to control the world. Turns out she isn't the only kid that possesses super-dangerous mind magic, there are others equally deadly but not as nice as Mai … Lately I've been into '80s and '90s manga and Ryoichi Ikegami's art is always arresting. Not to mention it's fun to check out the fashion and style. I also heard the Tim Burton has been trying to adapt this for a long time. I wonder what that would look like? —Fish
Octopus Pie, Vol. 1 by Meredith Gran
Webcomics mainstay Octopus Pie wrapped up its decadelong run a month ago, and the beach is a perfect place to read this graphic storytelling masterpiece from the beginning all over again. Not only is Meredith's cartooning polished and beautiful, the story of a group of friends surviving their 20s in New York is honest, hilarious, and essential. —Watters
Pearls Hogs the Road. A Pearls Before Swine Treasury by Stephan Pastis
As the space for daily newspaper comics shrinks and shrinks and shrinks, it's such a joy to find a long-running strip that can still make you laugh. To me, Pearls is the best of what's left, a series that stands proud in the tradition of Peanuts, Bloom County, and Calvin and Hobbes. (And if you're like me, and your trip to the beach is filled with attempts to read while children hang on you, this is one they can look at over your shoulder.) —King
Rickety Stitch and the Gelatinous Goo by Ben Costa and James Parks
I laughed so loud I scared my dog while reading this. The art is superb, the characters are so engaging you'll wish they could come to your summer backyard BBQs. (Who wouldn't want to chill with a soulful, guitar-playing skeleton?) Rickety Stitch is dead — but really good at rocking a six-string — and the only clue to his former identity is a song he hears in a dream. He goes on a quest to find out who he was and along the way meets an incredible bunch of characters. —Fish
This One Summer by Mariko and Jillian Tamaki
Summertime always feels like a neutral season to me, a season between, and I seem to always grab coming-of-age books off my shelf. This is the most wonderful of the lot. An achingly honest and perfectly rendered graphic novel about That Summer, the one where suddenly the person you thought you were has vanished, and you're left figuring out who's left standing in her place. —Watters
You and a Bike and a Road by Eleanor Davis
Eleanor Davis's meditative, raw graphic novel documents her cross-country journey via bike while packing an emotional punch from the very first page. If you're not already a superfan of Eleanor's work, now's the time to jump in with both feet. —Watters