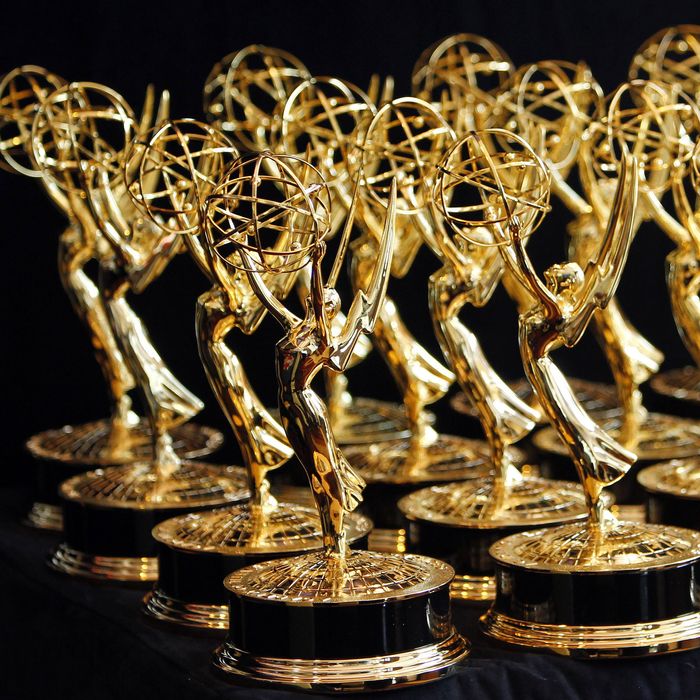 Photo: Television Academy
Now that you've absorbed the initial news about the Emmy nominations, it's time to do a deep dive and uncover some fun facts about this year's nominees that will impress all your friends when you bust them out at your next barbecue. People sit around at summer barbecues and talk about the Emmys, don't they?
There are a ton of multiple-category nominees.
In a year of doppelgängers, maybe it makes sense that a lot of this year's Emmy contenders appear in two — sometimes even three — categories. Among those with repeat nods: Matthew Rhys (for his work on The Americans and Girls), Riz Ahmed (for Girls and The Night Of), Ewan McGregor (nominated once for Fargo even though he played two people, and again for narrating Wild Scotland), Liev Schreiber (in the narration category and again for Ray Donovan), Alec Baldwin (for hosting Match Game and as Outstanding Supporting Actor in a Comedy for playing Trump on Saturday Night Live), Ann Dowd (The Leftovers and The Handmaid's Tale), Ty Burrell (Modern Family and Outstanding Actor in a Short Form Comedy or Drama for Boondoggle), Aziz Ansari (for starring in and writing Master of None), and triple-threat Donald Glover (for acting in, writing, and directing Atlanta).
Kellyanne Conway got an Emmy nomination … sort of.
Okay, not really, calm down and stop writing a letter to your member of Congress. Conway herself wasn't nominated in any category, but the pre-filmed Kellyanne Conway sketch on Saturday Night Live did get a nomination for Outstanding Editing in the Variety Genre.
A new Emmys record on the horizon?
Millie Bobby Brown, who is 13, was nominated for her Coke-can-squashing portrayal of Eleven on Stranger Things. She's the youngest Emmy nominee we've seen in a while, and if she triumphs in the Supporting Actress in a Drama category, she'll become the youngest winner ever. It's a title currently held by Roxana Zal, who, at age 14, won an Emmy for her role in the 1984 TV movie Something About Amelia.
NBC proved that networks still have it.
While HBO and Netflix had the most nominations, with 110 and 96 respectively, NBC landed the most nominations for a broadcast network in several years, with 64. (The last time any of them came close to that number was in 2012, when CBS ended up with 60.) What carried the day for NBC? All 22 of those Saturday Night Live nods, plus a good chunk for This Is Us and Hairspray Live!
Chance the Rapper is an Emmy nominee.
For "Last Christmas," a.k.a. "Jingle Barack," a song he co-wrote for Saturday Night Live that was recognized in the Outstanding Original Music and Lyrics category. He is excited about it!
The Original Music and Lyrics category is lit.
Also nominated: "We Tapped That Ass" from Crazy Ex-Girlfriend, and "Hell No," Tituss Burgess's take on Beyoncé's "Hold Up" from Unbreakable Kimmy Schmidt.
Speaking of songs, Music Supervision is a new category this year.
The Emmy will go to the music supervisors, i.e. the individuals who oversee the use of preexisting songs in a show, as opposed to the score. The first shows ever nominated in this category: Better Call Saul, Big Little Lies, Girls, Master of None, and Stranger Things.
Despite its cancellation, The Real O'Neals got a nomination.
For Outstanding Choreography!
Leah Remini: Scientology and the Aftermath was nominated for Outstanding Informational Series or Special.
Things will get interesting if the show wins and Remini gets a chance to speak during the telecast, though the odds of that seem pretty slim. Even if it wins, this category usually isn't presented during the live broadcast.
The costume categories were split for the first time ever.
This year, the Emmys have nominees for fantasy/period piece and for contemporary costumes. Empire received its only nomination this year thanks to the latter category, which also includes Big Little Lies, Grace and Frankie, This Is Us, and Transparent. The fantasy/period category includes Feud: Bette and Joan, Genius, The Crown, The Handmaid's Tale, and Westworld.
Finally, from the department of "You're Damn Right We Got a Nomination for This …"
Hairspray Live! was nominated for Outstanding Hairstyling — Multi-Camera Series or Special. Because how could it not be?