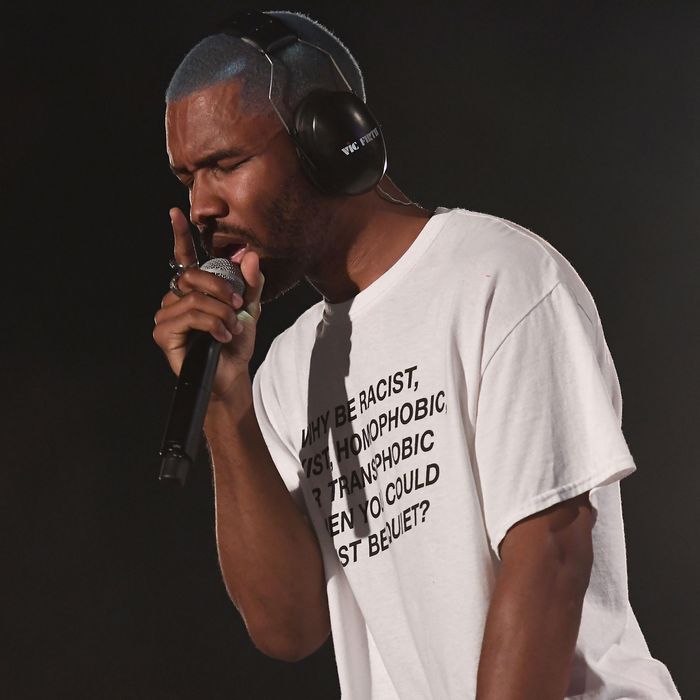 Some snap thoughts on Panorama's second year.
Photo: ANGELA WEISS/AFP/Getty Images
This weekend, Panorama Music Festival returned to Randall's Island for a second year to once again try to stake its claim as New York City's ideal festival for music lovers. Whether or not it was successful in doing so remains to be seen (it's going to take more than two years to run Governors Ball out of town), but Vulture was on hand to witness all of this year's hijinks, and we walked away with more than a few observations. From Frank Ocean's appearance, to Justice blowing out the power, here's everything we saw and learned (and, in the case of Tyler, the Creator's incredible abs, want to know more about).
Of course Frank Ocean made a political statement without saying anything.
For his intimate headlining performance on Friday, directed and filmed by Spike Jonze, Ocean turned fashion into protest art. He wore a T-shirt designed by an 18-year-old that read, "WHY BE RACIST, SEXIST, HOMOPHOBIC, OR TRANSPHOBIC WHEN YOU COULD JUST BE QUIET?" And you thought your anarchy tees were still cool.
And the award for fastest to make us cry goes to A Tribe Called Quest.
Before the group even took the stage on Sunday, a portrait of late Tribe member Phife Dawg, who died last year, was displayed on the giant screens behind them. Tribe later performed a tribute to Phife, told us his parents were in the audience, and announced that this would be their final show in their hometown. Yeah, you can quit chopping onions now.
It's 2017 and Vance Joy is the only human still covering "Cheerleader."
We'll allow it only because he's got a cute Australian accent.
People really fucking stan for Frank Ocean.
The line for his merch on Friday was longer than the one to get into the Parlor (more on that stage, below) most days. It stretched to well over a few hundred people, who apparently waited up to six hours to get custom screen-printed official Frank Ocean memorabilia, until it inevitably sold out. These same people definitely paid for a limited Frank Ocean T-shirt, then spent another $20 on the shirt they saw Frank wearing later that night. Hypebeasts gonna hypebeast.
Is anyone doing monochrome better than Solange?
The correct question: Is anyone doing anything better than Solange right now?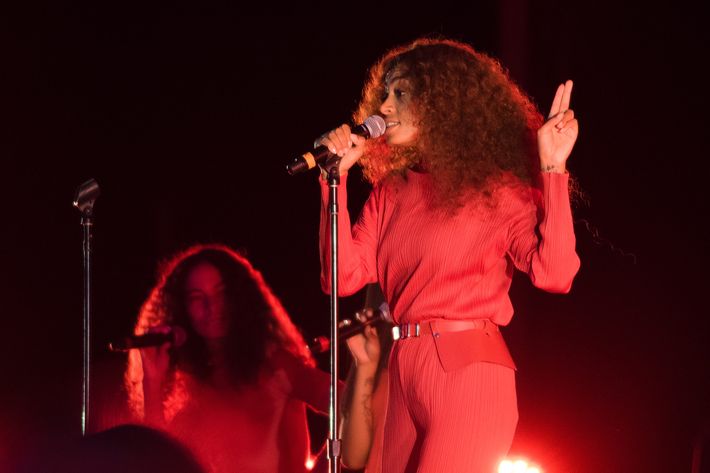 The worst stage remains the worst.
Last year's ill-advised Parlor stage made the unfortunate mistake of putting DJ Khaled on the festival's only stage with a capacity limit, which meant hundreds of fans didn't get to watch an artist they paid to have the option to see. This year, the festival stuck with the Parlor, but moved it to the other half of their Randall's Island setup, where the ground almost always gets the wettest and muddiest after rainfall. New York City experienced thunderstorms the day before the festival — so on Friday, during a rowdy set from Isaiah Rashad, the floor caved in and fans had to be evacuated. No one was injured, but later sets from DJ Shadow and Cherry Glazerr were canceled while the floor was fixed. Next year, the Parlor's gotta go.
MGMT are so over being MGMT.
They played "Time to Pretend" — one of their biggest hits — as their second track. That's the sign of a song headed for retirement, and of a band growing further detached from its beginnings.
Panorama still has a ton of logistical issues.
After getting all of the expected headaches for a first-time festival out of the way last year, Panorama returned with a few kinks still left to work out. Exiting VIP sections shouldn't require a second wristband scan, which only creates unnecessary congestion. Having only three stages — including one indoors — and another "club" for day raves still makes no sense. The will-call lines moved faster than it did last year, but there still need to be more access points for fans, press, and staff to pick up their wristbands. All these fancy, techy, HP-sponsored, indoor virtual-reality experiences are cool (if you can get in), but they take up too much room and cause too much foot traffic to be worth it. Speaking of sponsors: Look, festivals are expensive. We get it. But there are ways to partner with brands that don't require a massive eyesore of an AmEx lounge in view of the main stage. That said …
We hate how much we loved that there was a Sephora.
We're part of the problem, and we know it. Free body jewels!
Trent Reznor could still get it.
Both he and "Closer" have aged well.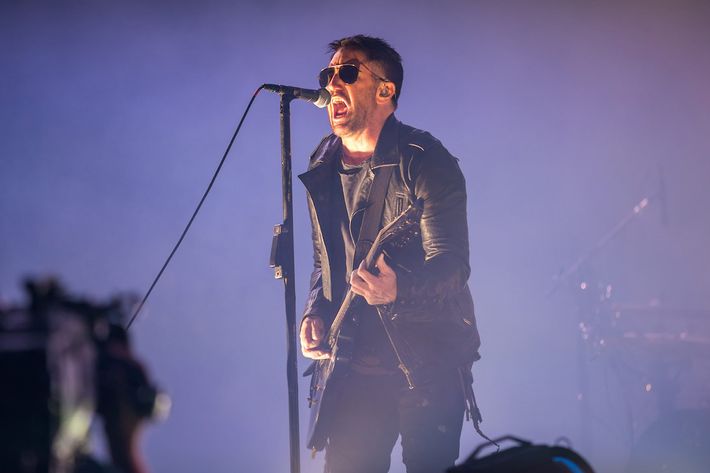 Justice is so good, they broke Panorama.
Their set experienced an unplanned ten-minute intermission, after they blew out the power at their stage. This is the universe telling us we shouldn't be partying on a Sunday.
Desiigner will make you feel old.
He ran out for his feature during Mura Masa's set, rapped at the speed of light, danced with the front row, and ran back offstage, all before you could blink. We need to sit down just thinking about it.
Tame Impala should've just pressed play on Rihanna's cover of "New Person, Same Old Mistakes" instead of performing it themselves.
Boo.
But at least their frontman, Kevin Parker, is a Solange fan just like you.
He was spotted taking in Solange's set from the VIP section, alongside all the regulars, and loving it.
This year, Panorama truly became Coachella's little sister.
When all the models show up to your festival, you know you've arrived.
Zaaayum — has Tyler, the Creator always been this ripped, or is this a pleasant side effect of his reckoning?
Spoiler: He's always had abs on abs on abs. They're just super-defined now. You're welcome:
There was a Chester Bennington tribute …
And it came from his final collaborator Kiiara, who sings on Linkin Park's "Heavy." She let the band's "Battle Symphony" play to eulogize the late frontman, who committed suicide earlier this month, then sang "Heavy" in his memory.
… and a David Bowie tribute.
Nine Inch Nails once again performed their cover of Bowie's "I Can't Give Everything Away" for their late friend; Vulture listened to Reznor belt it from the RFK Bridge (we've got a bedtime). It was vulnerable, cathartic, and perfect.