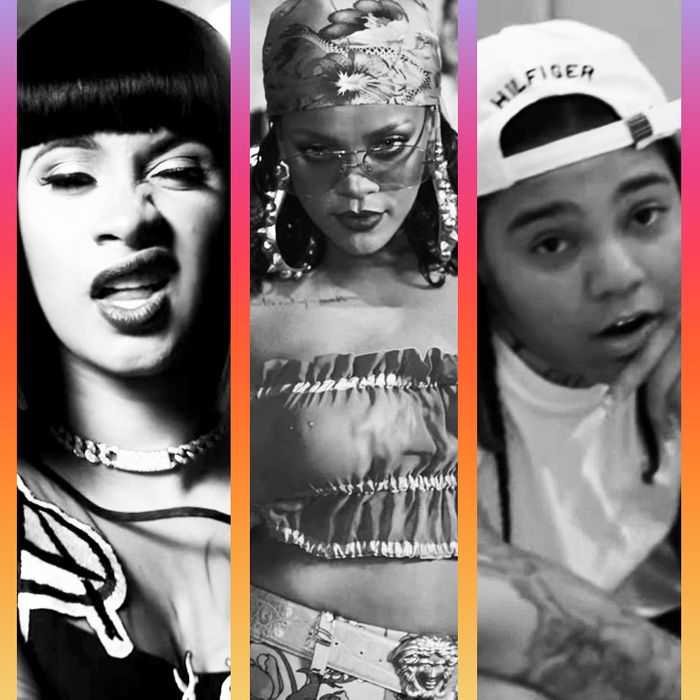 Photo-Illustration: Vulture
This week, Vulture is providing Summer Selections: picks for the best beach-worthy books, comics, music, and podcasts of the past 18 months (and a few older songs for good measure, too), as chosen by creators of that entertainment. Today we're highlighting songs and albums; here's our panel:
TORRES
Mackenzie Scott, a.k.a. Torres, will release her third LP, Three Futures, in September 2017. She is on tour in North America and Europe this summer and fall.
VAGABON
Laetitia Tamko is the singer, songwriter, and guitarist of Brooklyn band Vagabon. She released her full-length debut, Infinite Worlds, in February 2017.
WIKI
Wiki is a rapper and co-founder of New York hip-hop group Ratking. He will release his debut solo album for XL in 2017.
THE PICKS (ARRANGED ALPHABETICALLY):
"Are 'Friends' Electric?" by Gary Numan
I loved Gary before, but I saw him play in New York last year and he's just a master. What's really special about him, and this song in particular, is that he uses the Moog and synthesizers in a way that nobody else does. He essentially invented a style for the Moog that a lot of people use now, but he was actually one of the first, a pioneer of the Moog, and doesn't get his due credit. When I play guitar, I'm often trying to nod at what he does with the Moog. —Torres
"Bodak Yellow" by Cardi B
I'm a huge Cardi B fan. In this song, she really finds her voice. The first few seconds of the song don't have any bass in it, which is really rare for a rap song, so it's really jarring. But then she comes back real hard. Her flow is really nice … it's just my song of the summer. —Vagabon
"Can't Do Without You" by Caribou
I listed it for no other reason other than it makes me feel good. This one's more a little beach after the sun goes down [type of song]. —Torres
"Can You Be My Friend" by Chief Keef
It's Chief Keef doing some more dance-type music. It's a good stretch, and he pulled it off. —Wiki
"Did You See" by J Hus
J Hus is from the U.K. and coming up right now. The album [Common Sense] is fire. This one track "Did You See" is the summer banger from that album. This tape has a lot of different stuff on it: hip-hop, dancehall influence, Afrobeat stuff … and it's all the same producer, too. —Wiki
"Garden (Say It Like Dat)" by SZA
This whole record is phenomenal, but "Garden" is the one that stuck with me. I find it to be relatable … at least in my own experience, when I would fall in love with somebody, there are parts of myself that I hope they won't see, you know, because then they'll run off. —Torres
"LOVE." by Kendrick Lamar featuring Zacari
It's my favorite song on DAMN. and it has such a good feel to it. Zacari's voice on it is just so, so beautiful. —Vagabon
"Magnolia (Freestyle)" by Lil Wayne
Lil Wayne just dropped a four-track EP. He's got this freestyle over "Magnolia," a Playboi Carti track, and it's just fire. It's him doing the Carti flow, but obviously in the Lil Wayne type of way. —Wiki
May God Bless Your Hustle by MIKE
I would just recommend this whole tape. It's pretty long, and it's got a lot of young, up-and-coming New York rappers on it. It's a good, well-done project. —Wiki
"Neighbors" by J. Cole
That song is fantastic. It has a little bit of everything you want. It's smart, it's super groovy, it's chill, and super sexy. —Torres
"OOOUUU" by Young MA
She's the pride and joy of Bed-Stuy, Brooklyn. Hearing that sort of confidence in rap is always so satisfying. —Vagabon
"Out on My Own" by Sheila Chandra
She's kind of like if Kate Bush were from India, which is pretty righteous. The whole album is fantastic, but this song just makes me want to move … but it's smart. She's basically saying, "I'm self-sufficient. I can do everything on my own." —Torres
"Saturday Night" by 2 Chainz
I like the 2 Chainz album. "Saturday Night" is fire. He rips it. It's definitely a banger. It's the kind of thing where I listened to it a bunch of times, and didn't realize … and then today I listened to it, and I was like, "Damn, oh shit." —Wiki
"Seven Words" by Weyes Blood
That song is just amazing. I don't even have much to say about it; it just taps into all the right things. All the sounds and all the tones are so perfect. —Vagabon
"Son of the Ends" by Jesse James Solomon and Suspect
Jesse James and Suspect are from London. It's a good summer joint. It's a dope song about the neighborhood they're both from. It's them reminiscing and shit. —Wiki
"Stay" by David Bowie
Because who doesn't love a great coke jam? —Torres
"The Story of O.J." by Jay-Z
The video is sick. To me, it's a new style of Jay. It's pretty simple. But it still has the wit that's classic Jay. Obviously, the subject matter … it's a metaphor and he's breaking it down subtly. It's a little bit more conscious than what he's done in the past. I think it's a good joint, and the video matches it perfectly. —Wiki
"Tomboy" by Princess Nokia
Anywhere you put that song on, it's just a hit. I feel like you know when a New York artist is really killing it when you walk down Broadway and everyone's doors are open, and they're all just blasting that song. And then on the next block, there's someone else blasting that song. At least that's what my neighborhood is like. —Vagabon
"The Weekend" by SZA
That song felt like such a Scorpio anthem to me from the second I heard it. Then I heard that SZA is a Scorpio, and that just did it for me. It's probably the most controversial song on the album … to me, it just resonated. The way that young people are dating and finding romance, there's no such thing as monogamy, in her eyes, and [she's not] content with that. I love that song. —Vagabon
"Wild Thoughts" by DJ Khaled ft. Rihanna and Bryson Tiller
It samples a Santana guitar line, which is so weird to hear in a DJ Khaled song, but Rihanna just kills it. The video is how I would recommend people listen to it for the first time. It's just a feel-good summer song. —Vagabon
"Wreath" by Perfume Genius
I think he's a genius. That's funny … but he is a genius. This song is full of life because it's about the hope that he feels for freedom after our physical bodies have died. He has a lyric in the song, "I see a light beyond the frame." I really appreciate a song like that. It's just a hopeful album. —Torres