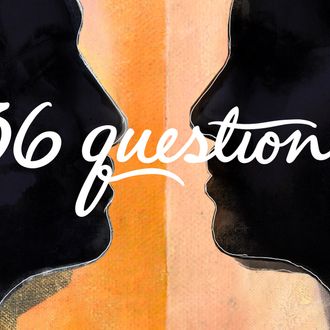 How do you make a musical written, designed, and produced as a podcast? Do you stick close to how you'd do it for the stage, or do you push away from it entirely? How do you draw on the specific traits of the medium, and what does the medium bring to the production?
These questions make up the structural puzzle at the center the sophomore effort of Two-Up Productions, the indie studio responsible for Limetown, the audio drama many described as "The X-Files meets Serial" that was a hit when it came out back in July 2015. (It has a TV adaptation that's currently in development, and an upcoming prequel novel with Simon & Schuster.)
The podcast musical in question is called 36 Questions, and it will tell the story of a couple — played, I should add, by the beloved Jonathan Groff (Hamilton, Glee) and up-and-comer Jessie Shelton — that's trying to save their marriage using the titular 36 questions, a set of inquiries purportedly designed to help the askers fall in love. If that sounds familiar to you, that's because you might have heard about it from a "Modern Love" essay in the New York Times that went viral a few years ago, about a 1997 study by a psychologist and his wife that sought to uncover what generates interpersonal closeness between people, and which gave rise to the aforementioned 36 questions. It's an immediately attractive premise: whimsical, romantic, a tad melancholic, and altogether quite lovely.
"We wanted to create a situation where the stakes would be so high that the questions would be the only way out — the only way to bring these people back together," said Ellen Winter, a Brooklyn-based composer and playwright who, together with fellow artist Christopher Littler, is writing, directing, and composing the show. Skip Bronkie and Zack Akers, the founders of Two-Up Productions, position the project as a story that fundamentally explores the concept of identity and honesty in the context of a relationship. Over email, Bronkie described further themes that seem to dig into more existential territory. "Is it a right or a privilege to control your identity? Does honesty fall on a spectrum or is it black and white?" he asked.
36 Questions has been in development for over a year now. The project was borne out of a natural progression of things, the way projects usually pop up among clusters of creative types: Littler, a writer and producer, had worked with Two-Up Productions on Limetown (he wrote the fourth episode), and he had playing been in a music group with Winter called Chamberband, which they describe as an "indie nerd rock band" that cranks out concept albums based in different fictional universes. "They're essentially musicals in album form, and in some ways, there are stories within every album that we do," Winter said.
Littler tells me that one of the bigger differences between writing a musical for the ear and writing for the stage is tethered to the notion of space. "There's this whole distance between the performer and the audience, whereas a musical is, like, on a stage that has an orchestra pit and a whole lot of space," he said. "We have these songs where you're very close to the characters. It feels like you're on top of them because you're in a microphone right between these two people in the same way as if you were really close to singer when they're giving a pop performance… or like a super close-up in a film, where you're right next to the actor's face, and you can see every part of it."
Winter agrees. "When you're writing a musical for the stage, you can really think about how a song can be many things — it can be a vehicle to move the plot along or a moment of emotion where you can see characters do things while they sing, which provides this whole other plane of experiencing the song," she said. "But when you musicalize a podcast, or podcast-alize a musical, every single word is important. Everything you hear coming through the headphones needs to provide some sort of information that makes you want to leave them in your ear." "It makes it all clear," Littler adds. "Less muddy."
When I last checked in with the project, the team was in the heat of post-production. At this point, they had cast additional talent to bring the project home — including Kate Bilinski (who worked on Serial) and Steve Bone to mix the show, along with Joel Raabe to do the sound design — and they were coming off two weeks of recording at 2nd Story Sound on the Lower East Side, where the cast and crew were holed up to put to tape what had previously been digital demo tracks, scripts, and broad ideas. It is in this setting that Winter and Littler's experience with recording albums as a band seemed to have carried over. "The great thing about recording in a studio is that we were able to approach it like an album in terms of vocal performances," Winter says. That comparison to music production is further expressed in the sources of inspiration that Winter cites for 36 Questions: Alt-J and Sylvan Esso are tossed in with a medley of musical composers.
"It's basically the difference between stage acting and filmic acting … this feels a lot more like filmic acting, and the songs feel that way. And it doesn't hurt that pop performances nowadays are really close-mic and small — it feels current," Littler added.
These distinctions using other media appears crucial to the team's sensibilities around the project. There's a wariness to being linked too deeply with the traditional makeup of musical productions. "It's worth noting that we did not want to come out of this with something that sounded like the cast recording of a broadway show," Akers said. "They created tracks that could only work when you record them in post like this."
In many ways, the concept of a podcast musical is a no-brainer. For one thing, it's a lot cheaper than a standard Broadway musical, a movie musical, or in the case of Crazy Ex-Girlfriend, a TV musical. One imagines that the shift of emphasis from visual splendor to the evocative richness of the mind's eye wouldn't change very much in terms of the musical's emotional or narrative possibilities.
Given all the potential afforded by the lower cost, one imagines that there should have been an explosion of musical experimentation among podcasts. But that hasn't quite happened, which is strange, given that the industry, with relative youth, stands to be more accommodating of experimentation than many others. That isn't to say there haven't been noteworthy attempts. Last year saw two projects that were incredibly interesting on this front: The Truth, Radiotopia's fiction podcast, collaborated with Jonathan Mann (of YouTube's Song a Day fame) on a fun, quirky limited-run musical mini-series called "Songonauts" about a struggling indie band that finds a magical drum machine that transports them into their songs, while the L.A.-based podcast network Wondery churned out a musical parody of Serial, Wait Wait Don't Kill Me — which found some admirers among podcast insiders.
Those two shows were fascinating early attempts at capitalizing on the valuable sub-genre. Now here comes Two-Up Productions, which brings into the fold a significant jump in resources, star-power, and ambition. Will 36 Questions be the podcast musical that realizes the form's potential and breaks through? We'll find out. 36 Questions debuts Monday, rolling out in three acts.