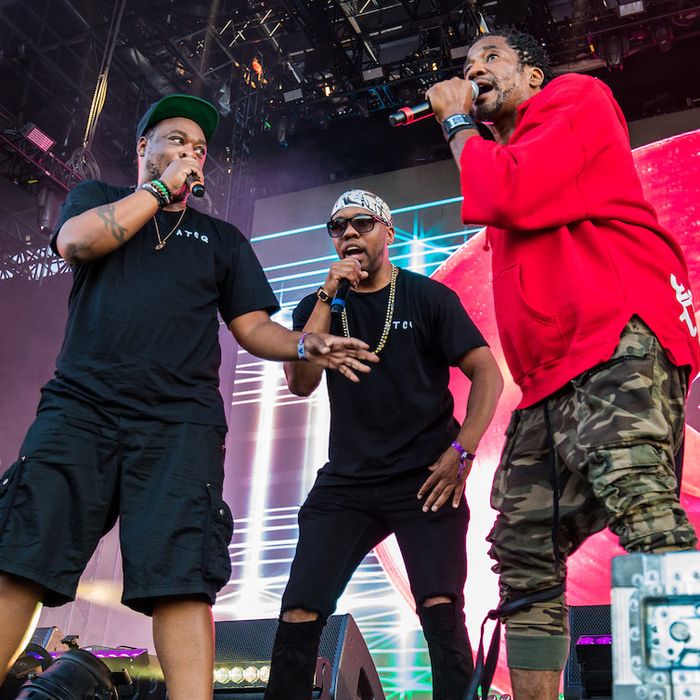 A Tribe Called Quest members Jarobi, Consequence, and Q-Tip performing their final New York show at the Panorama Music Festival.
As kids, we think the things we love are built to last. Parents are immortals. Heroes are unflappable demigods. The end of innocence arrives when we learn otherwise — when death tosses a mean fastball that shatters our defenses. The pitches are coming too quickly lately. I am writing more eulogies and remembrances than I ever believed I could. I am subsisting off of memories more than I thought I ever would.
A Tribe Called Quest's Malik "Phife Dawg" Taylor passed away last spring after a life-long struggle with diabetes, bringing a sterling career to an untimely end. I was lucky enough to get a measure of closure, sitting in on an Apollo Theater memorial service where several generations of hip-hop royalty showed up to pay their respects. I saw KRS-One and Chuck D give remarks. I heard Outkast's Andre 3000 and an unnaturally flustered Kanye West swear they wouldn't exist if it weren't for Ali, Q-Tip, and Phife. That night we also learned that the story of A Tribe Called Quest hadn't ended in death; they'd also snuck off and made a new album.
We Got It From Here … Thank You 4 Your Service is the rare comeback record that doesn't know its station. It was drafted as a reunion, but became a memorial, a door kicked open but abruptly shut again. It rekindled the easy exchange of energy at the heart of A Tribe Called Quest, the verbal interplay between Q-Tip and Phife Dawg, and signaled new possibilities for a creative union long thought to be done for, after an acrimonious late-'90s split and a prickly attempt at reconstruction, documented in Michael Rapaport's Beats, Rhymes, & Life: The Travels of a Tribe Called Quest. It brought lapsed and auxiliary members back into the fold. Everyone sounded great together on the new material, and that was the blessing and the curse of the thing: It was awesome, but it could never happen again.
The same could be said of A Tribe Called Quest's Sunday night gig on the main stage at the second annual Panorama Music Festival on Randall's Island. The remaining players in the Tribe troupe — rapper/producer/mastermind Q-Tip, producer/DJ Ali Shaheed Muhammad, and rappers Jarobi and Consequence — delivered an energetic set that honored the full history of the unit, melding classics like the early hit "Bonita Applebum" with gems rescued from the undervalued mid- to late-'90s era, as well as cuts from the latest album. The convening tour had been announced as Tribe's last outing, but the finality of the occasion didn't settle in until Q-Tip made it plain halfway through the show that what we were witnessing was the last hometown show they'd ever play under the Tribe Called Quest moniker. On big screens situated on both sides of the festival's main stage, I could see Ali tear up a little. This was really it. No more continues.
Tribe's show shifted between workmanlike performance and open tribute, giving shine to great verses from the surviving members but spinning all the classic Phife moments in reverent silence. Something always felt missing. A single microphone rested unused in its stand at centerstage, out of respect for the fallen maestro. In spite of the weight of the occasion, the show stayed upbeat. The group wrote songs about overcoming the setbacks of life and love in New York City. (Run "8 Million Stories" back.) That note of perseverance lingered, especially in the We Got It From Here highlight "Black Spasmodic," where, on behalf of his partner-in-rhyme, Q-Tip issued a challenge to defenders of hip-hop culture to root out bad stewards: "You better flame em in the Js that they're standing in/Ostracize they memory for not remembering."
This is the part where I admit that the last New York Tribe show was also my first. I was too young to catch the group during their initial '90s run. I dragged my feet on the couple times they reconvened in the 2000s. I figured the opportunity to catch a show would present itself again somewhere down the line. But the "next time" we always anticipate isn't guaranteed. I've spent a good portion of the year running out to catch the performers I appreciate the most, in case it's the last time. Death won't catch me slacking again.