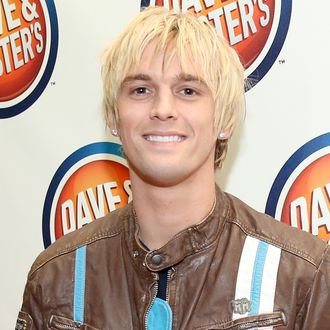 Photo: Mark Davis/Getty Images for Dave & Buster's
No party for Aaron Carter today. Per reporting from CNN, the singer-songwriter was arrested in Georgia on Saturday evening "under suspicion of driving under the influence and marijuana possession." The Habersham County Sheriff's Office, many miles north of Atlanta, released a statement saying that Carter is facing several misdemeanor charges, which include DUI, possession of less than one ounce of marijuana, and possession of drug-related objects. His girlfriend, Madison Parker, was also arrested at the scene and charged with obstruction and two drug-related charges. Carter is currently on tour, and someone on his Twitter account wrote earlier on Saturday that an expected tour stop in Kansas City was cancelled due to transportation issues.
In other Georgia-related crime news, Shia LaBeouf was arrested in the Southern state last week for disorderly conduct and public drunkenness, after someone refused to give him a cigarette on the street around 4 a.m.