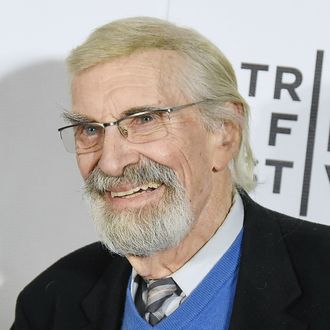 Landau.
Photo: Mike Coppola/Getty Images for Tribeca Film Festival
Martin Landau, who took home a Best Supporting Actor Oscar for his depiction of horror great Bela Lugosi in Tim Burton's 1994 film Ed Wood, passed away this weekend at the age of 89. According to The Hollywood Reporter, the actor "died Saturday of 'unexpected complications' after a brief stay at UCLA Medical Center." His publicist Dick Guttman indicated that the actor had been hospitalized for an undisclosed illness.
Landau worked in TV and film for over 60 years, beginning in 1953, and, depending on their respective ages, is best known to fans for his turns in North by Northwest, the television show Mission: Impossible, or the 1997 Halle Berry comedy B*A*P*S. Other career highlights include roles in Francis Ford Coppola's Tucker: The Man and His Dream and Woody Allen's Crimes and Misdemeanors, both of which also earned Landau Oscar nominations. More recently, the actor had recurring roles on TV shows like Entourage and Without a Trace. Landau subsequently collaborated with Burton twice more, in 2009's Sleepy Hollow and as a voice actor for the director's 2012 animated feature Frankenweenie.