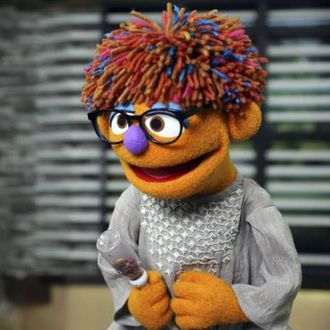 Meet Zeerak.
Photo: Rahmat Gul/AP
Last year, Afghanistan's version of Sesame Street unveiled a radical new character: Zari, the show's first-ever female Muppet, created in-part to inspire the young women in the deeply conservative country. (Afghanistan's literacy rate for women ranks among the world's lowest.) Now, the show — titled Baghch-e-SimSim, or Sesame Garden — appears to be taking another step to bolster its progressive messaging. The Associated Press reported on Saturday that Afghanistan's Sesame Street recently introduced Zari's brother, Zeerak, as part of the ensemble. And he's quite different from the show's other male characters: Zeerak is described as "a 4-year-old boy who enjoys studying and learning" and, more important, "will show boys the importance of respecting women."
This shakeup is very much by design. "In a male-dominant country like Afghanistan, I think you have to do some lessons for the males to respect the females," Massood Sanjer, head of TOLO TV, told the AP. "So by bringing a male character to the show who respects a female character, you teach the Afghan men that you have to respect your sister the same way as you do your brother." Both Zari and Zeerak wear traditional Afghan clothing and join a "multi-cultural line-up" that includes Muppets made specifically for local versions broadcast in India, Bangladesh, and Egypt. Accordingly, Sanjer expressed hope that the messages transmitted through these new characters can extend beyond his country's borders and change attitudes around the world.