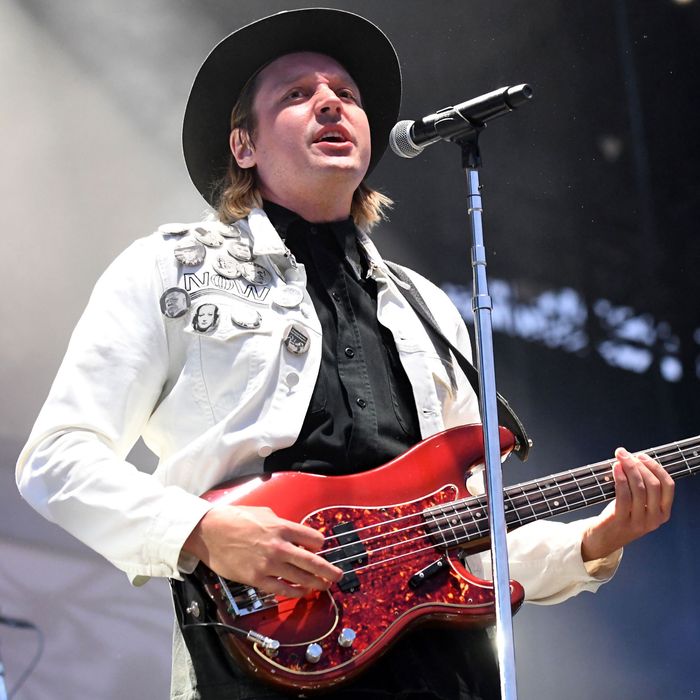 Arcade Fire's singer Win Butler.
Photo: FRED TANNEAU/AFP/Getty Images
Every week, Vulture gathers new albums you can listen to right now. We don't have a problem admitting it: Keeping track of everything that's released can be overwhelming, but finding out about interesting music doesn't have to be work. Read our picks below, and share your thoughts in the comments.
Arcade Fire, Everything Now (Sony)
You will read, or have already read, a lot of words about the new Arcade Fire album in a lot of different places. You've probably already seen that they wrote a fake review of their own album on a fake website, that someone made bootleg Arcade Fire fidget spinners (2017!), and then they made real ones (2017!!!!!), and that they had grand plans to take on the massive, diffuse industrial complex of content that, depending on who you talk to, is either morphing or destroying the brains of millennials. And yes, in theory, that is an interesting idea: the internet is still this world-shifting beast that we haven't properly grappled with through the art we make. There should totally be lots of art about it, but this, sadly, isn't the album that does it.
The Suburbs is my personal favorite Arcade Fire album, and the reason for that is that it wrapped up the complicated emotions of getting older with a full-throated love letter to the innocence of youth. Lyrically, Win Butler managed to walk that line with grace, shifting perspectives without ever losing sight of the big picture: weighing what a life is supposed to look like versus what a life actually ends up being. Everything Now, on the other hand, is full of anthemic festival-rock songs that don't say as much as you might hope. On paper, "Arcade Fire makes an album about growing up right now" is a great concept — I hear echoes of it in the uneasy funk of "Electric Blue," the brooding "Good God Damn" or the genuinely gorgeous "We Don't Deserve Love," which sounds like a Bruce Springsteen demo tape that's been left in the sun too long — but so much of it falls flat. Is this album as bad as people are making it out to be? Not really, but compared to their previous releases, it comes off as cynical and sort of confusing. Is it worth listening to? Yes. Part of the reason there's not too much art that gets at how technology has changed us is because it's really hard to talk about — it's just too huge. Props to Arcade Fire for trying. The more we digest what's there, the closer we can get to figuring out how to do it right. —Sam Hockley-Smith (@Shockleysmith)
Manchester Orchestra, A Black Mile to the Surface (Loma Vista)
There are places in this country where you can drive until there's nothing, and you can look out for miles on every end and realize that you're truly alone. It's this brand of loneliness — sweeping, epic — that rings from Manchester Orchestra's A Black Mile to the Surface, which seems to borrow as much from leading men Andy Hull and Robert McDowell's soundtrack to the 2016 film Swiss Army Man as it does from the full band's past records (which include 2012's Simple Math and 2014's Hope). There's a loose narrative at work here, with characters living in a South Dakota mining town; the one song on the album whose title is not two words beginning with "The" is simply titled "Lead, SD." But what comes through are small moments, delivered almost as asides. The line "I think I wanna be a dad" comes after "Is it temporary?" A narrator recalls a yellow SUV with Britney Spears on the ceiling, some camel lights, and a lover's tan skin. "I wanted to know each part," they say. If it sounds tragic, consider this: It ends in a birth. —Gabe Cohn (@gabescohn)
Aminé, Good for You (Republic)
The cover of Good for You features Aminé reading the newspaper with his shirt off, while sitting on a bright blue toilet — a homage to Houston perma-stoned rap crooner Devin the Dude's debut solo album The Dude. Devin and Aminé share more than just a penchant for inviting people to take photos of them while they're sitting on the toilet reading the paper with no shirt on, though. Both artists have a good-natured, world-weary disposition: they're positive, but they're not innocent, so their positivity is weighed down by a true understanding of what life is all about. They both also find solace in the everyday: On "Sundays" Aminé tells us he loves getting smoothies at Costco, talks about FaceTiming his mom on "Turf," and, on "Wedding Crashers," how the groom at a wedding looks like a broom, and that fact makes him laugh. That's not even a good insult or a good rhyme, but Aminé sells it on vibe alone. Good for You is not pure weightless fun, though — there's conflict and insecurity and fear and concern — the trick is that Aminé hasn't succumbed to any of it. —SH-S
Julia Michaels, Nervous System (Republic)
Julia Michaels isn't quite a name yet, but her handiwork is all over the pop charts. As one half of a songwriting duo with Justin Tranter, she's been the pen behind hits for Selena Gomez, Justin Bieber, and more for the last few years, and is at least partially responsible for the recent shift in the popscape to a more minimalist sound. But Michaels is an artist herself, and she's just released her first EP. Plenty of songwriters can't sing worth a damn, but there are moments on Nervous System like "Just Do It" — sung mostly in an upper register — that show promise. Michaels writes almost exclusively about relationships, which does lead to a bit of cheese ("Pink"), but it's an overall impressive series of confessional songs about figuring out how to not get hurt by love. —Dee Lockett (@Dee_Lockett)
Vic Mensa, The Autobiography (Roc Nation)
It might be a cliché at this point, but the album (or book, comic, song, piece of art, whatever) as therapy is still valid when it's done correctly. Vic Mensa, a very good rapper, gets most of the way there by cramming tangled verses onto a diverse collection of beats so effortlessly that he makes even the most complicated sentiments sound clear and direct. He is basically very into being honest, which means he's sometimes corny (remember "grocery bag rap"? There are some variations of that here). But that corniness is endearing, and while it's not surprising — the album is, after all, called The Autobiography — it's still a layered listen that results in a few harrowing moments of reflection, like the entirety of the Saul Williams–and-Pharrell-featured "Wings." —SH-S
Sylvan Esso, Echo Mountain Sessions (Loma Vista)
Indie-pop duo Sylvan Esso's EP serves as a companion to What Now, their second and most recent album. Here, the duo reimagine some of those songs as full-band arrangements, helped along by members of The Mountain Goats, Wye Oak, Hiss Golden Messenger, Mountain Man and Megafaun. The new arrangements sound grand, but also highlight the empty, airy spaces that conventional instruments provide, serving as a looser alternative to tighter, poppier electronic production of the original tracks. —GC