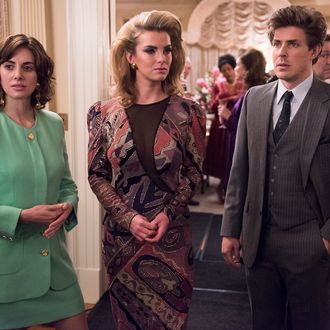 Alison Brie and Betty Gilpin on
GLOW
.
Photo: Erica Parise/Netflix/Erica Parise/Netflix
This piece contains spoilers about episode eight of GLOW.
In the first episode of Netflix's GLOW, the female wrestling series set in 1985, the show's heroine Ruth Wilder (Alison Brie) sleeps with her best friend's husband. By episode eight, she learns she's pregnant and decides to have an abortion: "It's not the right time. Not the right baby," she says.
In an interview with The Hollywood Reporter, Brie and GLOW co-creators Liz Flahive and Carly Mensch discussed the episode and how Ruth's decision was treated realistically. "It made so much sense to me when I read the script," Brie said of her character's choice. "I responded to it immediately. That's how I would react if I were Ruth, and I didn't question it at all."
Mensch went on to explain how they wanted the pregnancy reveal to come up organically with Ruth's actions guiding the story. "We did have a lot of heated discussion in the writers room about whether we wanted to show the abortion. If we were telling honest stories about things that women go through, whether it be in the '80s or now, a bunch of us felt that was a very relatable and normal story for certain types of women and that we shouldn't shy away from showing that if it's an actual, real experience," Mensch said.
Later Brie related the importance of this story line in the current political climate. "It's really important, especially right now, to highlight that women should be able to make that choice and that it doesn't have to be the end of the world," said Brie. "What I especially love about that episode is that it's a very easy choice for Ruth to make, whether or not the emotional repercussions will continue throughout her life. They might or they might not. This is a show about women's bodies and about them taking control of their own bodies, and that's highlighted beautifully in that episode."
Hear! Hear!