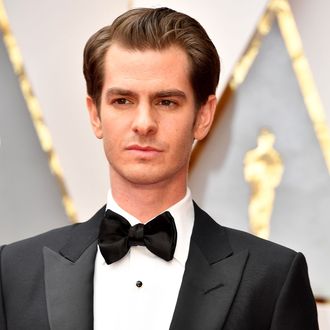 Andrew Garfield.
Photo: 2017 Steve Granitz
Andrew Garfield — a straight man who enjoys kissing other dudes for attention — has recently garnered criticism for remarks he made about his new role in the London revival of Angels in America.
This is how Garfield described preparing for the role of Prior Walter, a gay man who contracts AIDS in the early days of the crisis: "My only time off during rehearsals — every Sunday — I would have eight friends over and we would just watch [RuPaul's Drag Race]," he said during a panel discussion, according to Gay Times magazine. "This is my life outside of this play," he continued. "I am a gay man right now just without the physical act — that's all."
"As far as I know, I am not a gay man," he said earlier in the conversation. "Maybe I'll have an awakening later in my life, which I'm sure will be wonderful and I'll get to explore that part of the garden, but right now I'm secluded to my area, which is wonderful as well. I adore it."
A number of Twitter users criticized Garfield for his glib remarks, pointing out that being gay — and the history of discrimination and persecution it has entailed — is not exactly the same thing as marathoning RuPaul's Drag Race.
And to think, on his last press tour, Andrew was taking a vow of silence and using his apartment as "a quasi-monastic retreat." Those were the days.