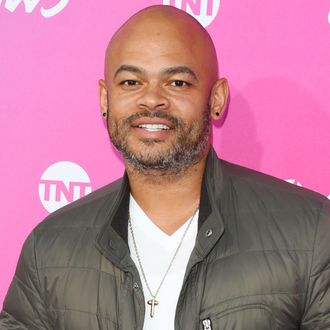 Anthony Hemingway.
Photo: Paul Archuleta/FilmMagic
It's been almost two years since FX first announced Katrina as the second season of American Crime Story, but the anticipated installment's path to premiere has seemingly — and perhaps permanently — been "stalled." Anthony Hemingway, director and co-executive-producer of The People v. O.J. Simpson, told The Hollywood Reporter on Saturday that it's unclear whether Katrina will end up seeing the light of day. "Nothing has really been done. We haven't started prep on [Katrina] at all," Hemingway said at the Television Critics Association's summer press tour. "It's all up to Ryan Murphy."
Katrina: American Crime Story appeared to be moving along fine last year. In January, Murphy first told The Hollywood Reporter about his vague but intriguing plan to dramatize the politics and tragedy of Hurricane Katrina, reconstructing it as a "crime." In the months that followed, several high-profile actors were cast including Annette Bening, Dennis Quaid, and Matthew Broderick. But there have been signs of trouble since those initial developments: Murphy fast-tracked the later-announced third installment, Versace, and eventually put it into production before Katrina was fully cast or even written, per Hemingway's words. In June, FX and Murphy confirmed that Versace would air before Katrina, with the latter's approximate air date updated to "late next year." Whether Murphy is able to hold to that — or whether the installment will remain in development at all — remains to be seen. But let's not pronounce Katrina dead just yet: We're still pulling for that Bening Emmy win.