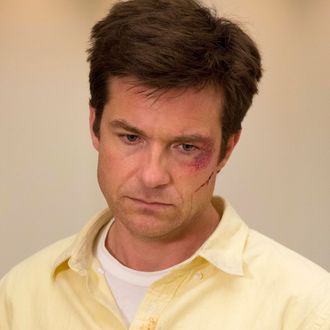 Arrested Development
goes full anti-hero.
Photo: Mike Yarish/Netflix
First, there was "Who shot J.R.?" Then, there was "Who killed Laura Palmer?" And now, we're apparently getting "What happened to Lucille Two?" According to Jason Bateman, who knows a thing or two about serious dramas now, the fifth season of Arrested Development will center on a murder mystery, specifically the death of Liza Minnelli's Lucille Austero. "The central spine of that story is the death of Liza Minnelli's character, and a bit of whodunit, who may have done it, who had something to do with it," Jason Bateman told EW Radio. "That's sort of a central thread around which [creator Mitch Hurwitz] is going to braid in all the colorful plot complications that he knows how to do." Bateman added that the season will form the second act of the "three-act story" Hurwitz had in mind for the show after it was canceled by Fox in 2006, with a potential third installment coming "at a later date, maybe in another few years." He also said that the cast will be together for most of the season, abandoning the disjointed structure of the series' fourth season and all the green-screen work that came with it. Arrested Development season five (suggested subtitle: Vertigo) will start shooting later this summer and arrive on Netflix sometime in 2018.