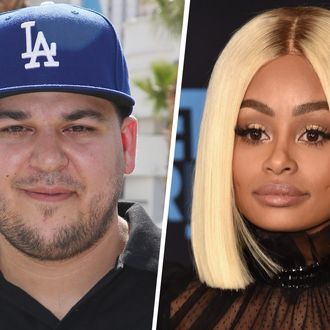 On Friday, Blac Chyna's new attorney Lisa Bloom — who represented three of the women who accused Bill O'Reilly of sexual harassment — revealed that Chyna was seeking a restraining order against Rob Kardashian after he posted naked pictures without her consent. Now, TMZ has obtained legal documents in which Chyna accuses Kardashian of violently attacking her back in April.
According to TMZ, Chyna states in her declaration that in April, Rob started saying derogatory things about Chyna in front of her son, King. Chyna allegedly asked Kardashian to stop, to which he replied, "I can say whatever the fuck I want!" Kardashian then allegedly grabbed her phone, pushed her onto the ground, and began "aggressively shoving me by the side of my arm and hitting me on my thigh."
Chyna also states that she fell to the ground after the attack, and that she was so bruised she could barely walk. She reportedly goes on to say in the declaration, "Rob has been violent with me in the past and I am afraid to be around him."
TMZ reports the former couple have actually been "fully broken up" since last December and that Chyna has requested a judge stop Kardashian from cyberbullying and slut-shaming her online. She also reportedly asked the judge to keep Kardashian 100 yards away from her and for permission to record any communications that might violate the order.