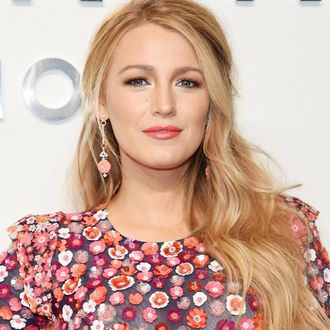 Photo: Jamie McCarthy/Getty Images for Michael Kors
There are two trending topics in movies right now that have formed a tidy little Venn diagram: female action heroes and lots of violence. Anya Taylor-Joy and Maisie Williams are going to lead the X-Men spinoff New Mutants that director Josh Boone is calling a "full-fledged horror movie." Wonder Woman is doing huge business around the world. The Brie Larson vehicle Captain Marvel is on the horizon. And Charlize Theron can't stop playing killers in everything from Fate of the Furious to Mad Max: Fury Road to the forthcoming Atomic Blonde. So who is the next actress lined up to take the blood oath for this hardcore sorority? Blake Lively, of course! Mrs. Merc With a Mouth is now signed on to star in The Rhythm Section, a spy thriller from a pair of James Bond producers and director Reed Morano, who is just coming off helming episodes of Handmaid's Tale for Hulu.
This is probably happening because anyone who saw Age of Adaline left thinking, "I need a sequel, and I need that sequel to be about ageless Blake Lively going on a vengeance killing spree." Or maybe it's because Lively displayed such grit in The Shallows that she became the inevitable choice to play the (possibly British) assassin for the screen adaptation of Mark Burnell's "Stephanie Patrick" series of novels. (It will be a real oversight if her seagull companion does not return in a supporting role, because their Shallows chemistry was undeniable.) Or it could have been as simple as someone saying, "People love blondes with guns, so what are our options?" and then Ryan Reynolds put in a good word. Either way, La Femme Lively is happening. As Stephanie Patrick, she will emerge from a cycle of self-destructive behavior to avenge the death of her family after they're killed in a plane crash. Best of all, "her anger awakens a new sense of purpose as she becomes an assassin to track down those responsible." We're still talking about Blake Lively.
If the movie breaks out, there are three more Stephanie Patrick stories to develop: Gemini, The Third Woman, and Chameleon. No offense to Lively, but that will give the Bond team plenty of time to recast Robin Wright in the starring role.