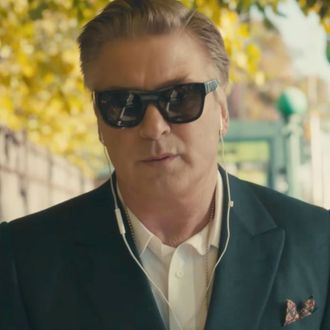 Baldwin.
Photo: Vertical Entertainment
After the Ruderman Family Foundation, an advocacy organization for disability rights, slammed Alec Baldwin's casting as a blind man in the movie Blind as the "latest example of treating disability as a costume," Blind director Michael Mailer responded in a defense published by Deadline. The piece, "Where Does Political Correctness End and Cultural Fascism Begin?", outlines why Mailer cast Baldwin, and alleges that the organization is being too politically correct. "[The Ruderman Family Foundation's statement is] unhelpful to disabled advocacy, it also in effect discredits Academy Award–winning performances over decades by the likes of Daniel Day-Lewis in My Left Foot, Jamie Foxx in Ray, Jon Voight in Coming Home, Al Pacino in Scent of a Woman, and Eddie Redmayne in The Theory of Everything to name just a few."
Mailer, who said he cast many disabled actors in speaking roles and as extras, said that Baldwin's star capital was necessary to get the indie feature made. His defense includes a harsh indictment of political correctness: "Art and political correctness rarely mix. And that's kind of the point. But when the requirement to be PC stifles freedom of expression, a line has been crossed." Blind opens July 14.